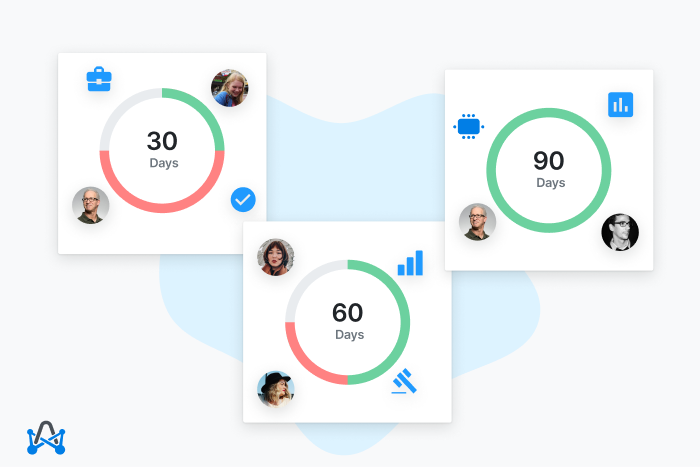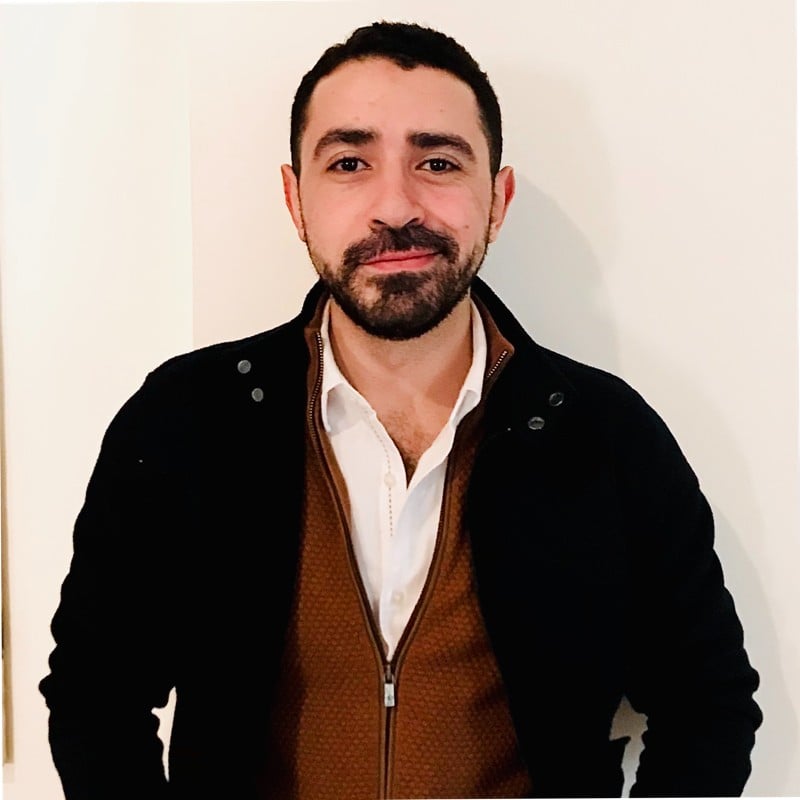 Managers, and managers to be, have no time for derailments or distractions. That's why this article discusses how to create a killer 30-60-90 day plan to impress your managers and top management from day one, and even before that!
A well-structured 30-60-90 day plan helps you make a smooth and powerful transition into a new organization or a new team or to land the job of your dreams during the final stages of an interview.
Definition of a 30-60-90 day plan
As the name suggests and openly implies, a 30-60-90 day plan is an organized plan for one's objectives or expectations divided on equal intervals of 30, 60, and 90 days.
For yourself, a 30-60-90 day plan organizes your thoughts and the work that has to be done over the coming period. It also outlines your path and helps you track your own progress. The 30-60-90 day plan keeps you focused on the set tasks, which guarantees success at the end of the period.
For your managers, such a plan clearly communicates what you're expected to accomplish during the coming period of 90 days. It demonstrates a framework for your plan, the tasks you set, and the way you plan to tackle them.
When to write a 30-60-90 day plan?
One would probably need to craft a 30-60-90 day plan in two events: during the final stages of an interview or during the first week of a new job.
For both situations, there are major differences in the way the plan is structured and executed. In the interview phase, you only know little to work with and you don't have anyone to talk to inside the company, so the plan is more like an outline or a draft of thoughts. After you join, you have all the resources and you can talk to coworkers and managers, so the plan is well-structured and rich with input and effective suggestions.
How to make a 30-60-90 day plan for interview?
In higher-level positions, an HR manager might ask for an outline of a plan for the next 3 months if the applicant filled the offered position. In such a situation, a 30-60-90 day plan would do the job, where the interviewee can lay down their goals and steps for the next 90 days.
Start with the job description for inspiration and ideas. The job description details the tasks and expectations needed for the role, so you can use it to show the hiring manager that you are up to the challenges the department is facing and that you have an organized plan for tackling them.
✔️ Do it like a pro. Include specific ideas in your plan, not just abstract goals and general steps. Suggest ways to cut costs, double sales, enhance productivity, or improve customer satisfaction. Demonstrating such agility and proactiveness is going to help you land the job of your dreams.
How to make a 30-60-90 day plan for new job?
When starting a new job, you'll need to show your direct manager and the top management that you're on top of your goals and you're on the right direction. A 30-60-90 day plan for new job can do exactly that.
Now that you've actually started the position, you have access to internal resources and can communicate easily with your new coworkers. Use all the resources you have and the communications you do to craft a detailed, realistic plan for your focus, goals, and steps, with metrics and KPIs, that will impress everybody for how great it is.
What makes a GREAT 30-6-90 day plan?
A great 30-6-90 plan is one that outlines your personal and professional goals, divides them into smaller, achievable tasks, maps out the process to achieve each goal, and, in the same time, aligns with the overall mission of the company, connecting between your goals and the company's vision.
The 30-60-90 action plan
Well then...
What elements does the plan consist of? Each 30-day interval includes the same elements, but from different perspectives. The elements of a 30-60-90 day plan are as follows.
Focus
The focus of the first 30 days is to learn; learn about the company, the people, the rules, the tools, and everything.
The focus of the next 30 days is to put strategies and start contributing. The strategies you put are based on what you've learnt in the past 30 days, and your contributions are limited and made after consultation with your supervisor or manager.
In the last 30 days, the focus of the plan is on execution. You put your strategy into action, measure success, and optimize for efficiency.
Of course, the specific goals for each month are based on your role and the company itself and are subject to change and modification.
Goals
For each phase, set the right goals that will eventually ladder up to the focus you stated above. A helpful trick is to categorize your goals into learning goals, performance goals, and personal goals.
Steps
Lay down the specific steps and actions you plan to enforce to achieve the goals you stated. Mention any training you need to initiate with the team, new tools you would need subscription for, and talents you might need to hire.
Metrics
Determine the metrics and indicators you'll measure success with to keep track of your progress.
These are basically all the elements to include while structuring your 3-month plan.
How do you structure your 30-60-90 day plan?
Divide the plan into three sections, each of 30 days.

For each section, or 30 days, list the theoretical and the practical items of the plan:
Theoretical items are the goals you wish to achieve by the end of the period.

Practical items are the actual tasks you plan to perform during each interval of days and the metrics you'll set to measure success and progress.
Let's look at that in details.
1. The first 30 days plan (first month)
Since these are the first 30 days in the new position or whatever you're structuring this plan for, your goals tend to be general.
These 30 days are dedicated to learning, familiarizing, exploring, and participation.
Learn about the place, the rules, the responsibilities, and the tools. Understand the place's missions, values, vision, and culture.
Familiarize yourself with the team, their work styles, and their preferred methods of communication. Know more about the "people," not only the "staff" — their goals, motifs, and dreams.
Explore the industry and do an in-depth research about the competition.
Participate in events, meetings, lunches, and even projects. At this point, your participation is only for observation reasons, till you gain enough understanding of the company's direction and needs that qualifies you to participate with your own input.
💡 In this phase, ask as many questions as you can. Do a lot of talking with others and give them the opportunity to know you back.
2. The next 30 days plan (second month)
Phase 2 of the 30-60-90 day plan is dedicated to improving, leading, implementing, and strategizing.
During the second 30 days, your goals are built on what you have learnt and discovered in the previous period, and you start taking actual steps with the team and the business.
Improve the processes that need to, and keep the effective ones as is. Focus on increasing employees productivity, enhancing team collaboration, and sparking collective innovation. Suggest tools that would increase productivity and enhance collaboration to your managers and request access to them (these 32 productivity tools for remote work would definitely inspire you).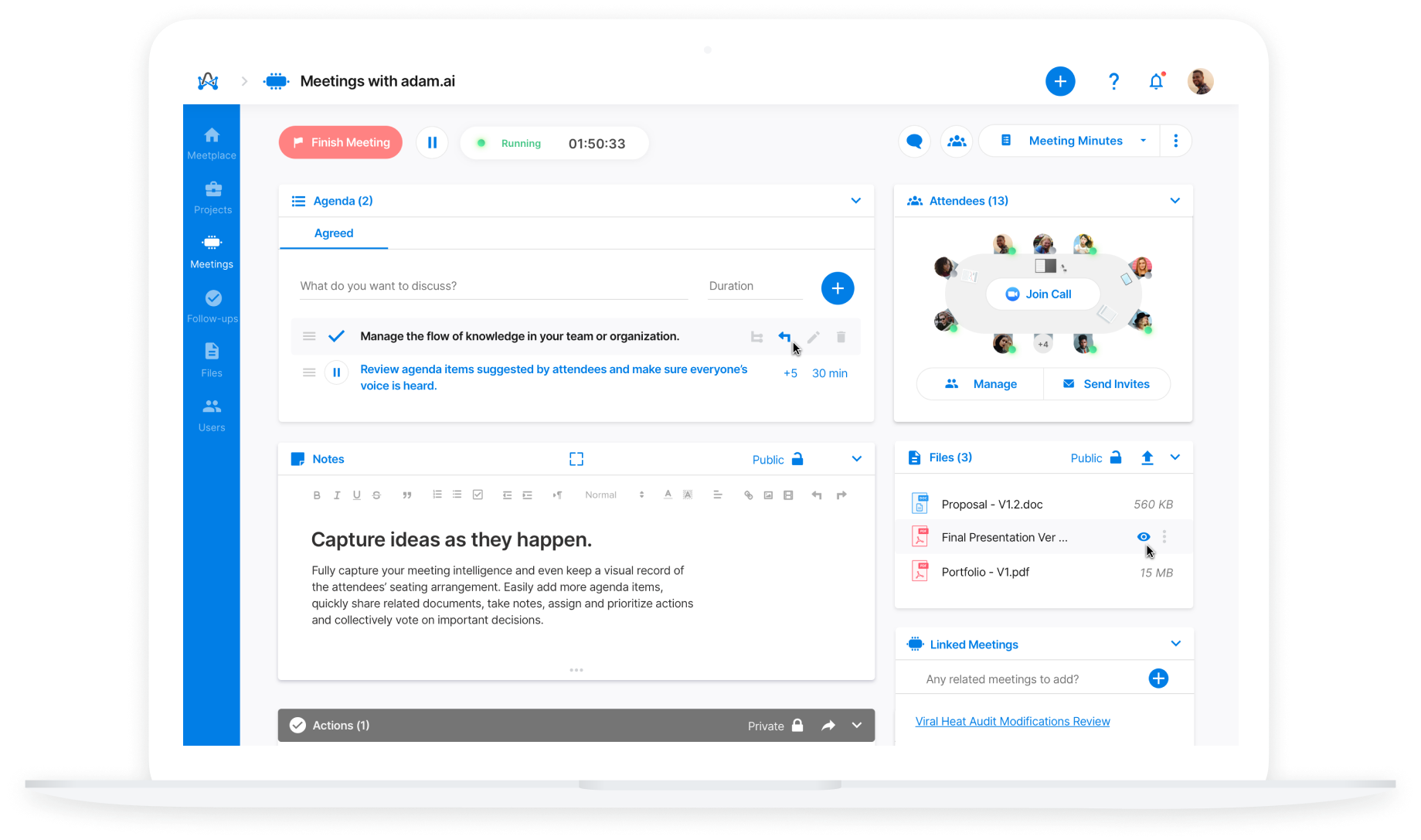 Screenshot from adam.ai: Collaboration on agenda, linking meetings, capturing ideas, and more
Lead your way within the company. Work on solving problems, or at least proposing solutions to existing issues, and handling conflicts in the team or across teams.
Implement some of the ideas and concepts you have and assess their success or failure. In this phase, you're allowed to make mistakes and learn by trial and error, so that, when you reach the final phase, you're all set.
Strategize techniques and methods to help your team accomplish tasks efficiently and quickly. Train the team on these strategies to boost productivity. Set measurable KPIs to assess performance and fine tune these strategies in the final phase if you have to.
3. The last 30 days plan (third month)
These are the final 30 days in the plan, which means that 60 days have passed since you set out on your 30-60-90 day plan.
The goals and steps in this third phase are focused on collaborating, solidifying, managing, and building.
Collaborate with your team, as well as other teams, on projects and tasks. Observe communications across teams and step in if needed.
Solidify the strategies you've built earlier and put them into practice. Train the team on working with the new protocols and procedures and report the difference in performance at the end of the period to your manager.
Manage your team and manage communications with other teams or external resources that you depend on to complete your tasks.
Build the processes you're going to work with, and also build on the tools the team is using to boost productivity and make the workflow smoother.
By now, you've probably had a clear understanding of the goals to set in each of the 30-day intervals in a 30-60-90 day plan, but how do you track the performance of those goals?
How to assess goals in a 30-60-90 day plan?
Moving on with your plan day after day and month after month, you'd need to track the goals you set and assess your progress over time. How to make sure you accomplished the goals you set?
At the end of each interval, review your goals and tick the ones that have been accomplished. Do not wait till the end of the 90-day period to make an assessment because you might want to make some changes along the way.

Schedule weekly or monthly meetings with your direct manager or supervisor to discuss progress and pain point shortages.

Ask for constructive feedback from your manager as well as your team and act upon it.
✔️ Do it like a pro. The goals you achieve should naturally become part of your routine and regular work responsibilities. Practice what you learn, build on it, and make it part of your regular habits to advance your skills.
Best practices for the 30-60-90 day plan — nail it
Now that you understand the purpose of a 30-60-90 plan, its elements, and how to structure one, it's time to put your hands on the tips and best practices to consider while creating your own.
Think big
Think about the big picture, beyond the focus and priorities. Think of the reasons why the company hired, or wants to hire, you. Is your role to solve a certain problem, to lead a short- or long-term project, or just to speed on how the company works?
Do your homework
Do a lot of research before you even start the job, so that you learn more about the company. Then, when the time comes to participate, your suggested approach to the position would make sense.
Take initiatives
Do not stand still waiting for things to happen or for people to come to you; be initiative. Ask as many questions as you want to build a baseline understanding of the current process. Talk to coworkers and managers, attend meetings, go to lunches, and so on.
Prioritize goals
Remember that you have 90 days to achieve these goals you're setting. This means that you better set your priorities right.
Distribute the important goals and steps over the whole period instead of cramming them into the first, let's say, 60 days.
Then, discard the less important ones or, at least, keep them till the end if you have time left after completing the first 90 days at work.
Set SMART goals
As we agreed earlier, you'll need to measure the efficiency of the goals you set. In order to do that, set SMART goals from the very beginning. A SMART goal is one that's specific, measurable, attainable, realistic, and time-bound.
Set correct metrics
Some goals are quantitative (e.g., increase page views by 300%); others are qualitative (e.g., enhance cross-teams productivity). Determine how you'll measure success based on the nature of each goal and go on from there. Vishal Prasad elaborates more on quantitative and qualitative goals on this article on LinkedIn.
Accept change
Be open to criticism and be flexible to change parts of your plan based on feedback you get throughout the 90 days. Make deletions, additions, or adjustments to the plan so that it suits the company needs more.
Make time for meetings
Squeeze a lot of meetings into your plan, and decide who you're meeting with according to which phase you're in.
During the first 30 days, schedule and run meetings with your managers, your team and coworkers, and your colleagues who are in a similar role as yours.
During the next 30 days, add more meetings with other key stakeholders. Meet with cross-functional partners on other teams whom you'll work with regularly.
During the final 30 days, hold meetings with any external partners, if your role requires you to do business with stakeholders outside of the company.
Here, you'd want to schedule, invite, run, and follow up on meetings from one place, to save time, boost productivity, and show up as a skillful manager who never misses a detail. Use an all-in-one meeting management software, like adam.ai, to schedule meetings, send invites, run meetings, collaborate on discussions, generate and share meeting minutes automatically, follow up on risks and actions, take decisions, and much more, all from one place without having to subscribe to a fleet of tools or juggle apps and screens.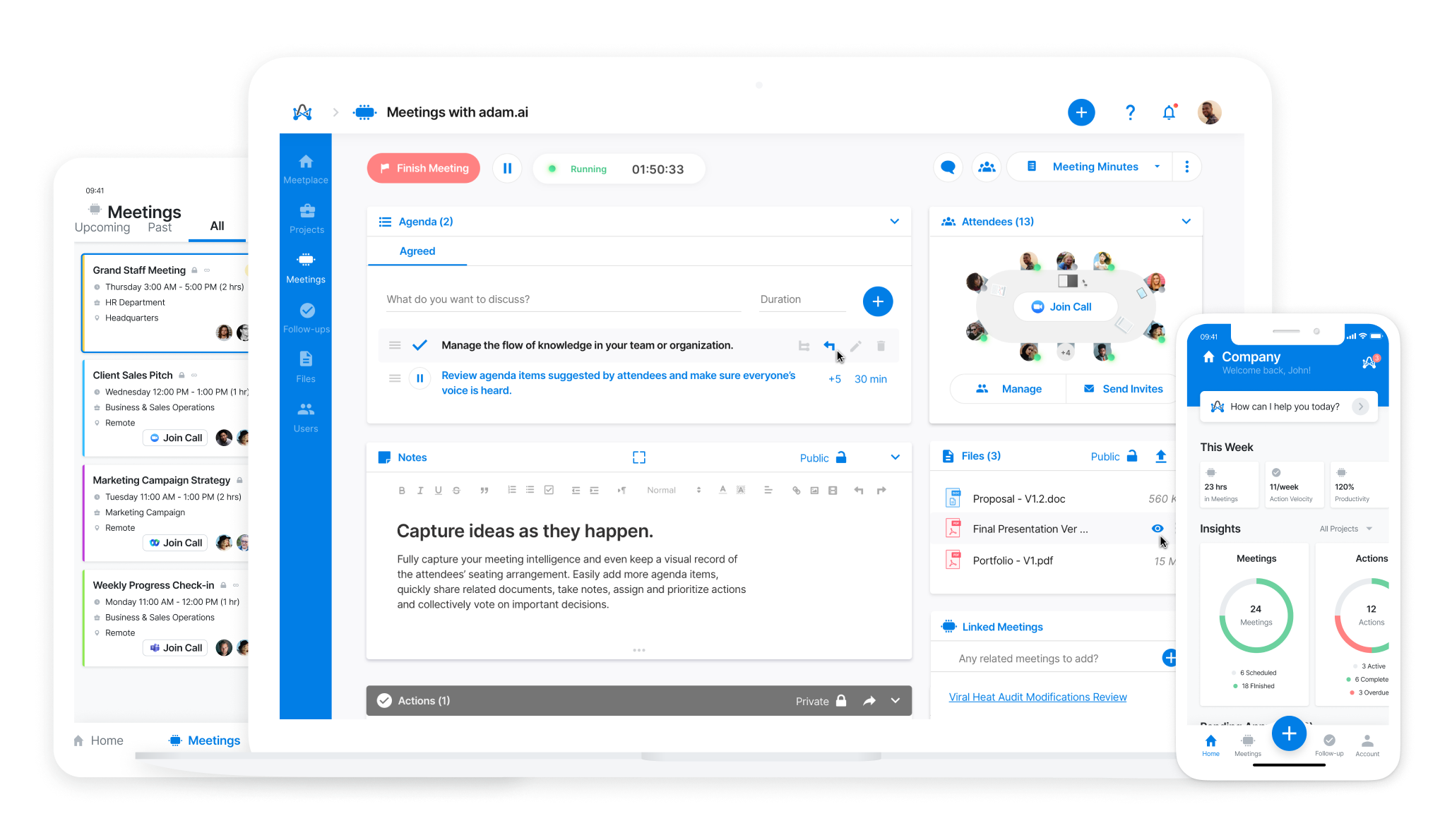 Screenshots from adam.ai: Meetings, collaboration, follow-up, insights, and more
14-day pro trial. No credit card. No hidden fees.
30-60-90 day plan template
Ready to create your own plan? Use this editable template for a 30-60-90 day plan and customize it based on the situation you're creating the plan for, the role, and the company.
What are the benefits of a 30-60-90 day plan?
Let's recap this lengthy article and summarize it into these bullet points about the benefits of creating an organized plan for the first 3 months of a new job:
Helps you cut through the noise and focus on important tasks.

Keeps track of your goals and progress and gives you a sense of direction.

Makes it easy to track team's performance.

Builds trust and team cohesion.

Ensures that newly hired managers are on the same page with their teams before implementing huge changes.

Improves time management because the plan is time-bound.
To sum up, we have learnt what is a 30-60-90 day plan, when to create it, and how to craft the best plan to impress whoever the plan is presented for.
We have also included a 30-60-90 day plan editable template for you to adjust and customize according to your needs.
Best practices and tips to create a great plan have also been recommended.
It's time now to CREATE.
Best of luck <3