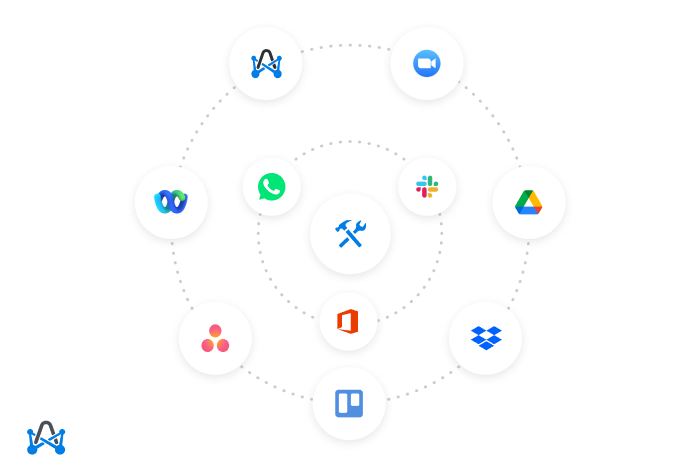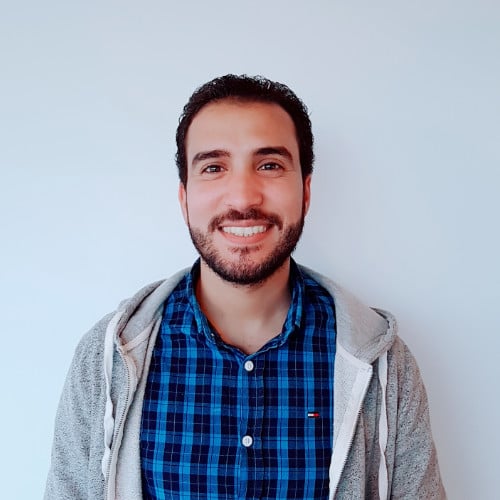 Remote working is not an option or an alternative anymore, it's become a necessity. In this article, we lay out some of the best productivity tools for remote work for you to consider adopting into your workflow.
From communication and meetings to project management and employee recognition, we have covered 32 productivity tools. This list will also inspire you about tools you can use and ideas you can implement, even if you don't use the exact tool mentioned here.
Remote work tools for meeting management
What we mean by meeting management tools are the apps that help us manage the whole meeting process — before, during, and after the meeting, because meetings (remote, hybrid, or in-person) are hard to manage and track, which negatively affect business goals.
The video call is just one step, of many, for running a successful meeting. The lifecycle of any productive meeting should be complete: preparing and sharing an agenda before, note-taking and voting during, and following up on actions after the meeting.

adam.ai
It'd be remiss of me not to start the list by adam.ai, and not because I write for the product's blog 😀
adam.ai is not only a meeting agenda software or a meeting minutes software, it is an all-in-one meeting management software that helps powerful teams manage their entire meeting lifecycle to ensure real results and drive businesses towards success.

The app offers w myriad of features that solve the problem of scattered meeting content between different silos, lack of transparency, and accountability on what needs to get done after a meeting.
Some of the features I personally use and depend on are creating meeting agenda with a timer, voting on decisions during a meeting, and generating meeting minutes automatically afterwards.
Remote work tools for video calling and meetings
There are plenty of platforms and software to schedule and run meetings for remote teams. Some meeting tools focus on scheduling, audio/video calling, and sending invitations, while others take the meeting experience to beyond these basics with more built-in features.

Zoom
Zoom is the biggest video conferencing provider in the world, a leader for six consecutive years. It provides meeting solutions for individuals and all industries, with very affordable prices and a convenient free plan.
Zoom users can schedule and run meetings, share screens, use emojis and raise hands, chat, and record a meeting.

Webex
Webex by Cisco brands itself as "an app for everything and everyone." Teams around the world use it for calling, meeting, messaging, polling, and creating events.
Webex is one of the tools to engage remote employees, because it encourages more active participation in meetings and events with easy interactive audience tools for polling and Q&A.

The app also offers some of the best collaboration tools for remote teams, devices that are designed for world-class collaboration experiences.


Microsoft Teams
Microsoft Teams, a product from office Microsoft apps, allows remote teams to "chat, meet, call, and collaborate all in one place."
MS Teams users can transition from a chat to a call for deeper collaboration, manage calendar invites, join a meeting directly in Teams, and use background effects. The app supports teams of two or 10,000 members.

Google Meet
Google Meet is a premium video meetings service that is free and available for all. Google Meet is so simple that you don't have to scroll down their homepage! You simply start a new meeting, get a link you can send to people you want to meet with, and see everyone together.
The app is safe, because "no one can join a meeting unless invited or admitted by the host." And because they are both part of Google Workspace, users can schedule meetings and send invites to participants via Google Calendar.

GoToMeeting
GoToMeeting is a fast and reliable video conferencing service that brands itself as the app that "empowers your remote workforce, while keeping your business safe and secured."
GoToMeeting operates with collaboration and productivity in mind. No downloads are necessary, access easily from a mobile (iOS or Android), engage and support teams, and much more.
There are other meeting apps for remote and hybrid teams that are as great as the aforementioned ones and offer cool features that help teams and leaders boost productivity, like Skype, UberConference, that's now Dialpad Meetings, and many others.
Remote work tools for communications and chatting
In the office, all we have to do is stand up, no we don't even have to stand up we can roll the chair over, and go chat or ask or just talk. Communications among remote team members are not that easy and, if done wrong, can be a headache.
That's why a simple search for chatting tools for remote work would return thousands of results and tens of reliable apps worthy of your trust.
✔️ Do it like a pro. It helps when you know the communication styles of your team members so that you can encourage positive ones and manage aggressive or manipulative communicators in the team.

Slack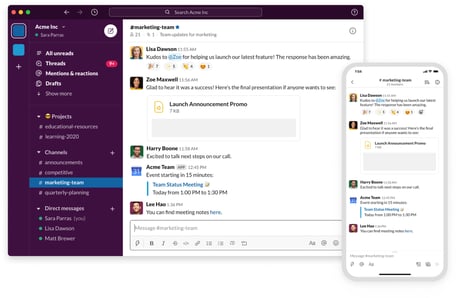 Slack is, by far, the #1 communication and chatting app in the market. The app is so simple yet powerful and full of features that HubSpot had to write a full guide to uncover Slack's hacks!
Slack works for all kinds of companies and teams, keeps team's communication organized and efficient, and adapts to fit all work needs.
Slack users create workspaces and channels and invite people, whether clients or employees, working on the same project together.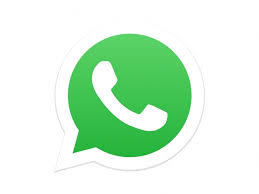 WhatsApp
What's great and unique about WhatsApp is that all you need is a phone number to connect with someone. It works in most countries of the world, supports voice messaging, and allows you to create group chats and host multiple-person video calls.

Google Chat (Google Hangouts formerly)
The Google workplace completes its G Suite with a simple chatting tool that opens right into your Gmail. Google Chat is a free, user-friendly messaging tool for remote employees.
Yes, it's easy to search for a contact within the chat and the reminders part is very helpful, but the pop up messages get on my nerves 😄
Remote work tools for file sharing
Teams often need to share and manage assets and material among each others, and this is true for teams working from the office as well. An abundance of file sharing apps is available for free for such purposes.

Google Drive
Google Drive is a file storage service that allows users to store, synchronize, and share files in the cloud. It allows for sharing single or multiple files, changing roles and permissions, and adding comments for collaboration.
➕ The files you share do not always have to do with tasks and projects, you can share this employee development plan with a self-help guide and bring the best out of your team.

One Drive
OneDrive is a file hosting service that enables registered users to share and synchronize their files easily and securely.
Teams can share photos and files to OneDrive and, not only access, but collaborate on them from any device in real time.

Dropbox
Dropbox is the perfect solution for sharing large files quickly and securely. It allows its users to collaborate with friends, family, and coworkers from any device. What's nice about Dropbox is that it lets you make quick updates that all team members can view almost immediately.
Dropbox gives you 2 GB of cloud storage for free; for more space, they have affordable personal and business plans with tens of features and priority email, live, and phone support.

Box
Box provides secure file sharing and seamless collaboration for teams of all sizes, instead of sending emails with data-heavy attachments. Box is good for big projects with lots of files being exchanged.
The only take could be the fact that there is no outside organization access.
Remote work tools for project management
Project management tools come on top of the list for remote and hybrid teams. Such productivity tools help us stay organized and up to date with every single project.

Trello
Trello is a powerful tool that helps teams work together, manage projects, and organize tasks, with an abundance of features and customizations that fit all sizes of teams.
"From meetings and projects to events and goal setting, Trello's intuitive features give any team the ability to quickly set up and customize workflows for just about anything."
Remember. The more your goals are SMART, the better you can track their effectiveness. Use this inclusive guide to create SMART goals and drive better results.

Asana
Asana brand themselves as the tool that helps teams "work on big ideas, without the busywork." Teams can organize their projects on Asana no matter how small or big they are.
What we love about Asana is that it has a great design and multi-usage options. It also reminds you of tasks in a nice way.

Jira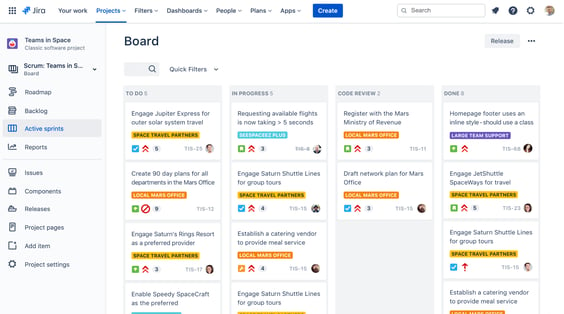 Jira is a software development tool used by agile teams to plan, track, and release great software. Some of the features that teams admire about Jira are the backlog management with Kanban board, the easy customization, in addition to the myriad of extensions available on their marketplace.
Remote work tools for collaborating on designs
Not only designers, but other team members might also want to collaborate together on creating design files or visual assets to get a task done. Fascinating productivity tools have been created that make it easy for almost anyone to edit images and create simple designs that can convey a message visually.

Adobe
Adobe Creative Cloud is the most famous platform to create designs, illustrations, and videos and then share them with the rest of the team. Some of Adobe's famous products are Photoshop, InDesign, and Illustrator, among others — great productivity tools to "collaborate with creativity."

Canva
I personally use Canva and I am Lovin' it <3 It's one of the best-performing team productivity tools in the market.
Not only does the app allows design novices, like myself, to effortlessly create stunning designs, but it also lets you share designs with others to view and edit — how convenient is that!

InVision
InVision is a tool for creative teams who collaborate on designs or technical teams working on product prototyping projects. The app promises to "lead teams from ideas to execution with the digital whiteboard that's refreshingly simple, but surprisingly robust."
What teams like about InVision is the real-time collaboration and low-friction access. Some have shown dissatisfaction about clarity in user access/billing — yet, it's a tool worth exploring.
Remote work tools for internal documentation and tutorials
Say you're responsible for training new hires, onboard them, and walk them through all features of your product. How many times would you have to give the same tutorials?
A lot!
Using a tool to record tutorials and document internal material saves time and effort.
In addition, knowledge won't depend on the presence of a single person; it'd be safely documented for future use by any one at any time.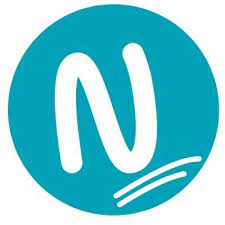 Nimbus Web Platform
We, at adam.ai, use Nimbus all the time because we are working remotely. We record videos explaining the new features added to the product and circulate them in the team. We also record issues to send to the dev team all the time.
Nimbus also has many other features that support seamless and effective collaboration among remote team members.

Loom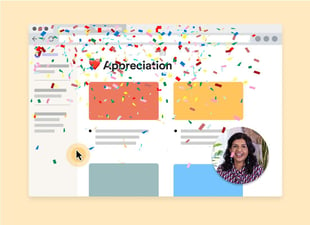 Loom is a tool used to record quick videos of your screen and cam. It's "an essential tool for hybrid workplaces." It's so simple: record a presentation or an announcement, get a link, and send it across relevant channels.

Confluence
Confluence is everyone's "remote-friendly team workspace where knowledge and collaboration meet." The tool allows teams to create internal blogs, keep documents, take notes, build plans, do quick wireframes, and more, all in one easily searchable place.

Notion
This brilliant, user-friendly, foolproof app is our tool of choice to document material and information and organize everything for future access.
Notion connects teams, projects, and docs all in one place. We use Notion at adam.ai and what I personally love the most is that it's so easy to copy-paste data in any format without missing up your whole doc. We have pages for every department so that nothing is lost. We also use Notion to assign tasks across different departments to guarantee accountability and responsibility.
💡 For example, every leader or manager that joins adam.ai is required to upload their 30-60-90 day plan to Notion so that we can all view and collaborate on in real time.
Remote work tools for managing passwords and access
For me, the biggest nightmare is the moment I'm signing in to a tool or an account I don't use much and it tells me the password I entered is incorrect 😤
That's why a password manager is indispensable for all teams, whether remote or physical.

1Password
1Password is an easy way to store and use strong passwords, so that you can log in to sites and fill forms securely. 1Password makes sharing logins securely simple, and it enables leaders to give their team access to remote working tools, company passwords, or anything else they might need while working from home.
Remote work tools for tracking time and progress
One one hand, some payment methods depend on the time spent on a task, like some freelance writing projects, which makes knowing how much time one spent working on something is essential.
On the other hand, some team leaders prefer to keep a close eye on how the team is spending their time for productivity purposes.
As a working mother, I like to keep track of the time I spend working daily for work-life balance, and such tools for tracking time help me.

Jibble
We, at adam.ai, use Jibble to sign in and out to track time and progress, and also to let our teammates know who's available and who's not. This time-tracking app is free forever for unlimited users.
Jibble integrates with your workflow so that employees can Jibble in and out without the hassle of multiple logins. It also uses AI-driven verification, like facial recognition and PIN numbers, among other handy features.

Time Doctor
Time Doctor is an employee-friendly time tracking tool that gives productivity insights that enable teams to do their best work.
This time tracking tool lets managers know where their team excels and where it needs help so they can easily improve individual and overall performance.

Harvest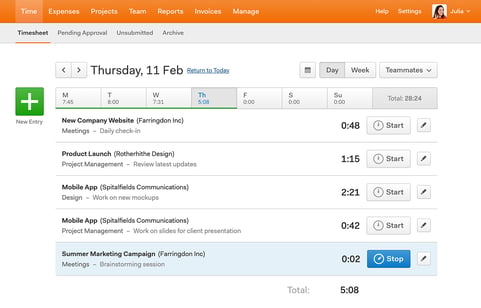 Harvest is a modern time-tracking software that helps remote employees and freelancers keep track of time and expenses. It's so simple to use; just create an item and then start and stop the clock for each task.

Hubstaff
Hubstaff is a time tracking and productivity monitoring tool that promises managers to "spend less time tracking and more time growing."
In fact, Hubstaff is more than a tool, it's a complete platform for time tracking, workforce, and project management that helps its users run a more profitable business, improve productivity, and automate team management.
Remote work tools for taking decisions as a team
Whether you're agreeing on a meeting time that works for everyone or deciding on an outing, tools for decision taking is helpful for remote and hybrid teams.

Polly
Polly helps managers and team leaders make data-driven decisions by sending out surveys and questions that people actually like to answer 😀.
Polly offers ready-made templates, covers all types of questions, and integrates beautifully with Slack, Microsoft Teams, and others.

Doodle
Make a poll with Doodle, manage it online, add options and additional features, and send the invitations (use your own email or have Doodle send out the invitations for you); it's as simple as that.
Remote work tools for rewards and recognition
Big deal of the challenges managers face with remote teams is how to keep up their morale and take care of each one's emotional well-being. By doing this, a leader will see that the team is productive and motivated.
A powerful motivating factor for employees is when their wins and achievements are noticed and recognized. Celebrating events like birthdays, anniversaries, or work milestones goes a long way too when it comes to remote-workers motivation. Luckily, there are tools that do exactly this.

Kazoo
Kazoo helps organizations value and reward their employees and it lets remote teams recognize each other's outstanding contributions day to day.
How the app actually works is pretty cool: a manager calls out a member's wins and recognizes him/her for a job well done; co-workers cheer them with personal messages and comments; this member receives points for achievements 😀

Bonusly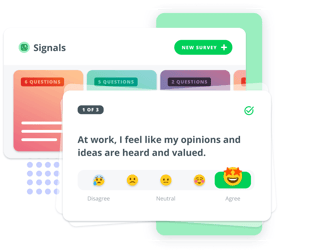 Bonusly is a fun, personal employee recognition and rewards tool that can enrich any company's culture. Teammates can show appreciation for one another and get points for performing well on projects or helping each other out.
It also makes it easy for managers and leaders to "gather, understand, and act on employee feedback with fun, lightweight surveys of all types."
This list has come to an end, but the ideas it inspires are endless.
We have tried to covered as many productivity tools as we can, laying out their best features and how they can be put into use. These productivity tools are very useful for remote teams in particular; yet, many of them are great for teams working from office or in hybrid mode.