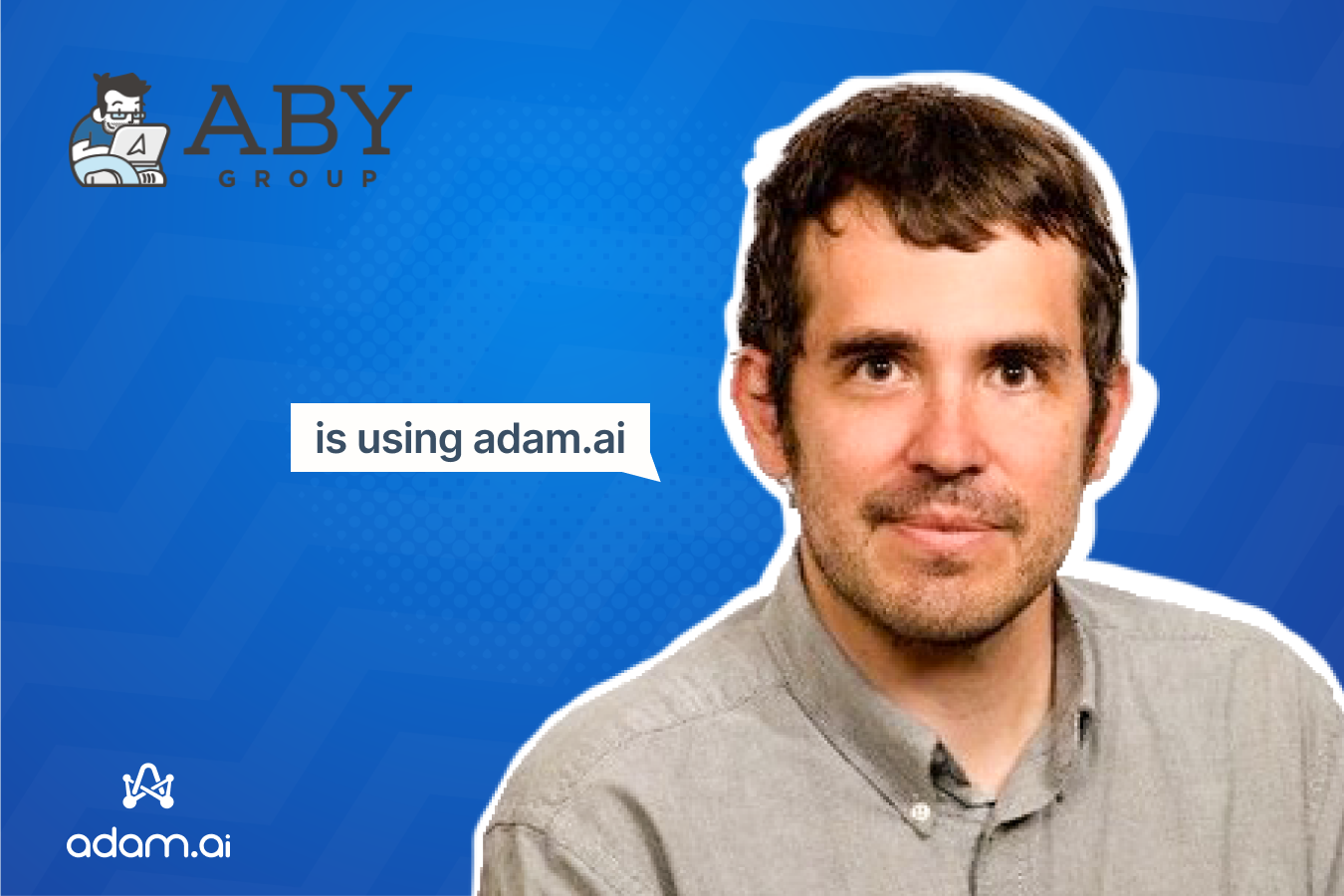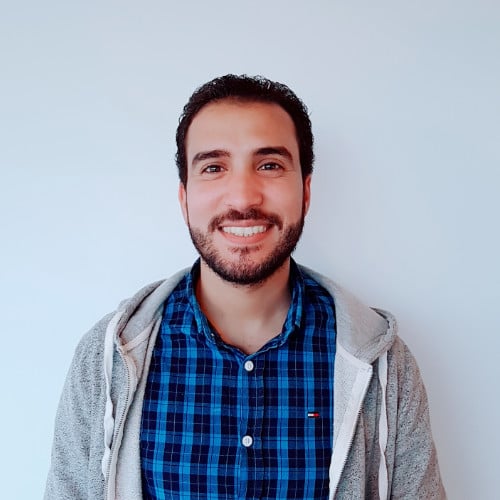 After Cisco's tech manager talked about how he used adam.ai to fuel productivity within his team, here's how this Spanish digital marketing company, led by their talented CEO Enrique Aldaz, boosted meeting productivity by 60% and drove accountability to their team.
The manager loves it. The team loves it. The clients love it. Everyone seems to be happy with their newly adopted meeting management software. 😍
What is ABY Group?
ABY Group is a Spanish digital marketing company with a worldwide performance and a huge base of clientele of renowned companies, like HIVEON5, MUSU-TRUCK, and DATAKI, to name a few.
Thanks to their various divisions and top-notch technologies, world-class brands trust ABY Group to handle the complete cycle of their digital marketing strategies and needs.
And because they "speak transparently, clearly, and bluntly" with their clients, they run tons and loads of meetings, whether online, hybrid, or in-person.
Who is Enrique Aldaz?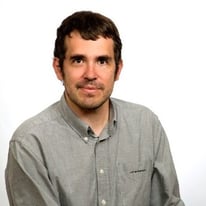 Enrique Aldaz Lago is the CEO and founder of the Spanish company ABY Group — a 15-year experienced marketeer who decided to launch his own digital marketing company and put his extensive marketing expertise into his own business.
Señor Aldaz has quite an academic experience, teaching at the University Alfonso X the Wise (UAX) and the University of Arts, Sciences, and Communication (UNIACC), in addition to other academic institutions.
Before deciding to start his own company, Enrique was once the CEO of Mr. Whitman marketing agency, a Director at Umbrella Marketing Corporation, and a Data Intelligence Consultant at Cardumen, where he developed new software and media models to carry out FBX, DSP, and Retargeting, among many other occupations and positions.
Enrique has been lucky enough to work with big accounts, like Microsoft and, recently, Lo Monaco.
Along his career, he managed and supervised expert teams in Europe and South America, and we can comfortably say that he knows a thing or two about how to effectively manage people and bring out the best in them.
No more chaos!
It all started out with an important online meeting with a big client that went wrong because of scattered data and lost accountability.
The client had certain expectations, the account manager couldn't find the related documents, and the manager, Enrique, "had a totally different thing in mind."
"My meetings are chaotic," I thought to myself. "It's time I dig up a meeting management solution."
I need control over my meetings!
ABY Group suffered from the following:
Scattered files and individual notes.

Lost accountability among different departments and the client.

Uncertain outcomes after the meeting, where no formal documentation is generated.
As a manager of a big team of marketers, designers, and creators and also the one responsible in front of the client, Enrique wanted "to have more control over what is said, not to blame a broken phone for not getting things done, and to stop wasting time and cut down on back-and-forth emails after the meeting."
adam.ai to the rescue!
ABY Group created several meetplaces on adam.ai to organize meetings with different clients.
The way they did it is that they created a meetplace for every client, and whenever they had a meeting with a client, they log into the meetplace designated to this client.
💡 Later on, we showed them a simpler way to do it, by having one single meetplace with all members on and then creating a project for each client, inviting this client as a guest to the meeting. Hence, project x includes all meetings with client x (completed and scheduled), all actions assigned to different members for client x, and all documents related to client x.
The feature that was very much appreciated and loved by the team was the meeting minutes generator (or the pdf creator as they called it 😃).
After each meeting, where all meeting details have been filled before and during the meeting (meeting agenda, votes, decisions, actions, etc.), meeting minutes are automatically generated.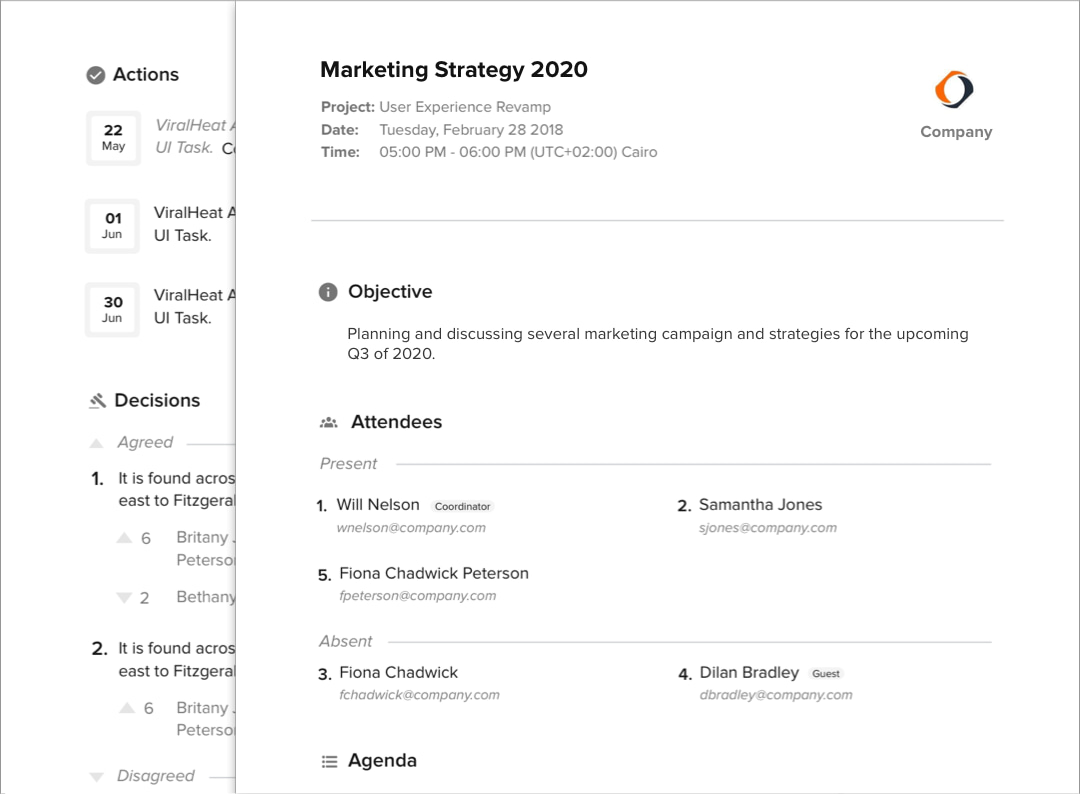 Screenshot from adam.ai: Automatically generated minutes of meeting
Enrique says, "the automatically generated MoM included the attendees, the votes we created, the decisions we took, and the actions we created — the kind of documentation we truly needed."
Then he adds, "once I approve these minutes, I share them with team members as well as the client with a click of a button, where everyone is aware of what has been said and agreed upon. No more writing lengthy emails and collecting individual notes from meeting attendees where usually data is missing and time is wasted."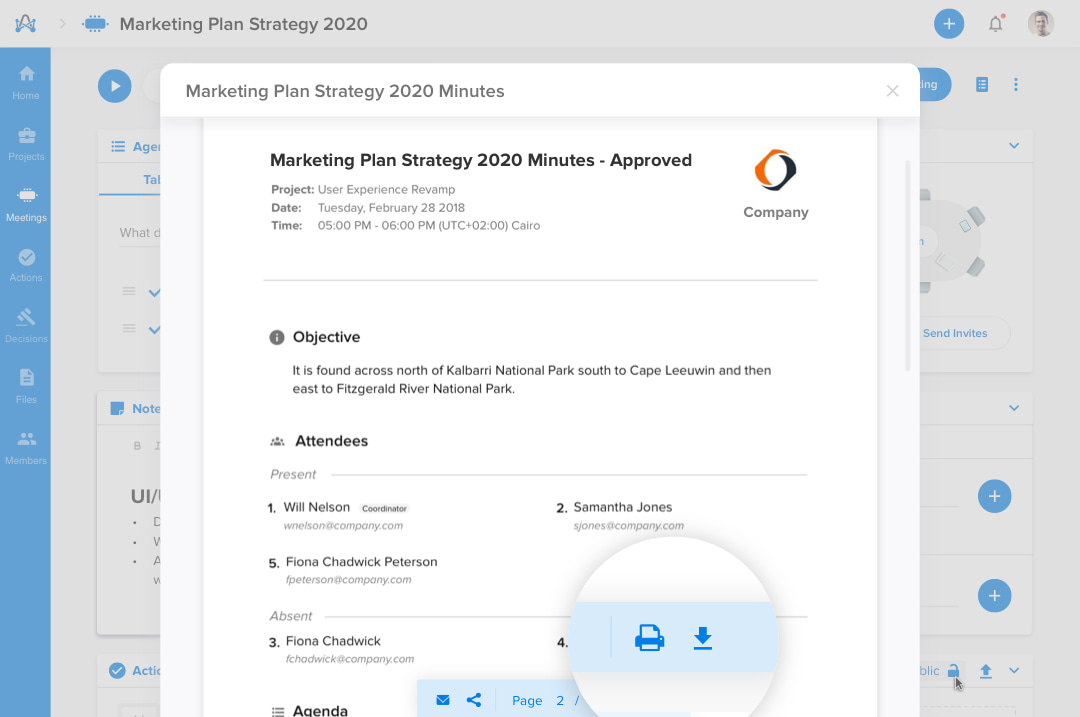 Screenshot from adam.ai: Share and download minutes of meeting
💡 The game changer for the company was the feature of linked meetings. Meetings related to the same project (same client) are grouped and linked together, which means that all previous data, files, and decisions can be referred back to quickly when needed.
Screenshot from adam.ai: Linked meetings
Unfortunately, ABY Group does not have exact numbers or statistics of how much time is saved before and after adopting adam.ai as a meeting management software into their system, but it is estimated that time wasted is cut down by more than 50% over all teams on a monthly basis.
Clarity matters the most!
"On our website, we promised our clients transparency and clarity," Enrique says. "adam.ai helped ABY Group fulfill this promise."
Before using adam.ai, the team at ABY Group depended mainly on notes, which led to ambiguity and delay.
Using a meeting management solution put everything in order. The team created the meeting on adam.ai, jotting down notes in the "Notes" tile, chatting either privately or publicly in the "Meeting Discussion" area, assigning "Actions," and uploading "Files."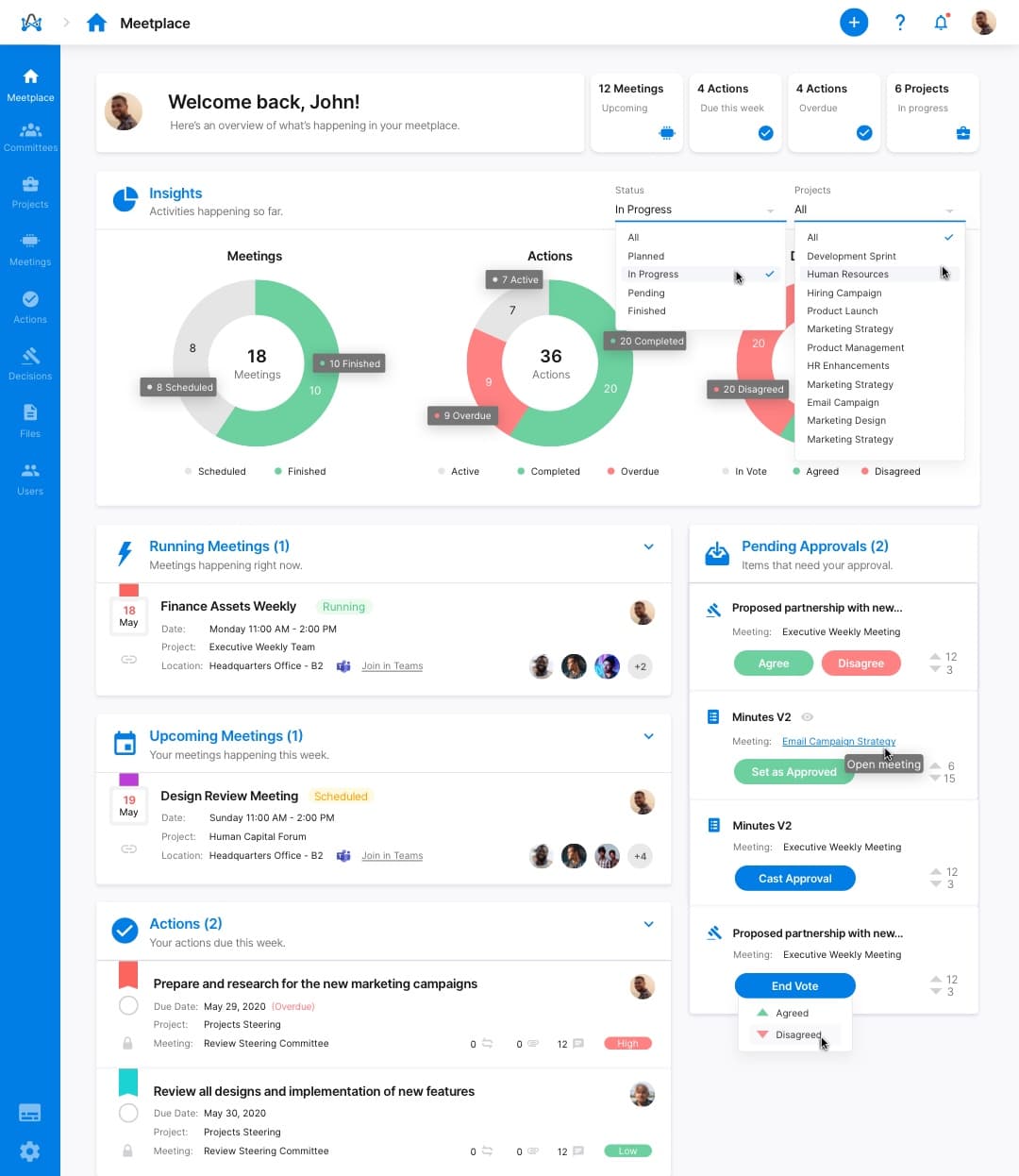 Screenshot from adam.ai: Organized dashboard
Afterwards, everything is automatically generated in the detailed meeting minutes (MoM), which members can easily share and download via various means before or after being approved by the meeting coordinator.
Integrations make it better!
"Initially, we integrated Google Workspace with our adam.ai meetplace," the team excitedly explained. "Google Meet as a video conferencing tool, Google Calendar for scheduling, Google Drive to share files, and others."
💡 We communicated with the team later to showcase how they can make use of other project management, collaboration, and CRM integrations to make the most out of their meetings and their daily tasks with clients.
➕ Check out all integrations with adam.ai.
Productivity and accountability, checked ✔️
Enrique and his team were amazed by the difference and the impact adam.ai made and has on their meetings productivity.
"I do not have the exact numbers or statistics, but I can assure you that the overall productivity of our meetings has increased by almost 60% since we've started using adam.ai as a meeting management tool."
"What cannot be counted nor measured is the level of accountability adam.ai drives. Thanks to the app, we now know who said what, when, and to whom; we have documented minutes of what was agreed upon; it's clear which actions are assigned to whom at what deadlines; all is crystal clear and everyone is held accountable for their own decisions, promises, and actions."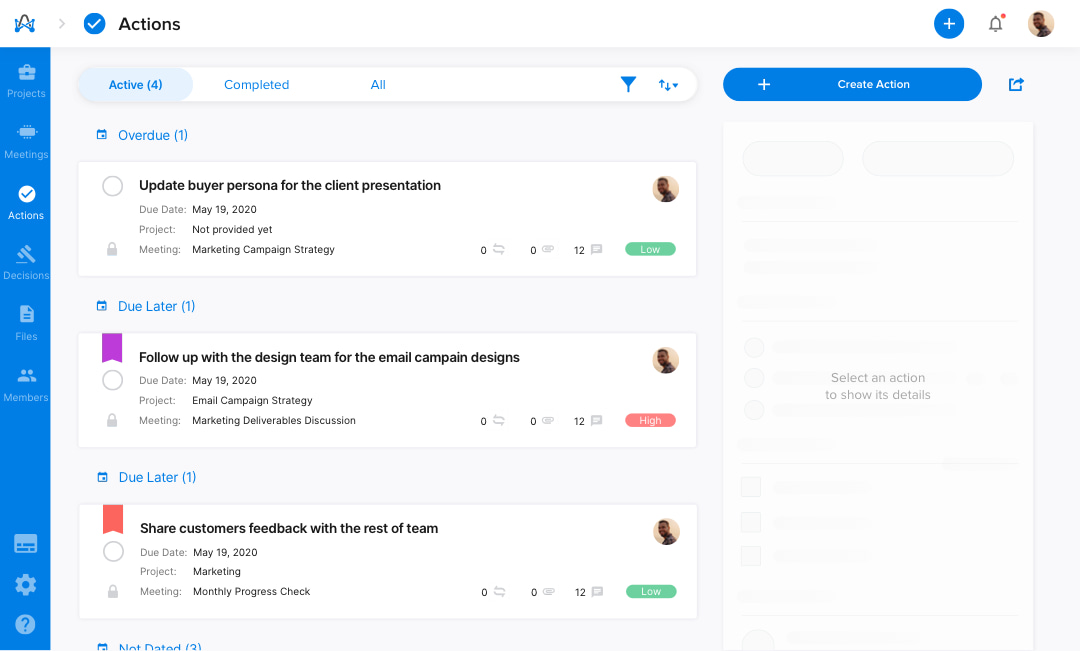 Screenshot from adam.ai: The "Actions" page
Even the salespeople!
The sales team was also satisfied with the introduction of a meeting management tool into their work routine.
Enrique was especially happy with the difference adam.ai made with the salespeople in his team, saying that "for the salespeople, it has been a fast forward in their meetings, and they can now send the necessary information to the account managers without losing information on the way.
What's next?
The company wishes to know more about the product and make use of all of its features. They started by booking a demo with adam.ai customer success manager to find answers to all of their inquiries and learn more about the product.
The team will dedicate half an hour daily to read more about adam.ai features and integrations and digest the product's capabilities from the help center and the blog articles.
ABY Group wishes that adam.ai introduces more integrations in the future, and we promise we will sure do. We continuously update the platform and release new features based on users' feedback and usage.
To sum up, organizations and teams might not be aware of the fact that they need a meeting management software till they run into a situation and it becomes pretty clear they do.
Meeting management tools help teams run effective meetings, boost productivity, drive accountability, and make better outcomes out of every meeting they attend.
The apps are many, but here are some facts why we think adam.ai is the best for you: