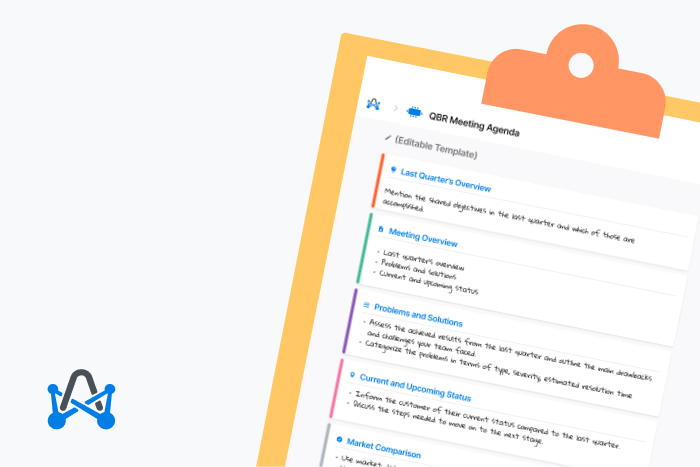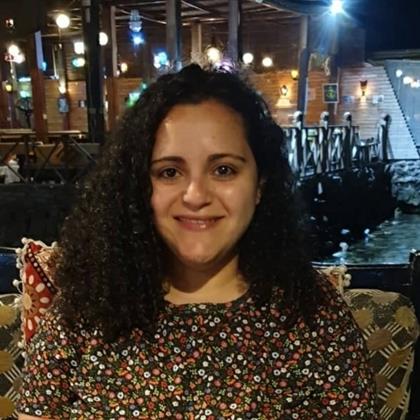 Any business must have someone responsible for maintaining a good relationship with its customers. Customer success management is a crucial part of any company because it keeps an open channel between the business and its clients to learn about their different needs and alter its products and services to fit those needs.
With the ongoing changes in market trends, customer demands are always changing, and a customer success manager must be on top of those demands on a regular basis, which is where QBR meetings step in.
This article will discuss quarterly business reviews, their importance, best practices in conducting QBRs, and the importance of using a meeting agenda.
Let's dissect the article into sections:
What is a QBR meeting?
QBR is short for quarterly business review and refers to the meeting conducted with the customer every three months or fiscal quarter to touch base on a project's progress in the last quarter and determine what will happen in the next one.
Also known as an internal or executive quarterly business review, a QBR meeting concentrates on KPIs and return on investment to come up with crucial insights that determine a strategic plan for the upcoming quarter.
A QBR sounds like a major meeting, so how long does it last?
How long is a quarterly business review?
A quarterly business review meeting is optimally held for 30 minutes to an hour. While this may seem like a short time, with proper planning, it is entirely possible.
Remember that a QBR meeting is not a place for icebreakers or getting to know the client; it's conducted to inform the client with specific insights and reports and mention an overview of what happened in the last quarter and what's to be expected in the next.
Let's discover more details about why QBR meetings are important.
What is the purpose of a QBR meeting?
A QBR meeting is crucial for customer success management because it keeps the conversation going between the team and the client to fix any issues head-on and remain aligned with their goals.
The sole purpose of QBRs is to enhance value on current projects by keeping the customer up-to-date with a project's progress and implementing any needed changes.
A QBR serves as a specific 3-month timeframe with particular dates, at the end of which your customer will expect certain project deliverables that were agreed upon in the last QBR meeting. This way, your team will clearly understand their target each quarter, and the customer gets the chance to provide their feedback on your work.
Without regular QBR meetings, your team may waste a lot of time and effort working toward certain goals that the customer may end up changing.
Let's take a look at a few benefits of conducting QBR meetings.
1. Enhancing collaboration
QBRs enhance collaboration with the customer and reinforce your relationship with them, which is a cornerstone of effective customer success management.
The customer can provide their input and give you a roadmap of what they want, which helps your team work efficiently and target specific objectives.
2. Providing an overview
Every QBR meeting serves as an overview of what happened so far in the project and what to look forward to in the next QBR.
Since the meeting is held every three months, it gives the customer a chance to see the product on a wider scale. While it's important to be involved with the details of the project, sometimes the customer may lose sight of the big picture, which is where QBR meetings come in handy.
3. Aligning goals
A QBR meeting is the ultimate way to align the project's goals with the customer.
Sometimes, the customer may ask for new changes in the project, which must be communicated clearly to avoid any delays.
An experienced customer success manager knows when to remind the customer of the project's original objectives to prevent unnecessary deviations from the action plan. QBRs ensure effective communication with the customer to agree on set goals and establish a solid action plan.
4. Foreseeing risks
QBRs are the perfect place to detect warning signs of any issues in the project.
Foreseeing potential risks is essential in the planning stages with the customer, and with regular QBRs, those potential hurdles can be discussed and fixed at the right time.
5. Increasing customer retention
With regular QBR meetings, your chances of increasing customer retention rise drastically, especially if you recently adopted this concept.
When you give the customer extra attention, they get the idea that you care about their input and cover all loose ends in a project on a regular basis. This customer will more likely come back to you to collaborate on new projects in the future.
A good customer success manager knows the importance of managing churn risk, which is the expected turnover rate of customers who won't use your services again. Maintaining your current customer base is just as important as, if not more, gaining new customers.
So how will you be able to achieve that? The simple answer is, by running effective QBR meetings.
How do you run a QBR meeting?
To conduct a successful QBR meeting, you should keep your eyes on the prize, that is, the main objectives and purpose behind the meeting.
Since QBRs happen every three months, you may find yourself spending too much time catching up with the customer without getting to the point.
Remember that a QBR meeting is not the place to suggest new ideas to the customer but a chance to discover if your team's work for the past quarter is meeting the customer's expectations.
For this reason, stick to the following points to avoid getting sidetracked from the meeting's objectives:
1. Highlight the project's main goals
Every QBR meeting must include an overview of the project's main goals that should be placed front and center to track the project's progress to the current moment.
The customer gets to know which of these goals are met and which are pending and if there are any obstacles you should discuss with them. Reviewing the goals every quarter is also a great way to remind the customer of the original vision and stay true to it throughout the project.
2. Review KPIs
The project's KPIs and main goals go hand in hand in QBR meetings because you'll need to track and discuss past performance to find out how to optimize your workflow.
KPIs are useful in detecting the financial performance to provide the customer with an accurate estimate of their return on investment. This information will help both you and the customer make important decisions that can be implemented in an updated action plan.
3. List all obstacles in the project
QBRs are a great way to go over any challenges facing your team in the project. These hurdles serve as an explanation for why some goals aren't met yet, which keeps the customer in the loop and helps you gain their trust.
If you skip this step, the customer may think your team is not doing enough effort to achieve the project's main objectives and will more likely not hire you again for future projects.
✋ Remember to always be honest with the customer and not just assure them everything is ok when it's not; that does no good to either party.
4. Mention your suggested solutions
After outlining the challenges, it's time to talk about how you plan to resolve them. This is a crucial part of a QBR meeting because it shows the client you're competent in problem-solving and are actively trying to overcome any obstacles.
Make sure to support your case with clear insights while mentioning potential risks to give the customer a well-rounded idea of your plan for the upcoming quarter. If these suggestions were approved, keep them in mind and write them in your notes because they will come up in the next QBR meeting.
5. Set new goals for the next quarter
After discussing the original goals, problems, and solutions, it's time to determine the agreed-upon objectives for the upcoming quarter to be discussed in the next QBR meeting.
Create an action plan for the next three months including all the customer's requirements and shared objectives in the QBR meeting.
6. Wrap up
Finally, mention a quick overview of the decisions made during the meeting and assign the required tasks to team members so that everyone knows what to work on in the next quarter.
As a customer success manager, you need to track the team's progress for the next three months to ensure goals are met before the upcoming QBR meeting.
💡Pro Tip. Use an all-in-one meeting management software, like adam.ai, to conduct your QBR meetings, automatically generate meeting minutes, take notes, record decisions, share KPI or OKR documents, and record the meeting itself to send to the customer.
Use the meeting timer feature in your meeting room to dedicate a specific time for each talking point for a well-structured QBR meeting.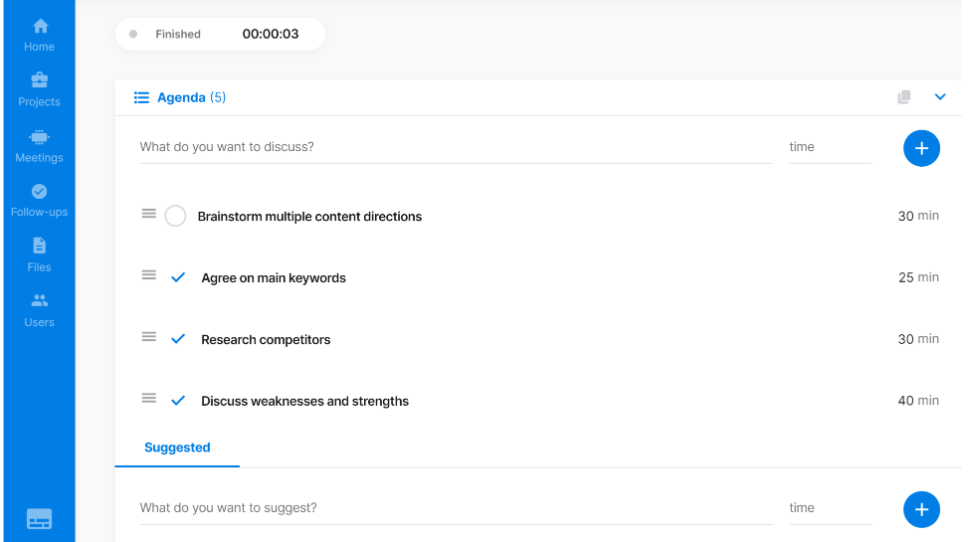 Screenshot from adam.ai: The meeting timer
You can duplicate your QBR meeting with the same attendees, notes, and agenda to use every quarter as a reference point to find out which objectives were accomplished.

Screenshot from adam.ai: Duplicate meetings
Use the decisions tile in your meeting room where you can add decisions during the meeting for the next quarter.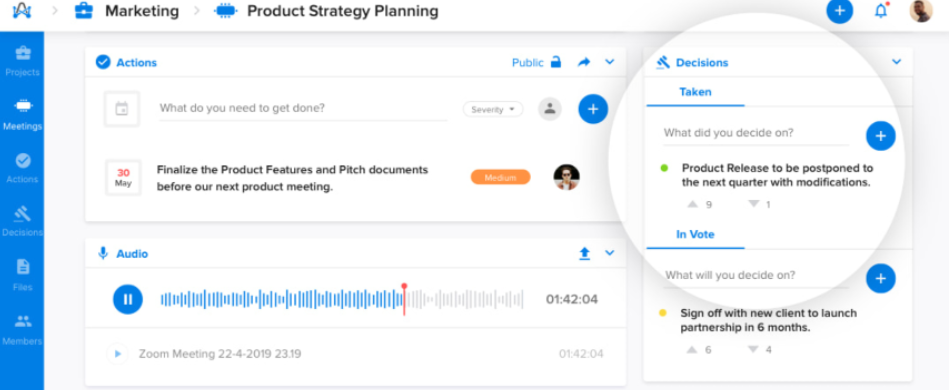 Screenshot from adam.ai: Managing your decisions
Finally, write down your action items in the actions tile to work on for the next quarter and keep it as a reference for your next QBR meeting.

Screenshot from adam.ai: Managing your actions
Get started on your 14-day trial and enjoy adam.ai's numerous features to run an efficient QBR meeting.
14-day pro. No credit card. No hidden fees.
After learning the best practices, let's find out which mistakes to watch out for in QBR meetings.
What mistakes to avoid in a QBR meeting
If you're new to the concept of QBR meetings, you're bound to make a few mistakes. Let's take a look at how you can avoid a few common mistakes in a QBR meeting:
1. Don't take it personally
The customer will always have feedback and criticisms of your team's work. While it's important to have your team's back, it's also important to not take it personally when the customer disapproves of something.
If you disagree on an issue in the project, listen carefully to the customer's concerns and take your time to consider them before defending your point of view. Try to be as flexible as possible to reach a common ground and avoid any issues with the customer.
2. Avoid pointing fingers
If someone on your team made a mistake, don't point them out to the customer. Acknowledge the issue to the customer as an overall mistake by the team and assure them it won't happen again. Give them a solution to that mistake without mentioning whose fault it was.
You can then talk to the employee who made that particular mistake and find out how to work past this issue. Being a good manager means listening to your team members and working out any problems together. As for the customer, they only need to know how you plan to overcome these mistakes and do better in the next quarter.
3. Don't waste time on minor details
One of the most common mistakes in QBRs is wasting a lot of time working through minor details in the project. Your customer wants an overview of the last quarter in a QBR without getting into smaller issues, which could be communicated at any time during the project.
Keep in mind that QBRs should only include important insights like KPIs and OKRs so that the customer knows what was accomplished and what's yet to be achieved in the project.
4. Don't skip steps
When explaining insights to the customer, make sure to take it step by step. This is why it's important to stick to a well-structured agenda to make sure the client can follow what you're saying.
Remind the customer of the set objectives for the last quarter and which of them were achieved and which are still pending. With each unfinished task, you can mention which obstacles faced your team and hindered their progress.
A QBR should be structured like a story with a beginning, middle, and end so that the customer fully understands what you're working on to avoid any miscommunication.
5. Don't just focus on the last quarter
Time management is crucial in a QBR meeting, and it's easy to spend a lot of time talking about the last quarter with all its issues and insights. However, it's important to dedicate time to plan for the next quarter and discuss what should be improved in the work process.
6. Don't dominate the conversation
A QBR meeting should be a two-way conversation; make sure to let the customer participate in the meeting and take notes of their concerns and suggestions. Figure out together which objectives are achievable and which aren't in the set timeline.
7. Don't forget to follow up after the QBR
Following up with the customer after the QBR is essential for achieving customer success. It's a chance to ensure the customer understood all the points in the meeting and to give them a chance to clear any doubts or concerns to make sure you're on the same page.
A follow-up email can include the action items for the next quarter, KPI or OKR reports, the meeting video, the QBR presentation, meeting minutes, and any notes or decisions made during the meeting.
Now that we've mentioned the dos and don'ts of QBRs, let's take a look at what guides a customer success manager in QBR meetings.
Customer success guide for quarterly business review progress
Customer success managers are responsible for running effective QBR meetings and ensuring they achieve their main purpose. Sometimes, the manager hosts QBRs themselves or assign a team member to meet with the customer, but in any case, they must be involved in the process.
If a customer success manager doesn't keep up with regular QBRs, they won't be able to foresee risks and issues and communicate them to the customer. The manager should mark their calendar for QBRs with each customer to deduce valuable insights and improve the work process on each project.
Conducting a QBR meeting for the first time might be a bit tricky, but you must know that it's the ultimate way toward customer success as it helps you to tap into the customer's mind and communicate any issues with them. This way, you'll be able to set a reasonable, robust action plan together to follow up on in the next QBR meeting.
The best customer success guide for QBRs is to create an agenda for the meeting to mark what you'll discuss in the meeting without wasting any time. Read on to find out what should be included in a QBR meeting agenda.
What is a QBR meeting agenda?
A QBR meeting agenda is a specific structure with all the main points you must tackle in a QBR meeting.
Here are a few items you can find in a QBR meeting agenda.
1. Return on investment
As mentioned before, ROI is one of the key reports the customer will be asking for in a QBR meeting as it will help determine the financial plan for the next quarter.
2. An overview of the last quarter
As the name suggests, a QBR is conducted to review performance over the last quarter so the agenda must include a recap of what happened in the last 90 days to find out where you were before discussing where you're headed.
3. Problems and solutions
This section will be dedicated to any obstacles your team faced during the last quarter and which of these problems were solved. It serves as a checklist of the number of issues in the last period, which can be categorized according to type, severity, and estimated resolution time, while mentioning how many issues are still pending.
4. Current and upcoming status
The customer needs to know where they are right now after all the challenges in the last quarter and what steps are needed to move on to the next stage.
5. Market comparison
Prepare a presentation of how the customer measures up to competitors in the market to pinpoint what needs to be done to keep up with market trends.
💡Pro Tip. Use a meeting agenda template and customize it according to your meeting objectives to save time and effort. Don't forget to send a thank you mail after the meeting is finished; it has a positive effect on attendees and enhances meeting productivity.
Check out how to create a meeting agenda for effective meetings from this video:
Get started on your 14-day trial with adam.ai to organize your next QBR, create an efficient meeting agenda, and link all your past QBRs with the new ones for reference.
14-day pro. No credit card. No hidden fees.
What is a QBR template?
A QBR template is an editable document with all the key points you'll need to discuss with any customer in a QBR meeting. You can use the template to customize it according to your customer's needs and the type of project.

Feel free to download our editable QBR meeting agenda template.
It's free.
It's editable..
It's inclusive...
More meeting agenda templates
You can find a list of other useful meetings agenda templates on our blog, which can guide you to hold effective meetings:
1. Team meeting agenda template
2. Board team meeting agenda template
3. Quarterly planning meeting agenda template
4. Standup meeting agenda template
5. Status meeting agenda template
6. First meeting with new team agenda template
7. Brainstorming meeting agenda template
8. Skip-level meeting agenda template
9. Kick off meeting agenda template
10. Sales team meeting agenda template
11. Retrospective meeting agenda template
12. Sprint planning meeting agenda template
The bottom line
With all the mentioned tips in the article, you now have the necessary tools to ace your next QBR meeting. A good customer success manager knows the importance of using a meeting agenda to ensure a successful QBR meeting, so don't forget to check out our agenda template to help you run your meeting smoothly without missing any steps.
We recommend using an all-in-one meeting management platform to conduct all your meetings and link your past QBRs to every new meeting and maintain all your files, documents, notes, decisions, and action items in one place.
Here are a few reasons to choose adam.ai: