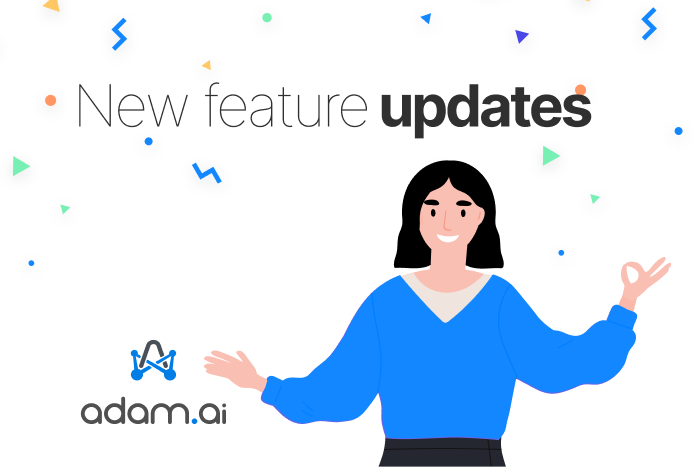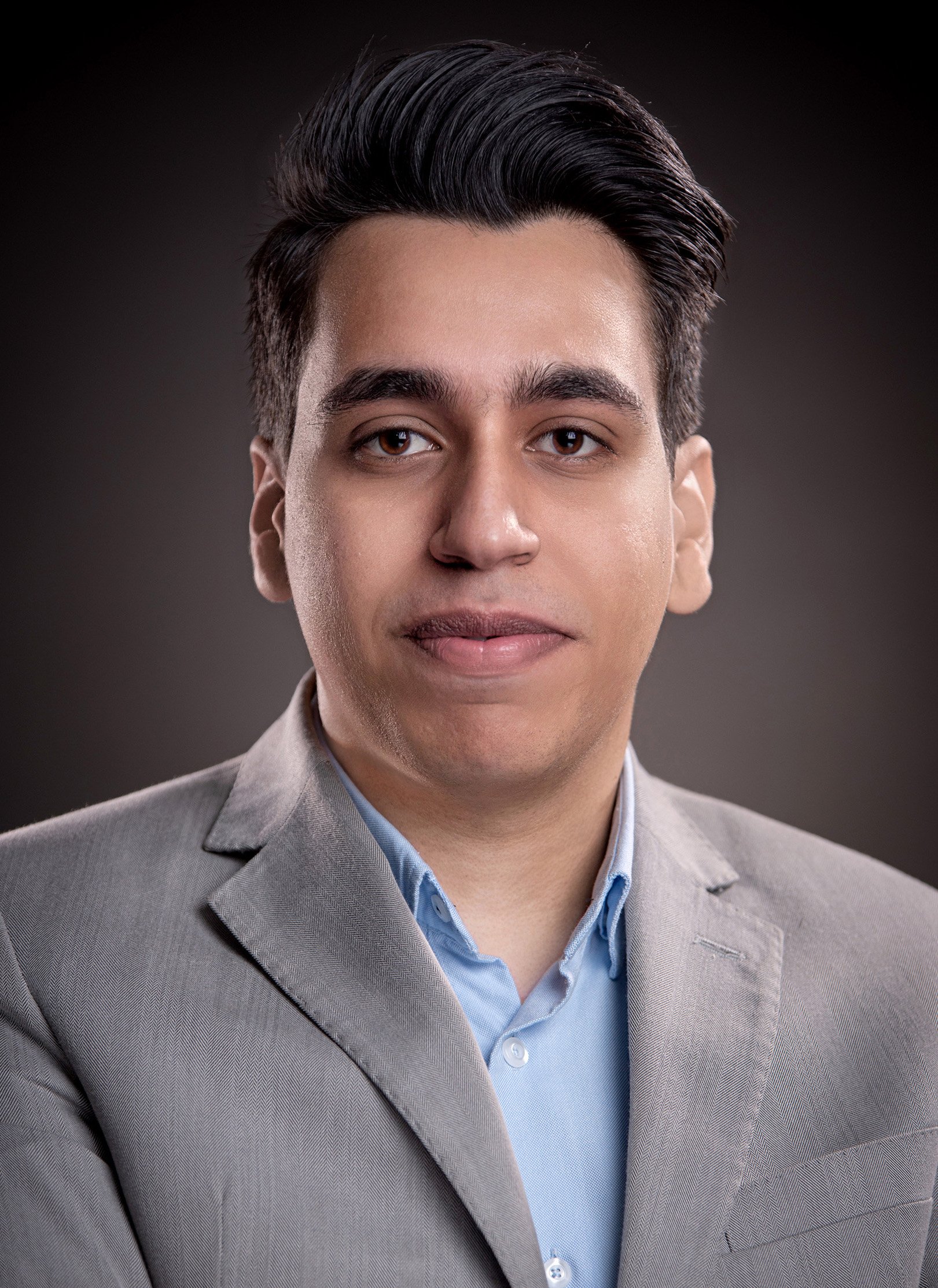 We have been listening to your feedback, monitoring your usage, and discovering your requirements.
Accordingly, it is time now to announce adam.ai's major feature update for our loyal users, as well as anticipating fans.
The below feature updates sprout from true users' needs and impact their everyday usage of online meetings, based on our value proposition as an all-in-one meeting management software.
Your meeting behavior, everyday requirements, and usage are the trigger behind this features release, and will always be behind future ones.
Table of Contents (feel free to click and navigate to the section that interests you the most)
3. Multiple Meeting Facilitators
1. Series Meetings
The power of series meetings on adam.ai goes far beyond scheduling; meetings are linked and connected together right on your dashboard.
You can schedule a series of meetings on your Meetplace, configuring their recurring time and date, connecting them to certain projects, and inviting attendees via email or through your integrated calendar.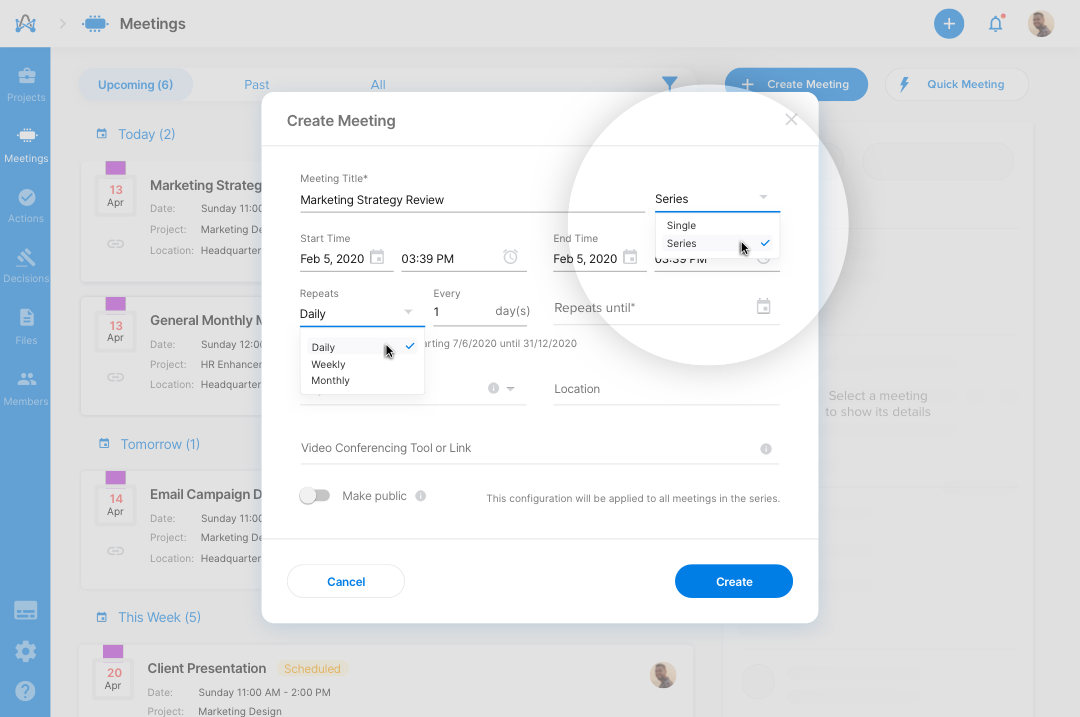 Screenshot from adam.ai: series meeting
Your series meetings on adam.ai are synced with your integrated calendar, and vice versa. Therefore, every action on one is automatically synced with the other for your peace of mind.
Recurring meetings are part of our everyday lives, that is why they better be automated.
2. Linked Meetings
Because adam.ai is far more than a scheduling platform, your meetings are now linked together in one place for a smarter, faster, and cohesive user experience.
While you are running meeting Z, you can link previous related meetings X and Y, view the agenda and minutes, recall the actions, and access them easily anytime you need information or details.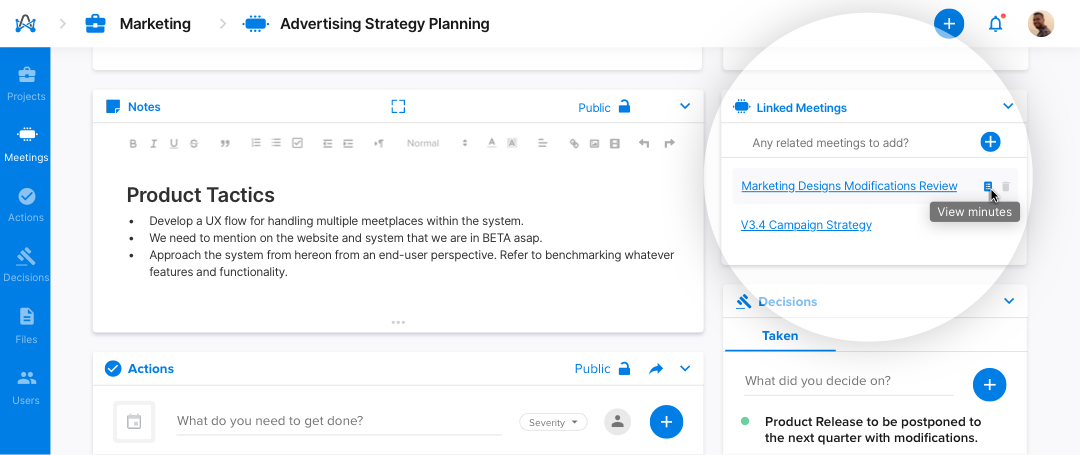 Screenshot from adam.ai: linked meetings
Not only series/recurring meetings are linked, but you can link any relevant meetings together as well.
This feature update is based on a true users' need to connect and access all related meetings to the meeting they are running now in one place, because, at the end of the day, all information and discussions are interlinked and scattered across a series of meetings.
Linked meetings help decision-makers get a bird-eye view, connect facts together, and link thoughts and ideas together to reach accurate, meaningful conclusions.
3. Multiple Meeting Facilitators
The meeting coordinator can now assign multiple facilitators to run and co-coordinate the created meeting.
What are the permissions of a meeting facilitator?
A meeting facilitator adds items to the meeting agenda, approves members' suggestions, assigns actions, starts voting, and takes notes.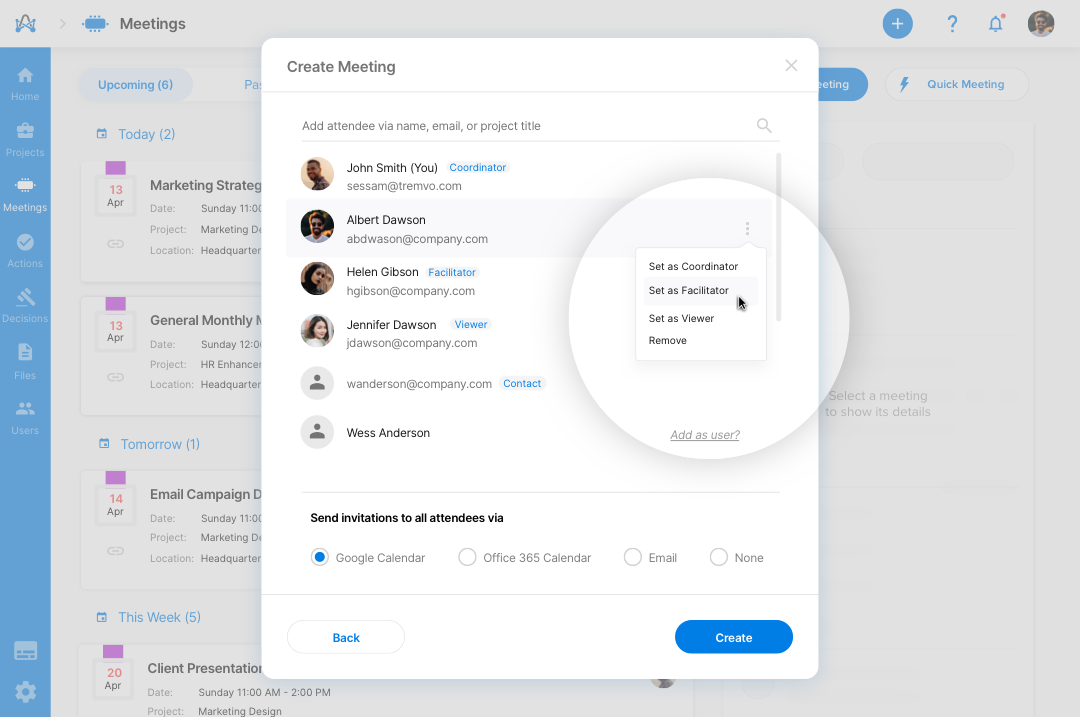 Screenshot from adam.ai: assigning meeting facilitators
Attention. Two members cannot take notes simultaneously. The "Notes" tile only accepts one writer so that none overrides the other. Make sure to switch between the coordinator and facilitators when writing notes to avoid confusion and attain properly written notes at the end of the meeting.
Multiple meeting facilitators feature targets the essence of online meetings: collaboration.
With adam.ai, it is not a one-man show. Facilitators collaborate with each other and with the coordinator towards a meeting that is focused, productive, and efficient.
4. Shared Discussion Area
Meeting members now have a dedicated area to share their thoughts, speak their minds out loud, highlight an idea to further discuss later, and "like" each other's inputs.
The shared Discussion is your public place to get your point across without interrupting the presenter or the flow of the meeting.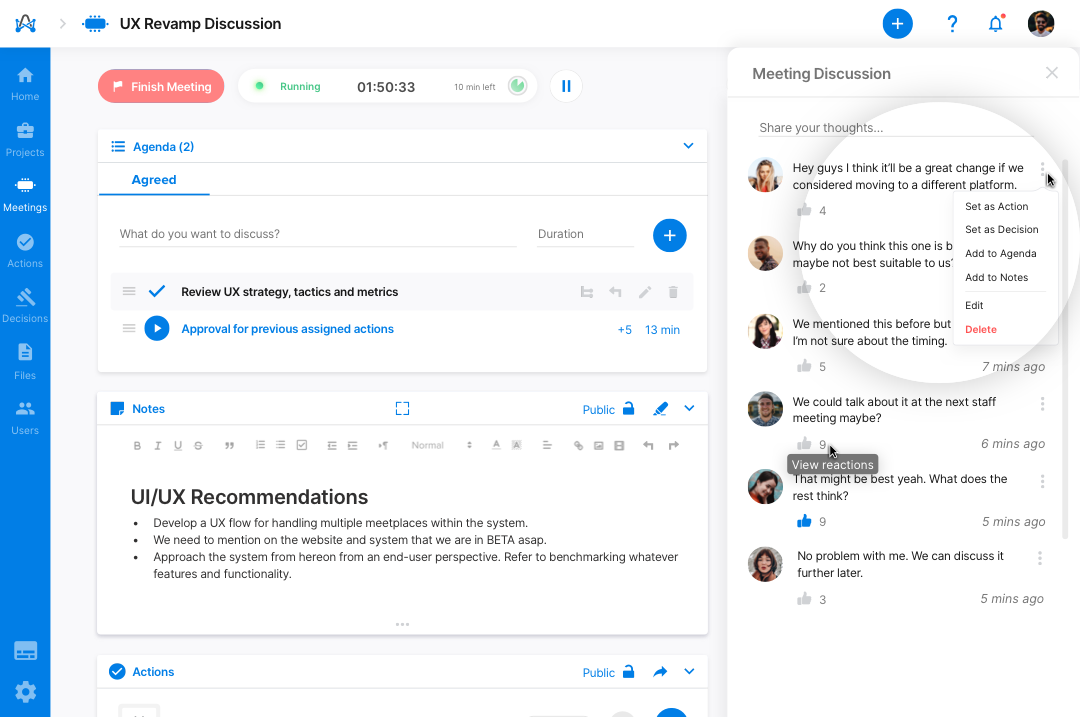 Screenshot from adam.ai: shared discussion area
Furthermore, the meeting coordinator/facilitator can easily convert ideas in the discussion area into action, an agenda item, a decision, or a note — collaboration at its best!
5. System-Wide Tags
You can now categorize meetings, projects, actions, and decisions by tags.
This system-wide tagging feature serves users' needs to categorize content by certain tags. This major feature update makes it easier to filter your way through the various information on the system.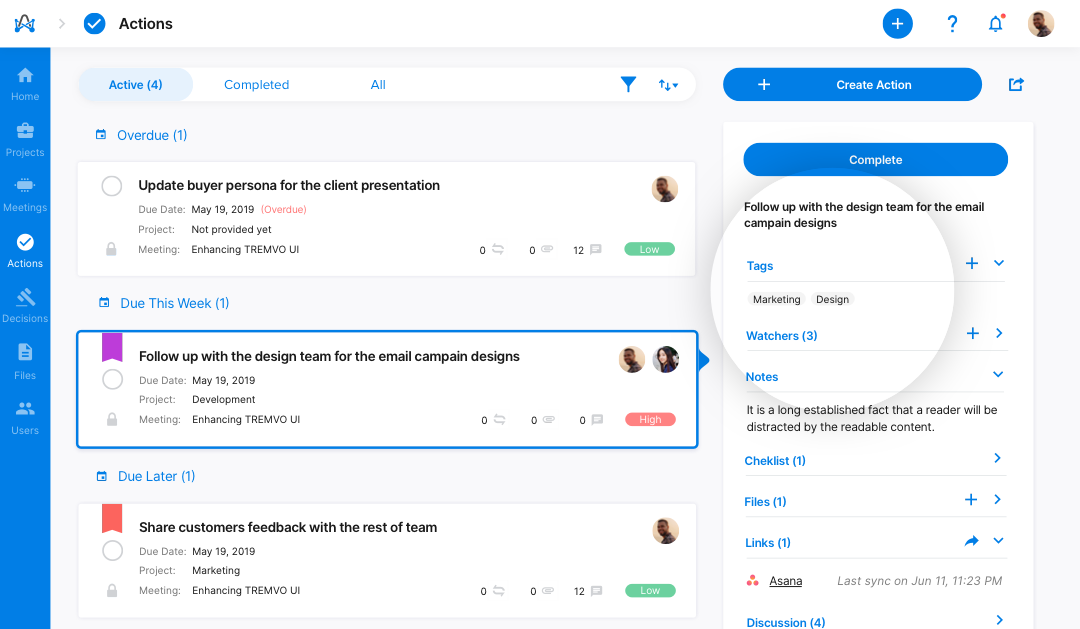 Screenshot from adam.ai: system-wide tags
Try it yourself. Give the same tag to one of your projects, as long as all of its attached actions, decisions, and meetings. How quickly can you allocate them later using this tag as a filter?
6. Delegate Actions
Assignees can now delegate the actions they are assigned for to other members with a click of a button.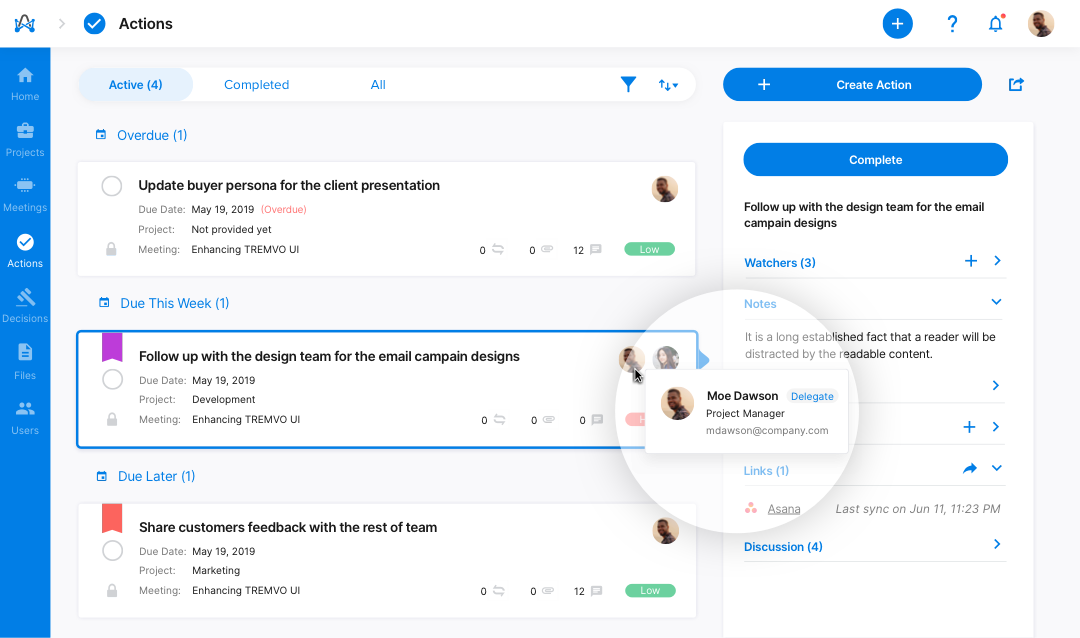 Screenshot from adam.ai: delegate actions
Both of the Assignee and the Delegate will be displayed on the action tile, as primary and secondary assignees.
This way, every one is held accountable for their actions in a clear and organized manner.
However, an action cannot be delegated more than once.
7. Action Activity Log
You can now view the entire history of every action from the "Activity" log.
You are now able to track the activities done on each action, whether someone completed, changed, added to, or linked something to this action.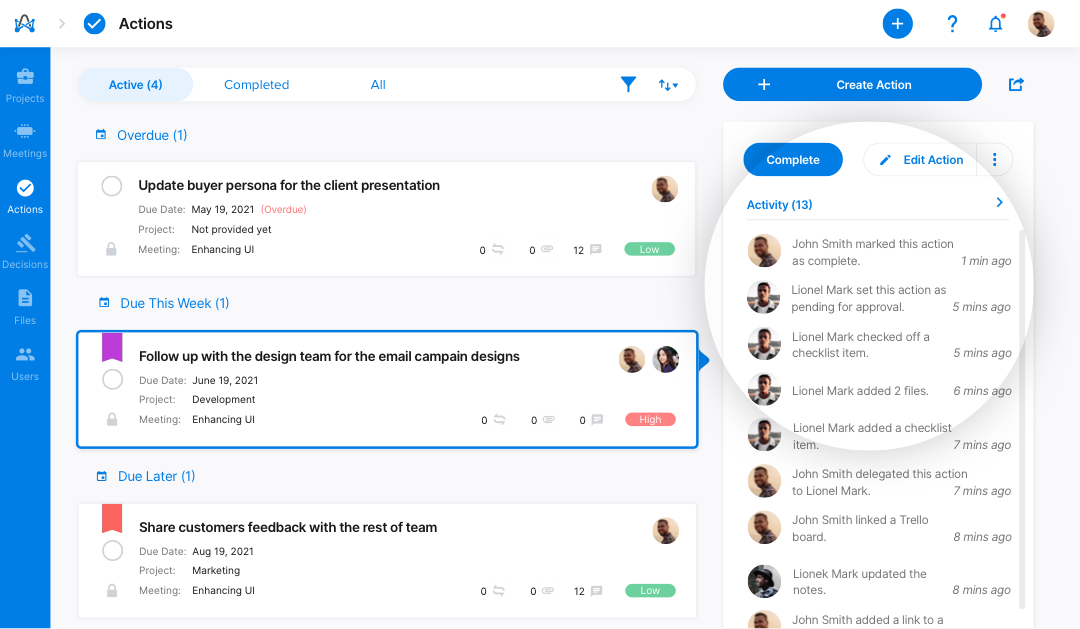 Screenshot from adam.ai: action activity log
This feature update adds value to the idea of transparency and accountability, where every action is logged and documented.
Not only does adam.ai record actions taken through the account itself, but it also records actions done through other collaboration tools like Asana, Trello, and the like.
8. Invitation Response Sync
Your response to an invitation on your calendar of choice, whether Google or Office 365, is instantly synced with your adam.ai account.
Responding to the meeting invitation shows you are aware of virtual meeting etiquette best practices.
This means that, next to each attendee name, the response status will be displayed as Accepted, Tentative, Declined, No response, or Proposes new time.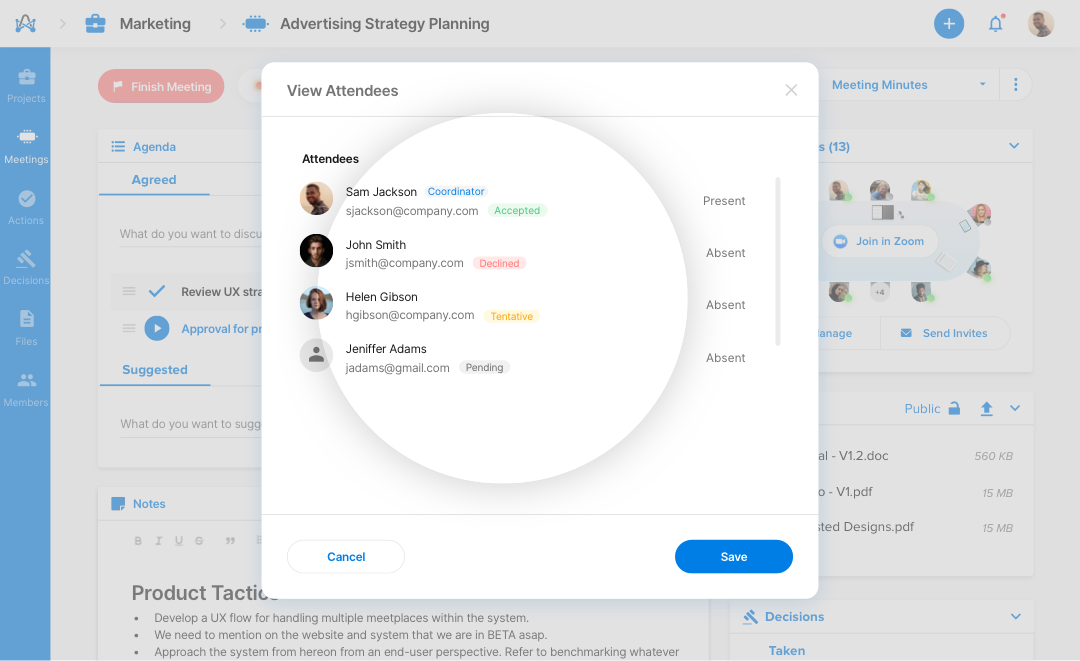 Screenshot from adam.ai: invitation response sync
9. Two-Way Sync
Once you integrate your calendar, all of your calendar events are automatically mapped to your adam.ai account.
Try it yourself. Sign in to your adam.ai account and connect your current calendar to the account. You will notice that all calendar events as well as upcoming and existing meetings are already synced on adam.ai.
10. Multiple Project Coordinators
In the online meetings world, a project's creator does not have to be its manager.
This is when the need for multiple project coordinators emerged.
Thus, the project's creator (aka admin) can assign roles to other members: project manager, project coordinator, and members.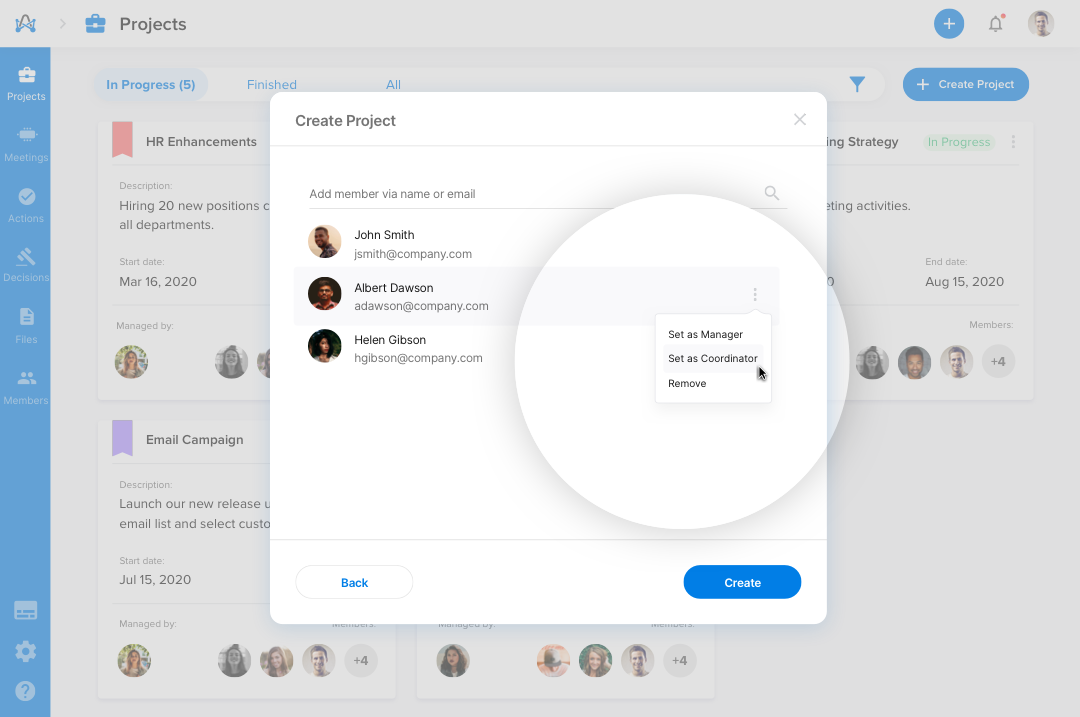 Screenshot from adam.ai: assigning roles for projects
The manager-coordinator-admin-members hierarchy make much more sense, taking into consideration users' needs for and actual usage of online projects.
Then, when a project coordinator creates a meeting, they are, by default, assigned as meeting facilitators — an automation that adds true value to the workflow.
11. Quick Tile Filters
Tiles on your dashboard (aka Meetplace) now have quick filters for an easy, straightforward access to the desired content.

Screenshot from adam.ai: quick tile filters
For example, you can filter today's, this week's, or this month's meetings; actions that are due today, due this week, or overdue; and actions awaiting your approvals, be that minutes, decisions, or else.
12. Microsoft Exchange Integration
You can instantly integrate your offline calendar with your adam.ai account seamlessly.
We now support the integration with Microsoft Exchange, adding to the tons of integrations we already have.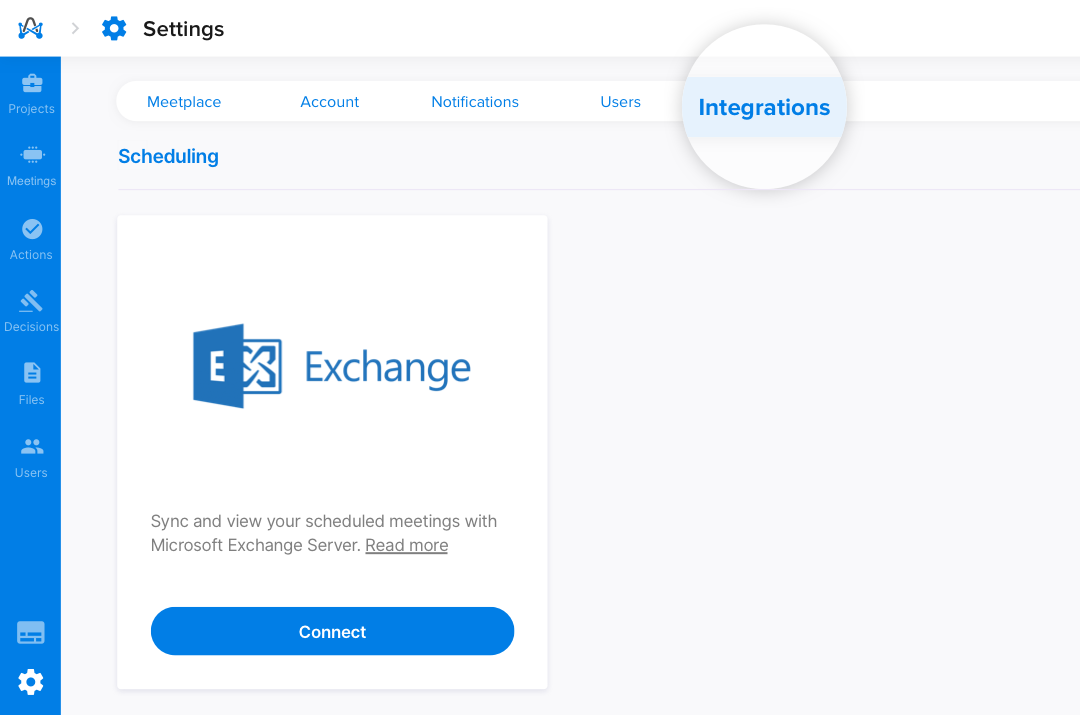 Screenshot from adam.ai: Microsoft Exchange integration
13. Sharing Minutes Draft
As a meeting coordinator, you can share, download, or send the meeting minutes draft, regardless of whether it is approved or not.
Based on observations, users might want to download or share the minutes draft via email before it is approved, either with a member or a third party for whatever reason — makes sense!
Normally, approved meeting minutes enjoy the same options of sharing, sending, and downloading.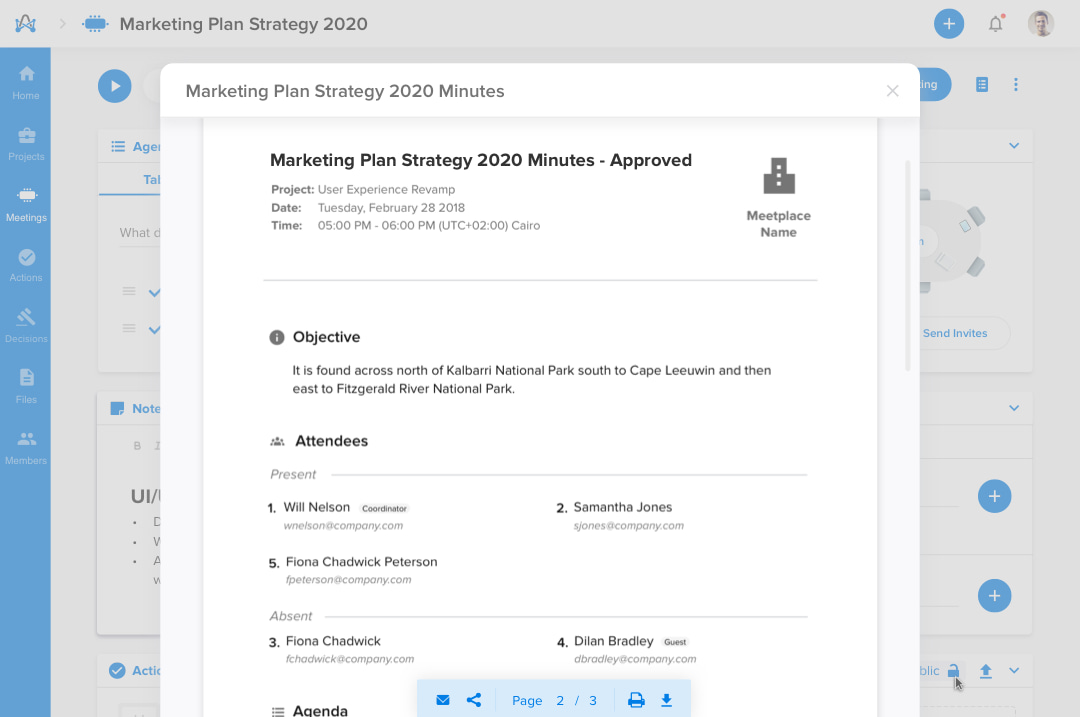 Note. For meeting minutes to be approved, not each and every member has to sign and approve. The coordinator's approval, along with a digital signature, suffices.
14. Supported Languages
The Spanish language is added to the range of languages adam.ai proudly supports: English, French, German, Portuguese, and Arabic — more is yet to come!
Due Thanks
Thanks are due to adam.ai's team of dedicated developers and creators, who spare no efforts to keep the platform up to its users' confidence and expectations.
All updates are backed up by your feedback; do not hesitate to send us some.
Stay tuned...