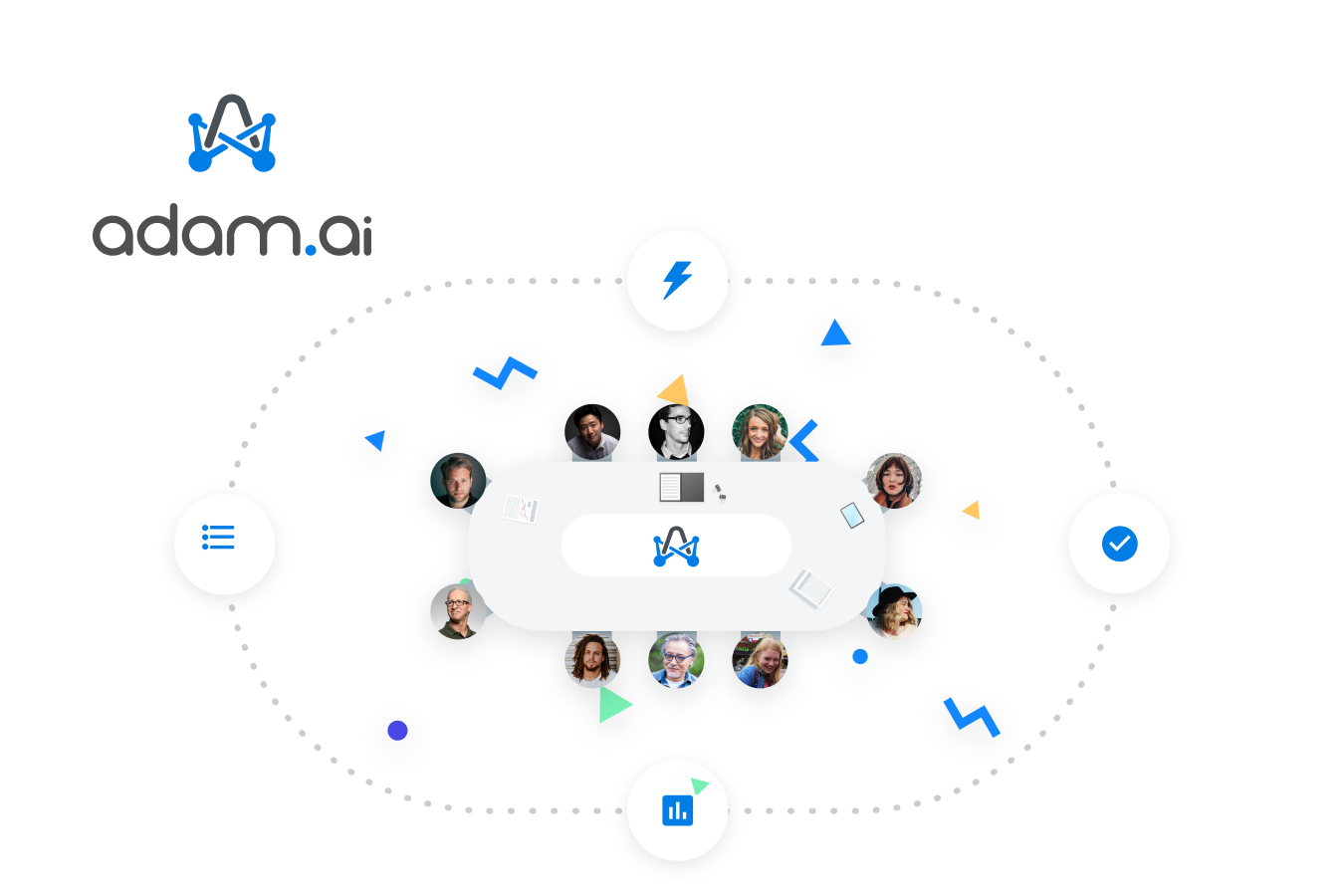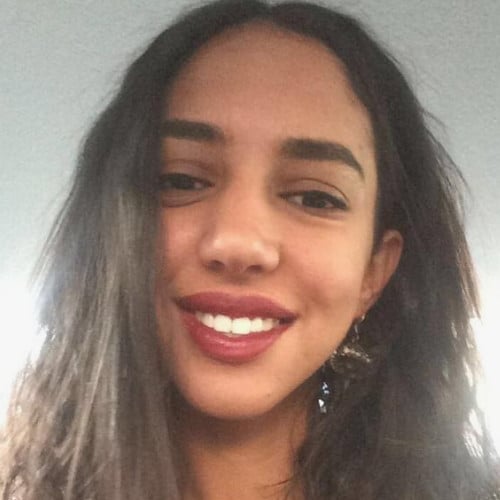 "I can't upload the file, I'm not the host!"
"Does anyone have a clue what today's meeting is about?"
"Now what?"
... and tons of other sentences you'd hear in an online meeting that makes the whole experience a failure, a waste of time, and unproductive, because virtual ones are totally different than regular in-person meetings.
Based on years of experience, hundreds of successful virtual meetings, and tons of data from staff members and their managers, here are 8 best practices for productive and effective virtual meetings.
1. Which online meeting provider are you using?
Obviously, to start with, decide on the video conferencing platform you are to use for this virtual meeting.
💡 Note. The meeting platform you choose mainly depends on which type of virtual meeting you are holding.
You are sure comfortable with using a particular one over the others, but why don't you explore one of the other options?
You might get confused, or convinced that your existing provider is the best. But, it's very likely that your eyes get opened to a wider horizon of possibilities you never knew about!
You could find solutions to issues you're suffering from or get introduced to life-changing features you never thought they existed.
2. Who's the host of this online meeting?
Assign the host of the meeting before you start one, because the one who sets the meeting is not necessarily the one who will be running it.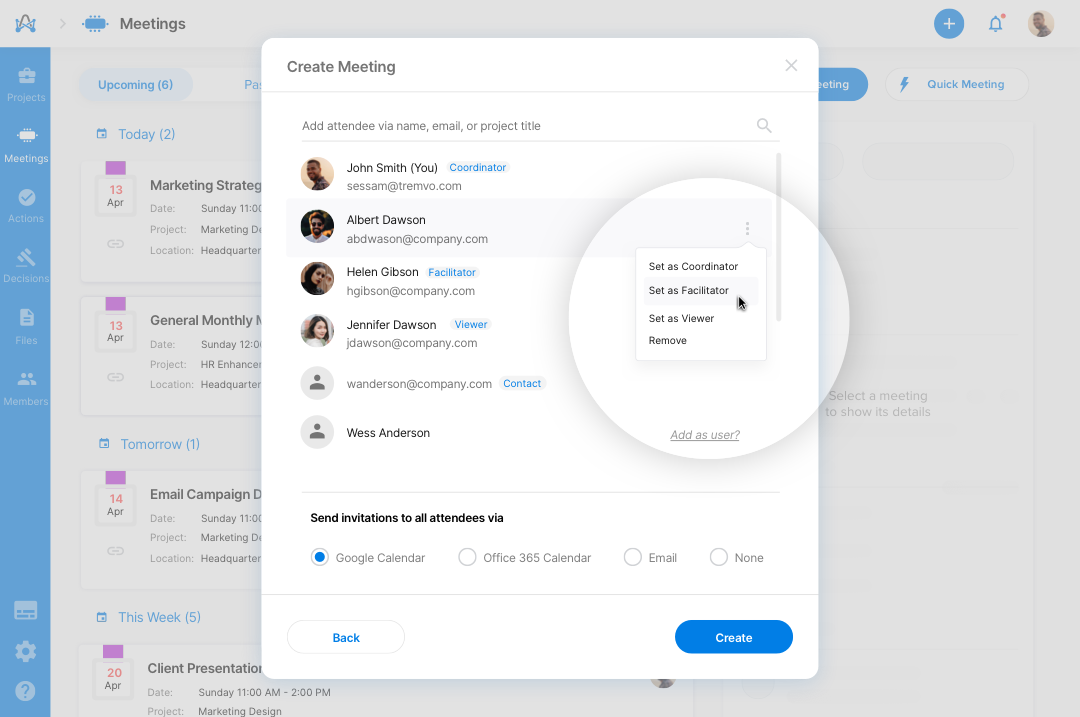 Screenshot from adam.ai: Assigning meeting roles
A host is knowledgeable, is familiar with the tools being used, knows how to run a virtual meeting, and can keep the team on topic and take quick decisions.
3. What's the meeting agenda?
Whether on single or recurring meetings, improvising on an online meeting is a nightmare for its members as well as host, who will all get bored, distracted, and frustrated.
Set a meeting agenda, bullet point the topics to be discussed, assign a specific time for each point, and send the agenda 15 minutes ahead.
➕ Bonus tip. This is an editable team meeting agenda template to run an effective meeting that stays on track all way long.
4. Assign meeting roles and responsibilities
Giving online meeting attendees a clear role to fill during the meeting helps ensure that they pay close attention to it.
For example, you could make sure that key stakeholders make their own mini-presentations during the meeting.
This helps maximize the impact of the meeting by keeping employees engaged and actively participating.
5. Have several methods of capturing notes/ideas
Instead of trying to record everything yourself, consider having multiple note-takers assigned to the meeting.
For instance, adam.ai allows meeting attendees to take turns writing notes in the designated area, where these notes can be automatically turned into actionable items or are saved for future reference.
Screenshot from adam.ai: taking notes in a meeting
This is far better than the traditional note-taking techniques where employees jot down individual notes and then compare them to put everything into a unified document post-meeting; important data goes missing or is misinterpreted.
Additionally, making audio recordings and going back over them at a later date can help ensure that no important items were missed.
Some meeting management software even have automated transcription solutions that can turn the audio into written text for you.
6. Practice active listening skills
If employees are sharing ideas or information during the meeting, be sure to practice active listening techniques — be sure to hear them out, ask specific questions when appropriate to demonstrate that you're listening, and pay attention to both the speaker's tone and body language.
If an employee has an especially good idea, provide some on-the-spot acknowledgement and make sure that, if used, the employee's contribution is formally recognized and/or rewarded.
7. Try to prevent distractions
Unless necessary for the meeting, try to curtail the use of phones, laptops, and other devices as much as possible.
Also, try to hold meetings in a distraction-free environment (such as excess noise pollution from people chatting in the background or active televisions not being used to show presentation materials).
Moreover, meeting participants should avoid having side conversations while the active presenter is talking.
8. Follow up with stakeholders after the meeting
Even after the meeting is over, there is still a need to check up on stakeholders and project staff to verify how things are progressing.
This is where online meeting follow ups prove efficient!
Holding follow up meetings to track progress towards goals can help employees stay focused and engaged with their work — especially if said follow ups highlight the employee's contributions (either in the meeting or after it).
How can online meeting technology help?
Teams and managers all over the globe are adopting a meeting management software into their workflow to automate most of the virtual meeting process and enhance productivity.
➕ Bonus tip. This is a complete guide for how to use a meeting management software; make sure to check it out.
To sum up, catering to your meeting's needs can be easier than you think. Fortunately, there are several ways in which you can successfully manage your next virtual meeting.
By actively listening, avoiding distractions, and ensuring meeting minutes are being taken, one can rest assure that every meeting is reaching its full potential.
These are just some of the ways to keep things on track. Luckily, here is more on virtual meeting etiquette.