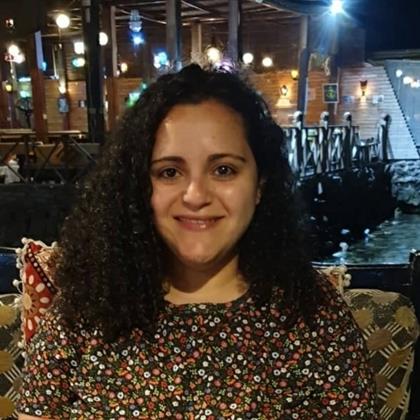 When you first hear the term "board management," what exactly comes to mind?
Managing a board of directors is a job that falls upon a company's top management team starting from getting them together to feeding them accurate information and encouraging them to create corporate-level strategies.
To achieve that successfully, won't you say there has to be a tool to manage all these aspects? You guessed right!
Board management software is a tool that allows top managers and entrepreneurs to organize board meetings and allow them to conduct their operations seamlessly.
Let's find out what board management is, how to do it, and why you need to get your hands on a board management portal right now.
Feel free to jump ahead to any section of this article:
How to perform effective board management
What is board management software?
What are the benefits of board management software?
What should I look for in board management software?
What is board management?
Board management is how a company's top managers communicate with the board of directors to help them achieve their purpose effectively.
The board is responsible for creating the company's strategic vision and overseeing the implementation of corporate policies to lead the company toward success.
The company's CEO organizes board meetings and prepares the board meeting agenda that's shared in advance to be approved by the board.
In a way, board management is about having a collaborative relationship between the board and the top management team, including the company's founders and CEO.
To have effective board management, there are best practices you can follow to achieve the desired outcomes.
How to perform effective board management
Board management can be a daunting job. There are many elements that shape an efficient board of directors starting from choosing the right members to managing effective board meetings, which is a crucial aspect of board management.
Preparing for a board meeting is a cornerstone of board management. This job falls upon the CEO or board chairperson, who could be the same person if elected so by the board.
By steering clear of some common board meeting mistakes and implementing the following best practices, your board meetings can be a positive experience.
1. Establish a collaborative relationship with the CEO
Although the board is the higher rank, the CEO runs the company and implements the strategies decided by the board.
The board must collaborate with the CEO and allow them to perform their executive role without second-guessing them at every turn.
On the other hand, the CEO should be open to answering any queries by the board to keep them updated with the company's progress.
2. Create a meeting agenda
A meeting agenda is the best way to structure board meetings. The agenda should be created in advance and approved by the board.
The board members may add their input to ensure the agenda covers all important talking points and tackles core challenges to date.
💡Use an all-in-one meeting management platform, like adam.ai, to add your board meeting agenda and time agenda items to keep the meeting organized and avoid wasting time.
14-day pro. No credit card. No hidden fees.
3. Include board members from outside the company
When making decisions, it's important to stay objective. For this reason, many companies include outside parties in board meetings or at least have one board member who isn't an investor.
These members will share their unbiased expert opinion, help put matters into perspective, and provide insights into the strengths and weaknesses of the company.
It's important to have board members with different professional backgrounds and diverse talents to provide specific insights into various subjects brought before the board.
This helps avoid conflicts of interest that may occur when only including chief executives, who may be biased toward their teams' benefit.
4. Have board meetings with stakeholders
Whether profit or nonprofit, many organizations are supported by major investors and stakeholders with a wide network of acquaintances.
These investors should learn about the company's policies, vision, and operations to know how their contribution is being managed.
Having board meetings with stakeholders will make them feel involved in the operations and encourage them to provide their unique insights that help steer the organization in the right direction.
5. Prioritize risk management
Mitigating risks should be one of the board's main objectives along with strategic planning. While sometimes risks need to be taken, it's the board's job to keep them in check.
Make sure to include risks and challenges in your meeting agenda so that the board members can prepare necessary action items to resolve these major issues.
💡Did you know you can include risks in adam.ai's meetplace and check them off once resolved?
Simply go to the "Risks" tile, add risks, mitigation, watchers, and supporting files and discuss or comment on those risks.
6. Stay updated with the board's progress
A huge part of board management is to ensure each board member has their own duties and responsibilities that fit their expertise.
The top management team must keep track of the board's progress in resolving issues discussed in meetings and planning for the next steps.
Sometimes, new board members can be added to fill gaps in the experience of existing members and achieve the desired goals.
Managing a board of directors needs a unique strategy. Many entrepreneurs and chief executives use special tools to organize the process or, better yet, an all-in-one board management software platform that holds all necessary tools and features in one place.
First, let's get to know more about board meeting management software, its benefits, and how to choose the best one for your organization.
What is board management software?
Board management software is a tool that allows you to manage your board of directors not only through running effective meetings but also by overseeing progress and keeping track of past strategies and planning future ones.
This type of software should include the following:
Scheduling tools to organize upcoming meetings

Communication tools to stay connected with board members before, during, and after meetings

File-sharing tools to upload necessary documents

Note-taking and meeting agenda features to organize your meeting cycles

Minute-taking feature to document what happened in those meetings for future reference and due diligence for legal requirements.
Thinking about using board management software? You're on the right track!
adam.ai is the ONLY all-in-one meeting management software platform that empowers you to manage your board of directors seamlessly through effective meetings to help your organization run business, achieve goals, and get things done.
Our customer success team can give you a grand tour of adam.ai's unique features!
What are the benefits of board management software?
With the exponential growth of technology, keeping up with the latest tools and gadgets has become detrimental to corporate success.
This is why managers and entrepreneurs are always seeking top-of-the-line board meeting software to fulfill their organizational needs. Let's take a look at the benefits of using these tools.
1. Accessible board data
Managing a board of directors entails keeping records of past meetings to review what happened before making important decisions.
A board management software solution gives you easy access to information like board meeting minutes, meeting agendas, policy documents, onboarding materials, and strategic plans with a click of a button.
Archiving printed documents is no longer practical. Not only will you be saving paper and materials, but also you'll access these critical documents yourself at any time from anywhere without asking your board secretary to fetch them out of an archaic filing system.
2. Shorter meeting times
The various features in board management software reduce meeting times significantly.
This is attributed to the easy access of files to all members, timing agenda items, using agenda templates already saved in the gallery, generating meeting minutes and insights after the meeting, taking votes, and making decisions during the meeting.
Having everything you need in one platform eliminates the need for admins or secretaries to gather relevant documents and print them for the board to review.
All these features in board management software translate to more efficient board meetings.
3. Increased engagement
Board management software allows board members to contribute before, during, and after the meeting.
They don't have to wait for meetings to add their insights on a project, which can even eliminate the need for frequent board meetings.
Keeping the board engaged encourages them to perform their duties and stay updated with the company's progress throughout the year not just during meetings.
4. Limiting access to specific members
For increased security, board management software allows you to limit access to confidential information to certain individuals.
If a board committee was created, their information should not be made public and remain only visible to committee members.
The meeting facilitator can control these settings to ensure the information is only shared with the right people.
5. Saving time and money
By eliminating the need for printing papers and certain personnel, you'll be saving administration costs when setting up board meetings, not to mention helping the environment by having paperless meetings. Your stakeholders and investors will thank you for it!
You can also save a lot of time by having virtual meetings especially if you had to call for an emergency meeting and can't get all board members to attend physically.
Now let's break it down into essential elements you should look for when choosing online board meeting software.
What should I look for in board management software?
A board management platform should consist of a few essential tools and features that will allow you to organize the whole process before, during, and after meetings.
When researching various board meeting management platforms, the options are endless. You'll want to have access to different tools and features and at the same time pick cost-effective board portal software. Here's what you should look for.
1. Scheduling tools
Finding the right time can be tricky when scheduling meetings with the board, where members could be living overseas or have a busy schedule.
This is why having a synced calendar with your board management portal is essential.
💡With adam.ai, you can sync with Google Calendar or Office 365 to add attendees and video-conferencing links and see scheduled events to find the suitable time slot for all your board members.
2. Video-conferencing tools
Virtual and hybrid meetings are becoming more and more popular nowadays, and video-conferencing tools have become the ultimate method of communication.
💡Integrate with your favorite communication tools like Zoom, Microsoft Teams, or Google Meet, without leaving your meetplace at adam.ai.
Have your video calls adjacent to all the essential features you'll need for an efficient board meeting.
➕Bonus. You can integrate with adam.ai on Zoom app marketplace to enjoy the best of both worlds!
3. Meeting agenda feature
A board meeting agenda organizes the flow of the meeting with specific talking points that should be shared with attendees in advance.
💡Set a time for each agenda item to keep your board meetings concise and time-efficient.

Screenshot from adam.ai: Meeting agenda
4. File-sharing options
Chief executives share several reports with the board to review the company's progress.
Your board management software should include file-sharing options to share necessary documents like committee reports, fact sheets, HR reports, financial reports, and legal reports.
💡Upload your documents in the files tile directly from your computer or by integrating with other file-sharing tools like Dropbox or Google Drive.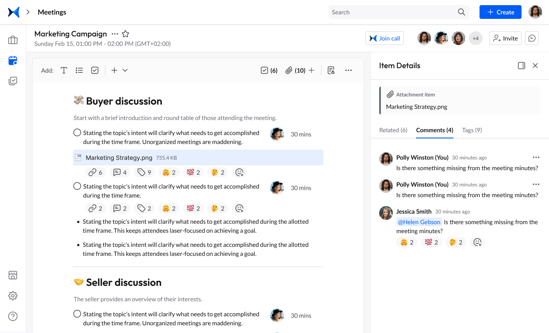 Screenshot from adam.ai: Attachments
5. Note-taking feature
When discussing different topics, you'd want to write notes and highlights during the conversation.
These notes can be used to stir up a new conversation or talking point during the meeting or to call for a vote on a certain matter.
💡Take your notes using some basic stylistic features in the "Notes" tile and choose whether to share them publicly with attendees or keep them private for your reference.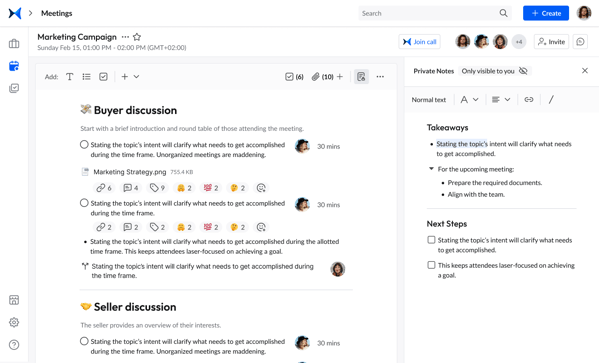 Screenshot from adam.ai: Public and private note-taking
6. Task management
Any meeting should end with specific action items to follow through on decisions and strategies made by the attendees.
A board management portal should include a section for action items or provide an integration with a task management tool.
💡Add action items in your meetplace, assign members and watchers to each task, and choose the severity and deadlines for each item.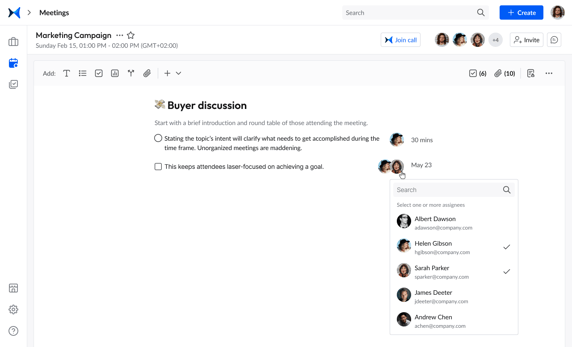 Screenshot from adam.ai: Assigning actions
7. Meeting minutes
Taking board meeting minutes is legally required in many U.S. states and countries worldwide. The board secretary is responsible for this task.
💡Better yet, generate meeting minutes automatically so that all attendees can focus on and contribute to the meeting without missing a beat.
8. Project-management tools
Many businesses manage projects using special tools that allow teams to track progress, add their input, and check off completed assignments.
💡Integrate with your favorite project-management tools like Jira, Asana, and Trello to keep your board members informed of the current and upcoming projects.
➕Check out all the available integrations at adam.ai from this link.
9. Extra features
Choosing one board management software platform among a sea of portals online can be tricky, and the extra features available might tip the scale toward a particular one.
💡With adam.ai, you can take votes, get them tallied automatically, and make, edit, or delete decisions during board meetings.
💡Use the AI transcription feature with smart highlights to receive a written record of your meetings.

Screenshot from adam.ai: Transcription and meeting summary
💡Create, link, and duplicate meetings in series to stay updated on past board meetings to connect the dots with the current ones.
➕You can check out this brief video of what you can do on adam.ai and how you can use the available perks to improve your board management skills.
T

he bottom line
Board management software helps run effective board meetings and allows you to manage your board effectively.
It also increases engagement, keeps the team informed of the company's progress, and encourages them to contribute during meetings.
We recommend using the aforementioned tips to guide you through effective board management.
With the list of tools and features mentioned here, you should be able to make your decision when searching for the best software available in the market.
adam.ai is the ONLY all-in-one board management software to organize the entire lifecycle of remote, hybrid, and physical board meetings (before, during, and after). Here are a few other reasons to choose adam.ai: