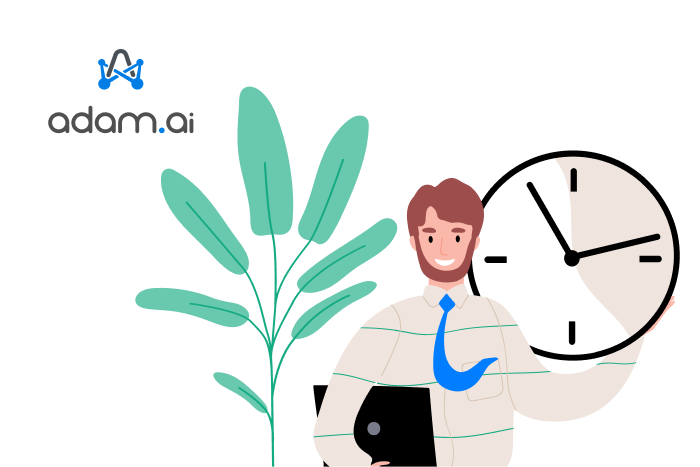 Whether it's your first time being assigned the role of a minute-taker or you have been taking board meeting minutes for some years now, you could use a good reference for how to take board meeting minutes that capture the essence of the board meeting, inform concerned members, and act as a future reference for any other third party.
In addition, sharing a minutes document with attendees afterwards is a must when it comes to running effective meetings.
We created this editable board meeting minutes template Word file for you, so that you nail your next meeting minutes like a pro!
What's

in the board minutes template?
In any formal meeting for the boards of directors, someone is responsible to write meeting minutes.
These meeting notes act as a formal documentation of the meeting, a recording of board decisions, and a future reference.
On top of that, in formal board meetings, taking meeting minutes is legally required. For less formal or informal meetings, these notes are the only written document anyone can go back to.
Rather than jotting down scattered notes on a tool like Google Docs, we've prepared for you this board minutes template.
Let's break down the elements in this editable board minutes template that make it the only template you'd need throughout all of your board meetings.
1. Call to order
The board minutes template starts with the call to order, which includes the name of the organization, time, and meeting location.
The board chair announces the call to order; then they might make welcoming remarks or ask for introductions.
2. Attendees
Here, the minutes taker writes down the attendees name who are present at the meeting, whether members who attend the meeting virtually or physically.
Attendees in a board meeting usually include the chairperson, presiding officers, board members, staff members, and the guests (if there's any).
It's also very important to mention the quorum, if it exists.
3. Absentees
Names of those who were invited to the meeting but were unable to attend are recorded.
The minute taker can also state the reason of their absence if it's known.
4. Proceedings
This section of the board minutes template is dedicated to the proceedings of the board meeting.
The board of directors move to discuss unfinished old business and the possible solutions suggested.
The voting results should be recorded, mentioning the number of approving votes and the number of dissenting votes. Then mention the actions taken accordingly.
Record reports from:
The CEO and the Executive Director about the business's initiatives, positive and negative trends, updates, etc.

The financial department, identifying potential financial opportunities and threats.

Committees

Staff leads

Other relevant entities
Concluding this part are the action items, which are items to be achieved by the next meeting and who is accountable for them (task owners).
5. Other business
Near the end of the meeting, team members may bring up any other business: announcements, congratulations, condolences, or items to be added to the next meeting's agenda; make sure to record these too.
6. Meeting assessment
You could note down your assessment of the meeting, whether the meeting was organized, started and finished on time, was productive, etc.
This assessment is useful to enhance future business meetings and achieve better results when members avoid these mistakes.
7. Adjournment
Wrapping up the minutes template is the formal closing of the board meeting by its chairperson.
They must announce the time at which the session has ended and the date of the next meeting.
8. Attachments
Indicate where members can find logs, documents, presentations, or any other form of attachments that were mentioned or used during the meeting, may that be a physical location or a link.

9. Submission
This is the field where it is clearly stated when this meeting minutes document is submitted and by whom. A hand signature, or a previously uploaded digital one, is needed here.
10. Approval
This is the field where it is clearly stated when this meeting minutes document is approved and by whom. A hand signature, or a previously uploaded digital one, is needed here.
Then the secretary signature and the chairperson signature conclude the document.
Use this editable board meeting minutes template, word file, on the next board meeting and hold everyone accountable.
For more details on how to take the perfect board meeting minutes, think of the process as a before, during, and after timeline — like we always do at adam.ai.
Taking board meeting minutes: before the meeting
In such an important occurrence as a board meeting, preparing for taking the meeting minutes is of the utmost importance.
Since they are of the highest level in any hierarchical business structure, board meetings can be presented as legal records if need be.
These meetings are indeed essential to understand whether or not the business is functioning on all levels.
So...
How to prepare for taking effective board meeting minutes?
1. Do assign a minute-taker
Assigning a note-taker is a great way to ensure that the actions, decisions, and procedures taken during these meetings were accounted for.
Two days before the board meeting, assign the responsibility of taking minutes to someone who:
is not a member in the board; otherwise, he/she will be distracted and not be completely focused on the task in hand.

knows much about the business.

has a previous experience taking meeting minutes or observing someone who has been.

is willing to plan ahead.

is a diligent listener.
2. Do prepare an outline
Planning an outline ahead is crucial to create a defined path for your board meeting so that every point leads to the next.
Decide on the format that you are expected be be using; look at some meeting minutes examples as references or templates.
✍️ Adam says. Use the board meeting agenda as a guideline for your minutes. Outline the important issues to be discussed in advance, so that you have time to focus on the conversation itself.
✔️ Tip. Send this editable board meeting agenda to your friend responsible for creating the agenda and they shall thank you later.
Taking board meeting minutes: during the meeting
Decisions taken during board meetings are crucial, since they entail future procedures that shall be implemented on the entire business as a whole.
Having these information at hand is therefore a requirement. Board meeting members may even look back on these minutes to refresh themselves on what happened during previous meetings.
Therefore, during the meeting, the minute-taker can easily be overwhelmed, trying to capture all these details in real time, unless they know exactly how to think and act correctly.
✔️ Tip. You might want to check-off attendees as they are arriving. There is also no harm in asking them to introduce themselves before the meeting starts, which is good practicing for meeting etiquette.
3. Do stick to the facts
Board meeting minutes must be written objectively, leaving out emotions and arguments.
Final decisions are what matters, and not the controversial issues that arised before.
Final number of people who voted for or against a motion is valued over the argumentative votes that preceded.
✍️ Adam says. Ask a third party for an unbiased opinion or read the minutes one day after, so that you ensure objectivity and grasping only the essential information.
One thing to consider if you want to be objective is to avoid using adjectives and adverbs where you can.
4. Do capture all necessary details
Board meeting minutes are the official record to prove that this meeting was held, these issues were discussed, and those decisions were made.
That's why a minute-taker should include all the relevant details of the meeting.
What to include in the board meeting minutes?
Meeting type

Meeting's date, time, and location

Names and titles of the attendees and the participants, including the reasons for attending

Names and titles of those who are invited but were unable to attend, including the reasons

Amendments to or comments on previous meeting minutes

A record of motions and seconds, in addition to their status (passed/didn't pass).
✍️ Adam says. Do not be afraid to ask for extra clarification for issues that seem unclear or confusing to you.
Some minute-takers or board secretaries prefer to take minutes right after the meeting has finished. Specially with online meetings, this could lead to missing out on crucial decisions taken or important issues discussed.
That's why online meeting management tools, like adam.ai, help members and managers have a single source of information to go back to, create projects, and hold everyone accountable for assigned actions.
For more accurate wording of resolutions and key points, the platform also supports a transcription feature, where the online meeting is recorded and transcribed afterwards, while automatically highlighting actions to be taken.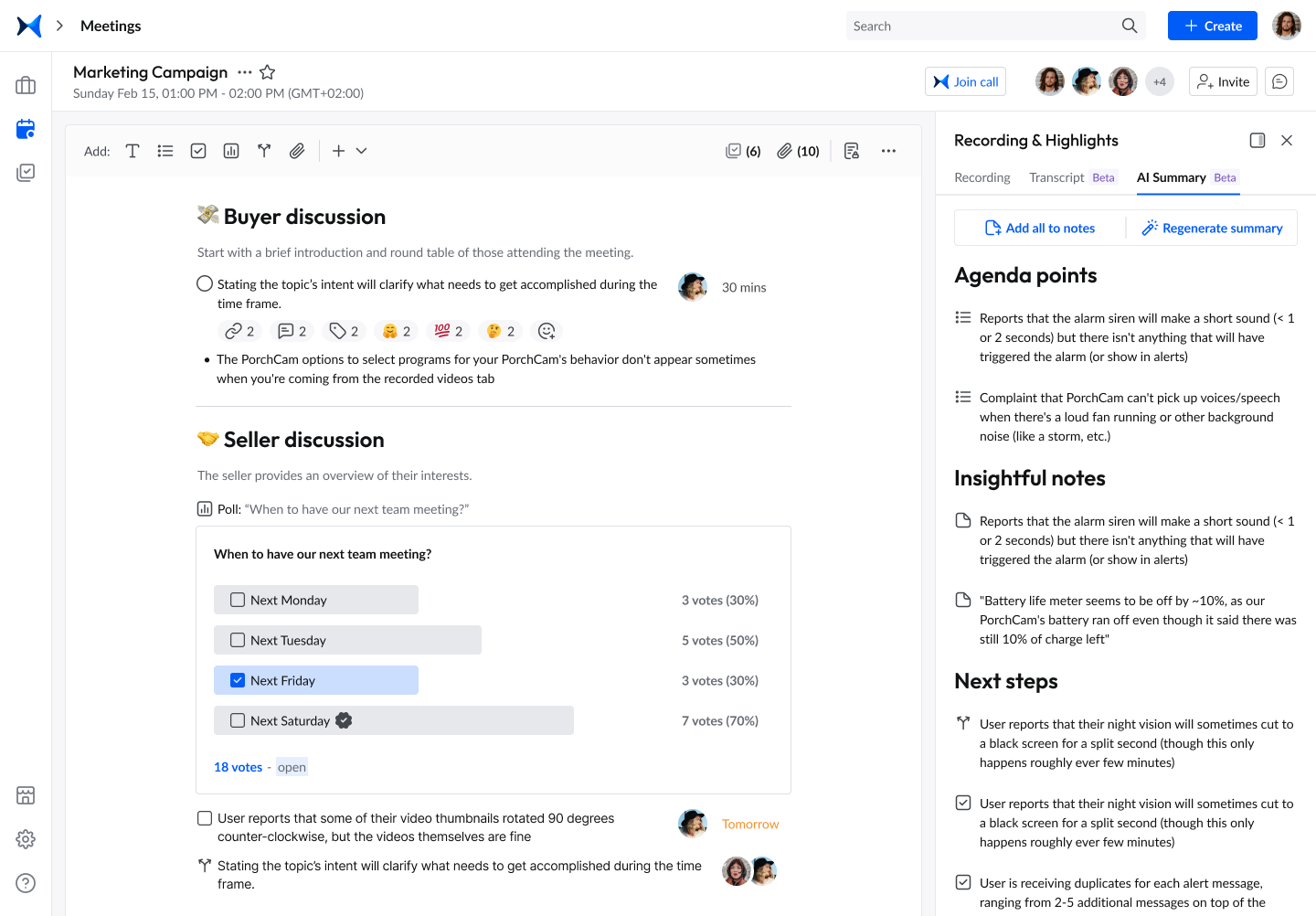 14-day pro trial. No credit card. No hidden fees.
5. Don't include summary of documents
Attach any meeting document or presentation to the minutes, rather than summarizing their content in detail.
Referring to where these documents are accessible, whether physical or in the cloud, is enough.
6. Don't take opinions into account
As we've agreed above, in your board meeting minutes, focus on decisions and not discussions.
In case a debate took place, mention that it did, without making opinionated notations.
Further, unless disagreeing members state that they want their disagreement to be recorded in details, simply note that it occurred, nothing more and nothing less.
7. Don't personalize meeting minutes
Keep your minutes impersonal, by stating facts and end results, without going through the emotional details of how and why.
For example, name the individuals who voted on an item and those who seconded the motion. Do not express how and why they did.
Example for emotional, personalized meeting minutes:
"The board entered a 20-minute discussion on increasing marketing budget. Board Member John suggested we increase the marketing budget in order to reach more people with paid ads, but Board Member Amelia angrily disagreed, saying that the marketing team is already wasting too much money."
Example for impersonal, objective meeting minutes:
"20-minute discussion on efforts to better support the marketing team. Motion by Board Member John to increase the marketing budget to $2 USD. Motion seconded and approved, with Board Member Amelia dissenting."
Taking board meeting minutes: after the meeting
After the meeting has come to an end, take your time before you send the meeting minutes out for every one.
You got to be sure that you have produced a precise summary of the meeting that has just taken place.
8. Do proofread the copy
Review the minutes copy for spelling, punctuational, or grammatical slips — no body likes that.
Your main target here is brevity and clarity. No one would like to be deciphering your minutes whenever they need to go back for reference.
See if you have written any side notes and incorporate them into their relevant section in the body.
9. Do share minutes securely
Board meeting minutes are sensitive, law-abiding document that needs to be shared with concerned people in a secure environment.
✍️ Adam says. It's better to finalize and distribute your minutes as soon as possible, while the meeting is still fresh in everyone's memories.
Through a secure meeting platform, everyone will be able to receive, open, and keep their version of the minutes, and any related documents, for any future reference.
❗ Attention. Is there an approval process that must happen before you distribute the minutes to the board?
10. Don't be too specific nor too vague
You are not transcribing the meeting; you are creating a digestible summary of the most important actions, decisions, and points taken, made, and stated during the meeting.
At the same time, avoid being so vague that your record isn't useful for future use or doesn't reflect what did happen at the meeting for someone who hadn't been present.
To sum up, for all sizes of businesses, companies, organizations, and even nonprofit organizations, board meetings are extremely important and sensitive, and that's where board meeting minutes drive its significance.
In this article, you have been introduced to a set of best practices for how to take board minutes before, during, and after a meeting:
Plan ahead, and assign roles before the meeting.

Capture all the important details in a clear language, leaving out emotions and arguments.

Review your minutes for any slips, take any necessary approvals, and distribute copies securely for all members to read and keep for future reference.
Recently, with almost all meetings happening online, a meeting minutes software, which is usually a part of an all-inclusive meeting management solution, is essential for your meeting minutes to be organized, content to be captured, and actions to be assigned and followed up on.