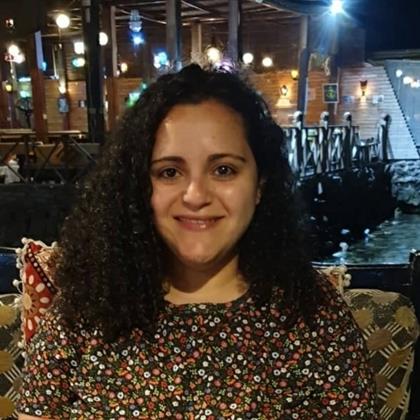 Board meetings occur biannually, quarterly, or as frequently as needed. When it comes to important company-wide decisions and setting strategies, the board is called upon by chief executives to decide how the company is going to operate in the upcoming period.
This major closed meeting has to be prepared for in advance. You don't want to waste their time by running an unorganized, inefficient board meeting. To do this, you must watch out for these board meetings mistakes the next time you meet with them.
Check out the article's headlines:
Common board meetings mistakes
How to avoid board meetings mistakes
Common board meetings mistakes
1. Having them too frequently
If you look up the frequency of board meetings online, you'll find different results based on the company' size, country regulations, type of business, and so on.
Taking these factors into consideration, it's best not to conduct these meetings too often. It takes time and major preparations to hold an effective board meeting to make the best use of this important gathering of board members and chief executives and avoid wasting their valuable time.
Some companies limit them to once or twice a year; others have them every quarter, which can be the sweet spot for most organizations.
That being said, board meetings can take place in case of significant changes occurring in a company to resolve challenges or other emergencies.
2. Lack of planning
Board meetings need a strict format with clear board agenda items that tackle the company's issues. These closed meetings take time and effort to plan and organize, and if not properly, they can go on forever without any significant outcome.
Each person in the meeting should know their meeting roles to run board meetings efficiently. A meeting agenda should be prepared at least a week in advance and shared with all attendees before the meeting to give them sufficient time to prepare and contribute effectively to the meeting.
In recent years, virtual meetings have become the new normal, and to run board meetings online, you'll need to have a set of tools like meeting calendars, note-taking, meeting agendas, video-conferencing, project-management, and much more.
💡Pro Tip. Use an all-in-one board management platform, like adam.ai, to enjoy numerous features in one place without being forced to jump from one tool to another.
14-day pro. No credit card. No hidden fees.
3. Not following or sharing the meeting agenda
The board meeting agenda is what structures these meetings and prevents them from going on too long and wasting the board's precious time.
It's crucial to not only create the agenda but also share it at least a couple of days in advance and follow it during the meeting.
There's no room for major surprises in board meetings so everything to be discussed should be written in the agenda. This is for members to prepare themselves for the discussion and to think about the matters that will be put to a vote during the meeting.
4. Lack of legal knowledge
Board meetings minutes must be recorded to provide due diligence in case of any discrepancies that may arise in the future to ensure all practices performed by the board abide by the standard rules and regulations.
A board secretary, who usually is the Chief Financial Officer in the company, must be knowledgeable of the legal requirements concerning meeting minutes.
Keeping a record of meeting minutes is a legal requirement by several U.S. states. This record is archived in the company and may be reviewed in case of a lawsuit.
The board meetings minutes will include information about legal issues, action items, and board members' and shareholders' names, who voted on different matters before making decisions affecting the entire organization.
To record minutes accurately, many corporates seek legal consultation and may hire an in-house attorney to oversee the process.
Apart from legal issues, basic information like attendees, absentees, meeting location, date, and time should be included in the meeting minutes according to the best practice of Robert's rules of order.
💡With adam.ai, you can automatically generate meeting summary using Adam the AI meeting assistant.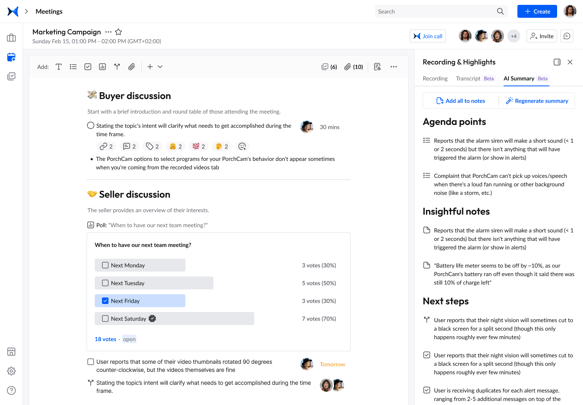 Screenshot from adam.ai: Generating meeting summary
5. Taking minutes verbatim
While taking meeting minutes word for word is one of the formal styles used in court hearings and governmental proceedings, it's unnecessary in board meetings.
The minute taker doesn't need to type every detail of the meeting, but should, instead, record the main headlines, important notes, specific agenda items, and decisions. This information should be recorded matter of fact without any personal bias from the minute taker.
That being said, the meeting minutes should also be clear and specific so that anyone can understand what went on in the meeting when reviewing the record in the future. For example, when taking a vote, it's important to note which members voted with and against and whether there were any conflicts of interest.
💡Add your notes, risks, and agenda items and take votes and make decisions in adam.ai's meetplace to wrap up everything going on in board meetings and generate and share the minutes record easily after the meeting.
6. Forgetting to share past meeting minutes
Before each meeting, the board must approve the previous meeting minutes record. This action is put to a vote to move this record to official status. From this point onwards, the agreed-upon past minutes can be used as legal records.
For this reason, meeting minutes should be shared right after each meeting. This document is attached to new meetings along with other important documents referenced in the meeting.
💡From the files tile, upload all the required files like meeting minutes, presentations, or important reports. This will help save the meeting time by previously sharing files with attendees of what will be discussed.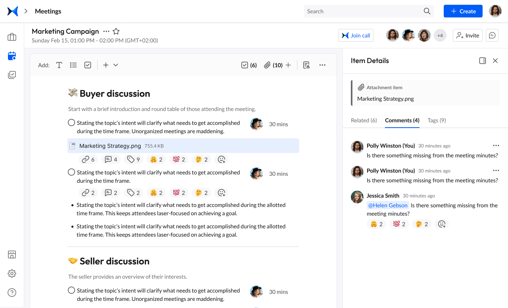 Screenshot from adam.ai: attachments
7. Discussing committee reports
The board may assign a committee dedicated to a prolonged issue in the company. This board committee has its own meetings to resolve challenges and come up with solutions to implement across all teams.
Board meetings are not the place to discuss these prolonged committee reports that may take up a good chunk of the meeting. Instead, the committee leader may share the highlights of their meetings to debrief the board on what they came up with so far.
The board members may ask the committee leader a few questions before moving on to the next agenda item. The committee report points may be added to the meeting agenda and shared at the beginning of the meeting.
8. Having the wrong mindset about the board
This is a common mistake in board meetings. Since they're filled with authority figures who decide on the whole company strategy, meeting with them can be dreadful.
However, it's important to realize that the board's power is to help the organization push through its obstacles and create better solutions for everyone.
Getting in the right mindset about the board can help get the conversation flowing and gives the chief officers' minds a rest when considering them team players instead of supervisors.
Remember that the board members are a great asset to the organization, with their vast network of acquaintances and business partners. Changing your attitude toward the board can make this experience engaging and fruitful.
How to avoid board meetings mistakes
To avoid the aforementioned mistakes, board meetings should be collaborative and efficient. Only then will you be able to get the most out of these not-so-frequent meetings.
Communication is key not just during the meeting but before and after as well. Following up on action items and decisions is a crucial part of effective board meetings.
💡With adam.ai, managing your board meetings are simpler, more organized, and efficient:
Schedule the meeting and invite board members via Google Calendar, Office 365, or email.
Have the meeting using the built-in video conferencing feature in adam.ai or integrate with your favorite communication platforms like Zoom, Google Meet, or Microsoft Teams.
Upload your meeting agenda, time your agenda items using the meeting timer, and take notes in private or public to manage your entire meeting.

Stay updated with the company's performance via integrations with project-management apps like Jira, Asana, and Trello.

Create action items, manage action watchers, and manage your decisions by taking votes from the board members.

Duplicate your meetings to save time and effort on setting repetitive board meetings.
✍️adam.ai manages the entire meeting lifecycle before, during, and after the meeting to help organizations run business, close projects, and achieve goals through effective meetings.

Try it out for free while exploring all the basic features or check out the 14-day pro free trial to experience what it means to run an effective board meeting.
14-day pro. No credit card. No hidden fees.
The bottom line
The board meetings mistakes discussed in this article are common, and you may not be aware of them. The whole point of these meetings is to make the best use of the board's time and take advantage of their expertise and powerful connections.
Managing board meetings can be tough, but with the right meeting management software, your job becomes much easier.
We recommend adam.ai, the ONLY all-in-one meeting management platform that integrates with your existing workflow and helps you run your business, close projects, and get things done.