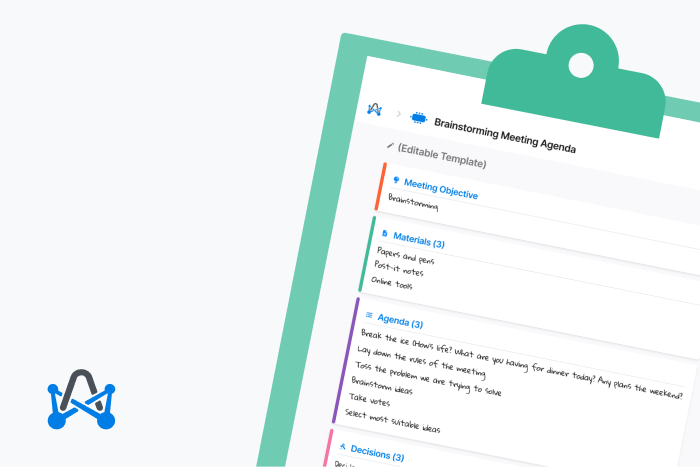 Against the prevailing idea that a brainstorming meeting is nothing but hundreds of ideas thrown around the room, it's much more than that.
A great brainstorming meeting is one where ideas are recorded, conversation is well structured, actions and decisions are taken, and everyone is empowered to speak up.
Only a professional brainstorming meeting agenda template will help you do just that!
What is a brainstorming meeting?
A brainstorming meeting is a session, physical or online, where one or multiple team(s) meet to generate new ideas.
These ideas could be a solution to a problem or for a new project that needs to come out in its best shape.
When a need arises, a brainstorming meeting could be held at any time with anyone in any place — creativity knows no boundaries.
But creativity is not a synonym for chaos; a good team leader realizes the importance of a meeting agenda, which is why they need to prepare one and send it ahead of time so that everyone comes aware and prepared.
Brainstorming meeting agenda template explained
How to customize this editable brainstorming meeting agenda template to fit the meeting objective, team dynamics, and time duration?
Meeting details
Depending on the problem you're trying to solve or the ideas you need to come up with, invite different departments, or at least members from different departments, that are relevant to the discussion.
Then for the time of a brainstorming meeting, needless to say that it's best held in the morning, one or two hours after the beginning of a working day. Everyone should be alert and in best shape to come up with fresh ideas.
As for the duration, it can range from 2 hours to a full day, depending on the discussion or the project.
If you're physically meeting in the office, choose a location other than the regular meeting room that's usually used by the team. This should motivate the team and put them in the mood.
Attendees
As we've recommended, invite members from relevant departments to the topic of discussion, for example, Mira from the marketing team, Ali from engineering, and Alex from customer success. Hence, inputs from different disciplines are considered and validated.
As the meeting coordinator, you are responsible for organizing thoughts and igniting ideas. That's why you should assign meeting facilitator(s) with specific roles to perform: taking votes, move the meeting agenda forward, jotting down notes, or else.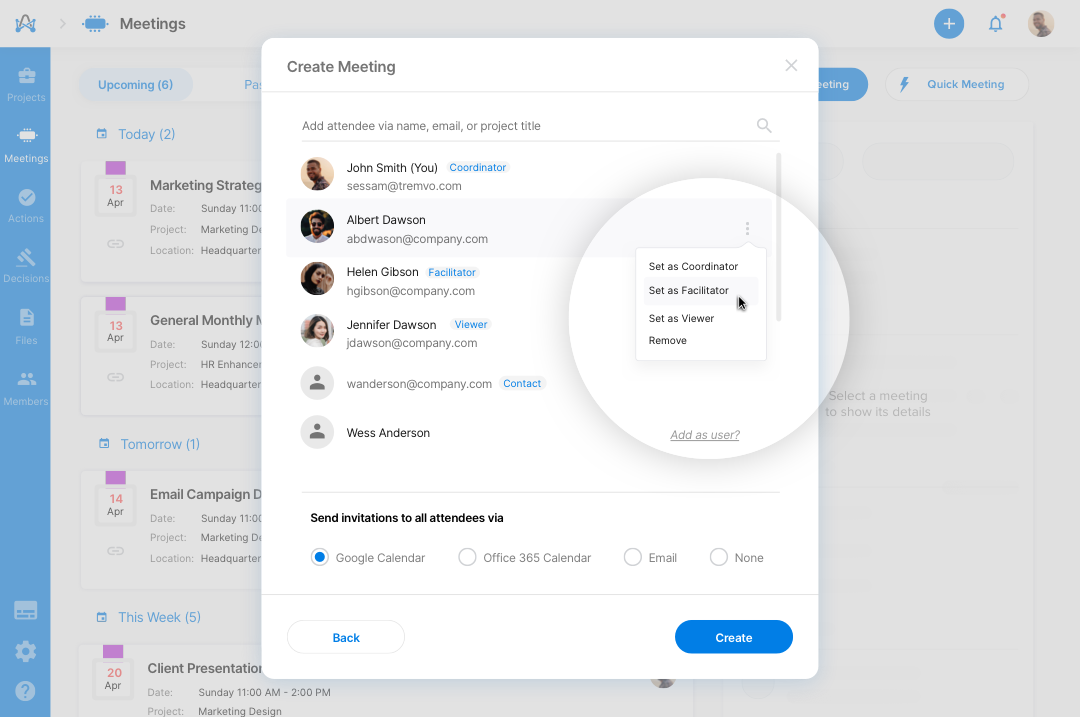 Screenshot from adam.ai: Assigning meeting roles
Materials
In case the team is meeting offline, you'll need a whiteboard or blank sheets of paper on the wall where everyone can see, some pens and papers, sticky notes, and stickers. Snacks would be great for longer sessions.
For online brainstorming meetings, use online tools that mimic whiteboards and sticky notes. Miro is a terrific online whiteboard and visual collaboration tool.
Rules
Communicate session rules clearly in the brainstorming meeting agenda beforehand. Setting rules is not to confine people but rather to organize thoughts and guarantee fairness to each and every individual.
Rules for a brainstorming meeting might look something like this:
Phones are allowed/not allowed.

No idea is deemed foolish or not worthy to further explore.

Foods and drinks are allowed/not allowed.

Ask for clarification instead of criticizing others' ideas.

One cannot vote on more than two ideas.

No need to raise hands, just do not cut each other off.
Tips for an effective brainstorming meeting
Begin the brainstorming session with a question that's specifically targeting the problem you're trying to solve. Questions as as prompts to inspire new ideas and solutions.
At the beginning of the session, try to steer the team away from finding a solution and more towards analyzing the problem in hand.
Encourage groupthink and engage everyone into the discussion. You may allow the team some time to brainstorm individually so that everyone has something to say and share. A brainstorming is not one when only a couple outspoken attendees dominate the discussion. "Make sure everyone participates" is one among 7 pieces of advice this Atlassian article recommends to run a brainstorming session.
Time any activity so that you and the team stay on track and avoid derailments.
If you end up with too many ideas and scattered notes of paper, ask one of the meeting facilitators to group them into categories under the same concept or direction.
Make sure that everyone understands each idea very well. Paraphrase complicated or industry-specific terms for other teams so that all are on the same page.
Prioritize the top ideas that've been voted for and take actions accordingly. Do not leave the meeting without deciding on ideas to put into actions, setting a reasonable deadline or at least a timeframe, and assigning those actions to owners.
Note that the ownership of a project can go to one or multiple stakeholder(s) depending on the nature and size of the project.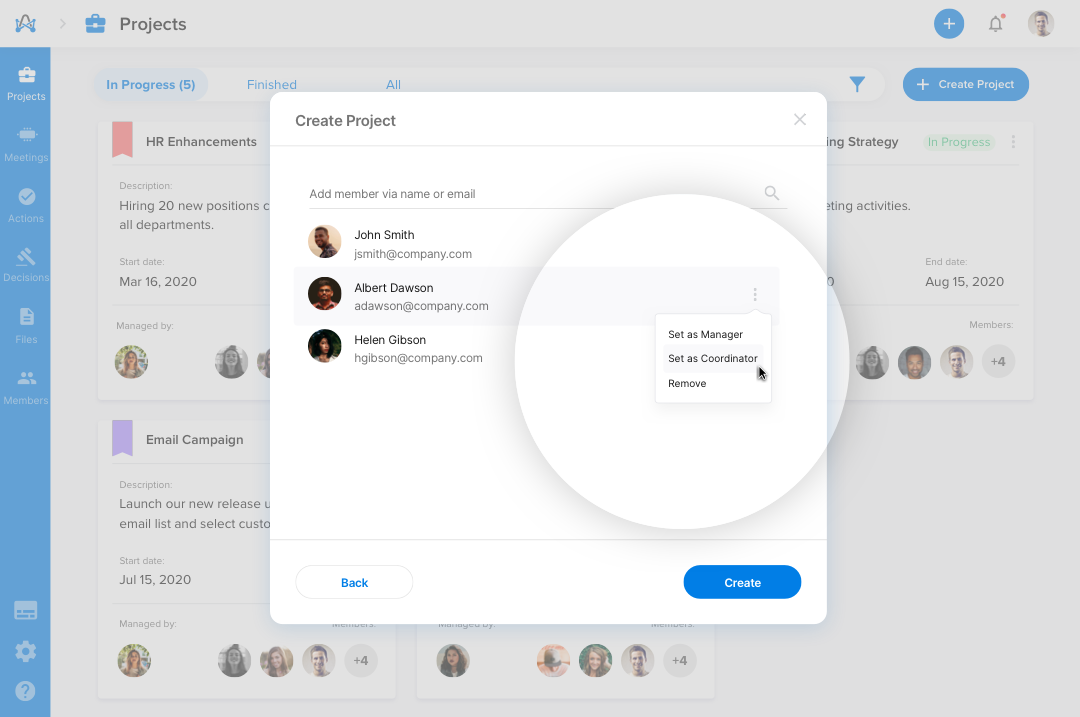 Screenshot from adam.ai: Creating a project and assigning project roles
When voting on ideas, elicit reasons from attendees rather than mere acceptance or rejection. Why do you like/dislike this idea? How can we make it better?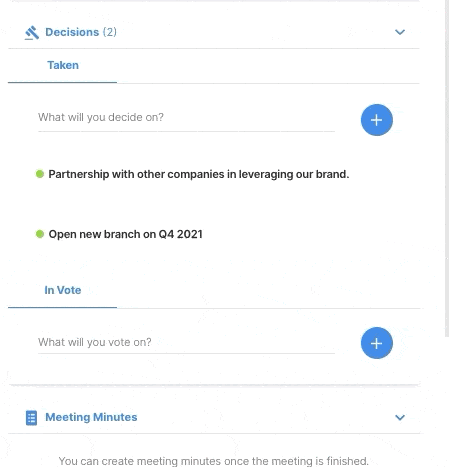 Voting on adam.ai
➕ You would probably like to send your team a thank-you email later after the meeting.
Brainstorming meeting agenda template
Feel free to download this agenda template for brainstorming meeting, customize it to your needs, and share it with the team before the meeting.
It is editable.
It is inclusive..
It is free...
More meeting agenda templates
This agenda is one of many more free agenda templates, created with every team's needs in mind. Feel free to download the ones that you use the most, customize them to fit your team, and make the most out of every meeting.
To sum up, having an organized agenda for a meeting that's supposed to be a bit messy is a smart move for leaders and managers. This is why organizations and teams of all sizes resort to a meeting agenda software, which is usually part of an all-in-one meeting management software, to facilitate the whole process and automate many parts of it.