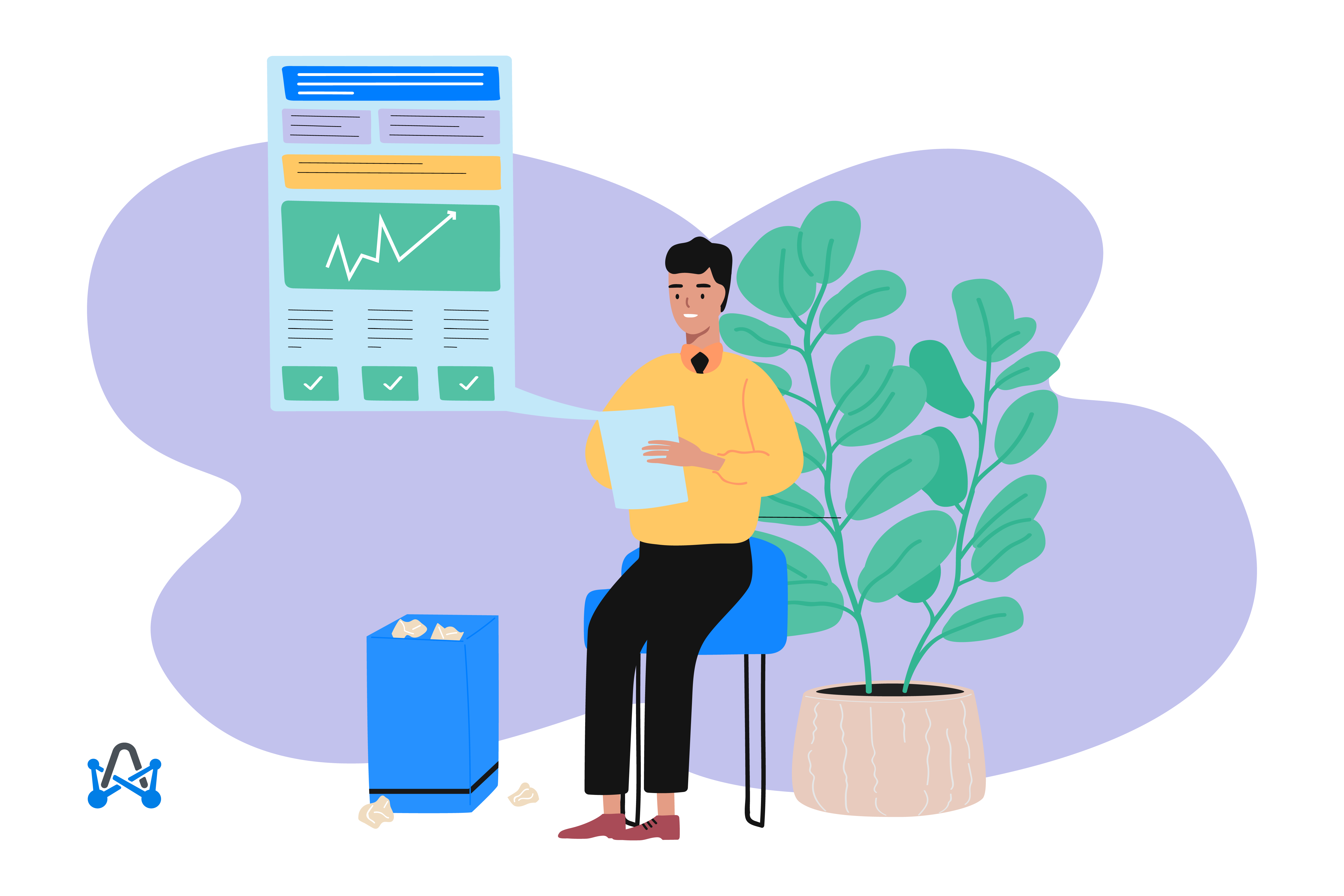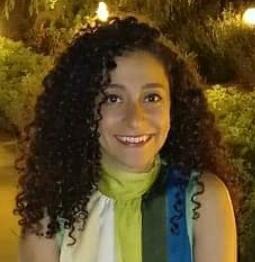 Finished writing your business plan and you're ready to write your executive summary? Before writing one, read this article to be well prepared to write an effective executive summary that will convince your investors to put their money in your business.
This article covers
What is an executive summary?
It is a report that provides summarized but enough information for the reader to understand the subject of a certain report and its significance.
Why write an executive summary for a business plan?
Say you have an awesome detailed business plan that you need to pass on to important decision-makers, be they CEOs, department heads, or supervisors. Most of the time, such people have limited time on their hands and won't go through a complicated, 60-page business plan.
You'll present your business plan to investors who know nothing about you and may not have an immediate interest in your idea. This is where an executive summary comes in handy. This easy-to-consume document provides all the important information necessary to take an action and makes people interested in reading the full business plan.
Not only does the document offer a summary of important information and the core statements of your business plan, but it also provides an opportunity to make people interested in your business and defend the idea behind your business.
Your executive summary can highlight why someone should consider investing in your business and help your business plan stand out.
A thought-out executive summary for a business plan will have the readers involved and desiring to know more about your business.
What to include in an executive summary for a business plan?
The book "The Business Plan" by SpringerLink puts perfectly what to include in your executive summary.
It mentions that the executive summary should be two to three pages, which include all the key elements of your business plan.
Those few pages should include the following critical information:
You should provide the reader with a short outline of your strategic plan and goals, the idea behind your business, and elements relevant to the success of your business, such as your revenue in the last three years. It's best if you can also include your plan for the next five years.

Decision-makers will likely look forward to knowing how your company is structured and the qualifications of the people you hire. So, highlight the key qualifications of your management team because they are why organizations succeed. Include how they contributed to successful initiatives.

You have to attract your readers by displaying your unique selling proposition. You can start with a brief description of the market, its current trends, the needs of your customers, and what services your competitors provide and then explain briefly how your product or service has a competitive edge and is worthy of investment.

Next, briefly present your competitive advantages, including your strategies and how you distinguish your product or service from your competitors. In a few lines, highlight your operative strategies, including manufacturing, procurement, planning, and marketing.

You need to include a brief description of your products and services, mention their features, specifically highlighting their competitive edge, and explain your production technology, product development, and expenses related to such processes.

Mention how you market your product in the relevant market and increase public awareness and which channels you use.

One of the most important sections in the executive summary that reflects your professionalism is mentioning key financial data, such as annual revenue, sales volumes, and expenses for a period of three to five years. You should give your investor an idea about the required financial resources, how you'll use them, and how you'll repay the investment.
How to write an executive summary for a business plan?
Here are the best practices for writing an effective executive summary for a business plan:
Length
You're summarizing your plan, so you need to be concise such that all critical information is included in no more than two pages.
In case your business plan is exceptionally long, here is a guideline you can follow: an executive summary is 5%-10% of the length of the entire plan, meaning a 10-page document would have a 1-page executive summary; a 100-page report should have a 10-page executive summary; and so on.
Style and language
It's best if you avoid jargon and use an active voice and active verbs. The language should be self-explanatory, concise, and convincing. Avoid using generalized terms or making assumptions about your reader.
You should always aim to include information that is easy to understand. When it comes to numbers, round them wherever possible to make them easier to understand. Try to simplify data by using charts or graphs.
Write your executive summary only after the business plan is complete

Write the summary after completing the rest of the business plan. Doing so will make the section easier to write and ensure you include all relevant information.
Engage your reader
Learn about your investors and think about an introduction that can keep them engaged based on their interests.
You can use the storytelling technique in the introduction or throw in some interesting market facts. Just make sure to keep everything relevant to your business and capture your audience's attention.
Be concise but informative
You should aim for a document that can stand by itself without needing the support of the entire report. Keep revising your executive summary until it can stand on its own.
Your introduction, body, and conclusion should be informative enough to allow someone who knows nothing about your business or industry to read your executive summary and understand the key elements of your business plan and be invested.
Have your executive summary tested
So how to make sure that your executive summary is clear, concise, and easy to understand? Have someone who knows nothing about your market or industry read the executive summary.
If, after reading, they can easily explain your business idea, then you've done a good job.
Prepare for the next step
The investors read your excellent executive summary. They were thrilled and called for a meeting.
There's nothing better than holding your meeting on a platform that is fully connected to your business activities and helps you get things done, close projects, and achieve goals through running effective meetings.
adam.ai, an all-in-one meeting management platform, is a user-friendly platform that provides everything you need to run a smooth meeting. Present pre-uploaded material. Hold votes. Take notes in real-time. Have a prepared agenda that people can collaborate on. Have your meeting platform integrated with your favorite apps and access them easily during your meeting.
Make use of your 14-day trial on adam.ai. No credit card is needed, and you'll have all the features unlocked. If you liked the platform, you could subscribe for $4.99 per user, per month, billed annually. Click below to start your free trial.
What to avoid when writing an executive summary for a business plan?
After reading how to write an executive summary for a business plan, you can get an idea about what to avoid. Let's go quickly through what you need to avoid when writing an effective executive summary for a business plan.
You need to avoid giving too much detail
The document needs to be concise and include all critical information. Revise your summary and omit unnecessary information. Make sure you cover the points mentioned in the "what to include in an executive summary for a business plan" section in this article.
Avoid using a tone that doesn't resonate with your readers
Do your research to know which tone caters to your readers and don't hesitate to change how you write your executive summary according to the investors that will read it. The most important thing is to keep a professional tone and keep your summary error-free.
Avoid using generalization
When referring to yourself in the summary, use "we" and "our" instead of "the company." This will help the reader feel a stronger personal connection with you and your business idea.
Avoid exaggeration
Using clichés and unbacked claims is a big no-no. There is no need to do so because an executive summary isn't marketing material. It's a formal document that reports facts only.



Executive summary for business plan examples
We've included several excellent examples of effective executive summaries in this article. These examples can help guide you to write your own.
1. Source: vertex42
Company/Project Title: Executive Summary
Overview: the quick pitch
This is a brief section that describes what your business or project is all about.
The problem
Here is where you describe the problem that you are solving.
What is the problem and how big is it?

Who is the target audience? Who is this problem affecting?

Are there currently any solutions to this problem? Who is the competition?
The solution
Here you describe how your business solves the problem for your target audience.
How does your business solve the problem?

Is it a simple or complex solution?

If it is complex, how can you make it simple, or describe it more simply?
Highlights
Here you can show the most important market analysis and data that captures the potential your solution can have in the marketplace. We recommend pulling the most compelling highlights from your plan or proposal. You can also talk about the strengths and advantages of your staff and any partnerships you may have.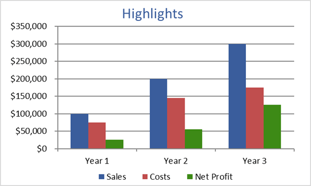 Keys to success
Discuss the main steps necessary for your business to be successful.
What is your marketing strategy?

What resources will you need? (partnerships, funding, materials)

What does your timeline look like?
Financial highlights
If part of the purpose of your proposal is to seek funding, you may want to dedicate a full section to talk about the funding you currently have and what funding you'll need.
What is your 3-year earnings projection?

When will you break even?

How will investors be repaid?




2. Source: slideshare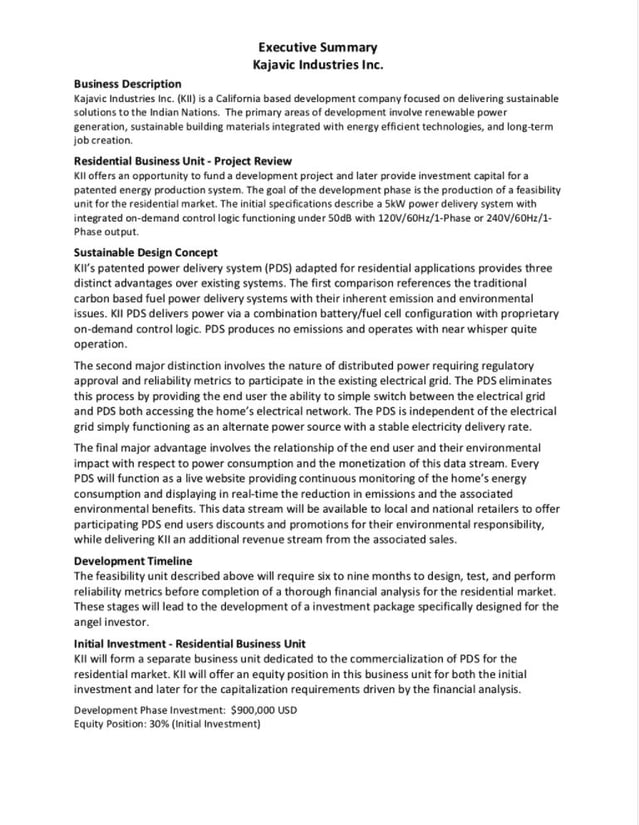 3. Source: upmetrics
Objective
Samantha's Child Care Services is a day child care service center in Seattle, Washington.
The center offers daycare and hands-on learning facilities for children between three to five. The center is headed by Samantha Wheeler, from UCLA University with 15 years of experience working as Principal of CIS of Seattle.
The main objective of presenting this executive summary for child care is to seek investments.
Problem
Today's children need a hands-on learning experience right from the start. They need to learn the lessons that don't feel like 'learning'. They should not feel forced to learn. Rather, they must enjoy it. They need a curriculum that allows them to read, write, play and have fun.
On the contrary, the school system is failing.
Solutions
Samantha Wheeler, the founder, and director of Samantha's Child Care Services is trained and has been teaching and looking after children for more than 5 years.
According to her experience, here are the solutions Samantha's Child Care Services offer:
Offering practical learning experiences

Including activities like developing activities in art, self-defense, robotics, phonics, and others under the same roof.

We will nurture and look after the neighborhood children like their parents would by offering more than just babysitting.



Vision statement
Our vision is to offer holistic childcare along with fun and engaging extracurricular activities to children. So that they don't miss the joy of community.
Mission statement
Our mission is to offer every child here fun and an international standard daycare center where kids can be groomed and prepared to be leaders of tomorrow.
Target market
Samantha's Child Care Services will be offering child care/development for infants aged three to five.
Our services are specifically for families where both parents (or all elders) are working professionals. And due to work obligations, can not manage child care during the day.
Which includes:
Corporate Executives

Business Professionals

Sports Professionals

Government Officials

Families
We will be targeting parents and guardians who are looking for a daycare center that offers help in overall development to their child.
Competition and competitive advantages
Direct competition

Sunflower Day Care

Little Lilies Child Care

Indirect competition
Preschools and kindergartens.
Home schools, stay-at-home parents, and nannies.
Competitive advantages

We offer quality childcare services with hands-on early education at affordable prices

Everything that a child needs for a healthy and happy childhood, we provide under one roof.

It's not just another child care center. But a child's second home. Where every child is looked after and nurtured, physically, emotionally, and intellectually.



Procedure and implementations
The current procedure at Samantha's Child Care Services are:
Renovating the center

Management provisions

Recruiting teacher's staff

Recruiting a team of pediatric nurses and counselors

Setting up the marketing team

Culinary team to suffice breakfast and lunch provision



Team size
| | |
| --- | --- |
| Management Team | 5 people |
| Teacher's Staff | 5 teachers |
| Team of Pediatric Nurses | 3 nurses |
| No. of counselors | 1 counselor |
| Marketing Team | 2 people |
| Culinary Team | 3 people |
| Total team members | 19 people |
Financial summary
Samantha's Child Services has been a side hustle for the last two years. During that time, it's been quite stable. However, upon the thought of expansion, here are a few financial facts and figures for Samantha's Child Care Services:
Our sales projections for the first year are $270,000.

We project a growth rate of 10% per year for the first three years.

The salary for each partner will be $30,000



Financing requirements
We are seeking an operating line of $100,000 to finance our first-year growth. Samantha Wheeler, the founder has invested $47,000 to meet working capital requirements.
The bottom line
Executive summaries have a huge influence on investors' decisions. When you spend a good time on writing one and consider the tips mentioned in this article, you'll have a concise, informative, and easy-to-consume executive summary for your business plan that can convince decision makers that investing in your business is the right move.
After writing a stellar executive summary for your business plan, prepare for the next step, your meeting with the investors. Choose an all-in-one meeting platform, like adam.ai, that is fully connected to your business activities and helps you close deals. And finally, we wish you the best of luck!