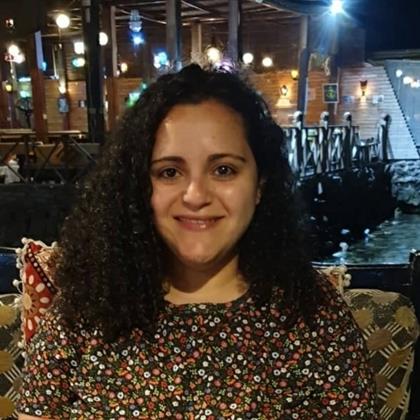 Any public company is legally required to have a board of directors. These members meet up to set the main mission, vision, and strategies for their organization.
But what comes to mind when picturing a board meeting? Who usually attends those meetings and how many times should they meet to implement major decisions in a company?
And apart from all this, how can you manage such a major meeting and ensure it runs smoothly? Let's have a sneak peek into a board meeting, what it entails, and how to structure it to achieve the best outcomes.

This is an in-depth article about board meetings; yet, feel free to jump straight to any of the main headlines in this article:
What is the importance of a board meeting?
Who is typically in board meetings?
How often do board meetings take place?
What goes on in a board meeting?
How to run an effective board meeting
How to structure a board meeting


What is a board meeting?
A board meeting is a type of formal meeting where the board of directors meets to discuss an organization's strategies and policy statements. This organization may be a non-profit, governmental, or any other publicly held organization.
The board meeting members and other invited parties gather to decide on major issues and legalities of the company.
The board meeting purpose is to create the broad lines that all departments in the organization follow to achieve the set goals.
What is the importance of a board meeting?
A board meeting today is important because it's a chance to review a company's performance, resolve any issues hindering progress, and set SMART goals to ensure teams across the company can achieve them.
Board meeting minutes are recorded for future reference to track decisions, action items, and goals mentioned in the meeting.
This official meeting minutes record is evidence of all matters discussed in a board meeting, which legally protects an organization in case of any discrepancies or formal investigations.
An all-in-one meeting management platform can help you conduct board meetings effectively, where you have all the tools you need to create action items, take votes, make decisions, share a meeting agenda, and automatically generate meeting minutes.
💡Use adam.ai to help you run business, close projects, and achieve goals through effective meetings.
14-day pro. No credit card. No hidden fees.
We've already established the purpose and definition of board meetings. Aside from the board of directors, there are different managers and personnel who attend these meetings.
Who is typically in board meetings?
The board of directors needs specialists, analysts, and department heads to provide insights into the company's performance.
Sometimes, the board will assign a board committee of experts to manage a specific issue. These experts gather in a committee meeting separately and then report to the board with their outcomes.
Board members are then able to make informed decisions based on their reports, so let's find out who attends a board meeting.
1. Senior executives
These include the chief officers in an organization. While some companies may only include the Chief Executive Officer (CEO), who would typically have all the reports from other senior executives, many companies prefer to hear the information directly from their chief officers.
This is to encourage other C-level executives to share their expert opinions on major company matters, instead of delegating this job to the CEO.
Another reason is to avoid any miscommunication by letting the specialists share their knowledge of the company's performance. Officers like the Chief Technical Officer (CTO) and Chief Marketing Officer (CMO) are valuable assets in a board meeting.
2. Chief Financial Officer (CFO)
The CFO must attend board meetings to discuss financial reports in depth. While the CEO should be well-informed about the company's financial situation, it's best to let the CFO deliver numbers and statistics reflecting the company's finances.
They can provide solutions to major issues and bottlenecks the company suffered from in the past. Since risk management is a prime subject in a board meeting, the CFO is responsible for pinpointing the causes of these risks and setting a strategy to overcome them.
3. Board Secretary
The secretary in a board meeting is responsible for keeping track of everything discussed from risks and challenges to strategies and major decisions.
In other words, the board secretary takes the meeting minutes in board meetings for the attendees to review what happened and which strategies were placed to follow them during the year.
It takes time for all the aforementioned chief officers to collect their data and present it to the board of directors, so how frequently do these meetings occur?
How often do board meetings take place?
A board meeting is usually held at a specific time of the year. Depending on the company's size and structure, the board's availability, and their willingness to review the company's performance, it could be conducted as frequently as every quarter or as distant as every year.
This frequency could vary if an organization faces a major setback, where the board needs to convene to make important decisions.
There are different meeting objectives discussed in a board meeting; let's take a look at the standard topics mentioned in this meeting.
What goes on in a board meeting?
In a board meeting, the attendees get together to discuss important matters in a company. Structuring a board meeting efficiently is crucial to ensure the meeting is conducted like clockwork and avoid wasting precious time.
This is why it's best to define the main headlines of the meeting so all the attendees can prepare for these specific topics.
1. Past performance
First, the chief officers share their data about the company's performance in the past period or since the last board meeting.
The information shared should be brief with specific numbers and statistics, where the officers mention which goals were achieved and whether past strategies were effective in steering the company in the right direction.
This is when achievements and growth opportunities are mentioned to the board, where the members discuss solutions for the challenges the company faced so far.
2. Planning and strategy
The next step is to set a plan for the upcoming period to implement the solutions presented in the board meeting. All the C-level executives should brainstorm on how to follow the set strategy to ensure past problems won't resurface.
The main aim of a board meeting is to find ways for the company to grow and develop in various departments and expand its market share.
Senior executives should align their goals in a unified strategy so that all teams are on the same page and work toward the newly set goals in the specified timeline.
3. Action plans
Once past performance with all its progress and hurdles is discussed, it's time to create action items for the teams to implement the new strategies.
An action plan should include objective and key results (OKRs) and key performance indicators (KPIs) that provide insights into the company's performance. These metrics are used to track progress across all teams and include sales data, employee and customer attrition, and other insightful metrics.
The action plan decided in a board meeting is usually put to a vote before the members decide on whether or not to pass it on to teams across the company.
A board meeting handles a myriad of important decisions and issues, and without a specific structure, it could be chaotic and the board members would waste valuable time. So how can you run a board meeting effectively? Let's find out.
How to run an effective board meeting?
There's a world of difference between merely attending and running a board meeting effectively by sticking to a specific structure and timeframe. But for starters, we've gathered a few tips you can use to get you on the right track.
1. Be punctual
Time is everything when it comes to running a board meeting. One of the first board meeting rules is to start the meeting on time and not make it go longer than it should.
Sticking to your schedule conveys the message that you respect the attendees' time and prepared thoroughly using board agenda items to adhere to the specified timeline.
2. Allow members to speak up
A board meeting may be too big for everyone to voice their opinions, but it's important to encourage everyone to speak their minds and ask questions about technicalities. How else will they be able to vote on matters before making real decisions?
The attendees' contributions will provide several perspectives, which means any problems can be studied from different angles before solutions present themselves to the group.
3. Start a conversation
A board meeting is not a retrospective or catch up session, so it's useless to mention regular items that could be brought up in an email. Instead, start a discussion about the problems that affect the organization on a wider scale.
Take advantage of this rare gathering to consider opportunities for growth and plan strategies to uphold the company's mission and vision.
4. Utilize the attendees' experience
With all the chief officers and senior execs attending the meeting, it's only efficient to let each experienced member voice their opinion based on their professional background.
A board meeting includes elements of brainstorming, albeit on a smaller scale. For a successful brainstorming session, diverse backgrounds are a huge plus to ensure the best outcomes.
Finally and most importantly, preparing a board meeting agenda facilitates the process of running an effective meeting.
What better way to do that than having your agenda, project-management tools, note-taking features, communication software, and minute-taking platform all under one umbrella?
✍️Use adam.ai, the all-in-one meeting management platform, to schedule your next board meeting with its built-in booking pages, run the call and capture its content, vote on polls and assign actions on meeting attendees, while having the video call itself on adam.ai built-in video conferencing tool, or integrate with your preferred communication platform like Zoom, Google Meet, or Webex. Use Adam the AI meeting assistant to Instantly get meeting transcript, smartly highlight key content items, and quickly convert them into actionable items.
Let's take a look at how you can structure your board meeting in an organized manner without jumping from one tool to another.
How to structure a board meeting
To structure an effective board meeting, bear in mind what you need to do before, during, and after the meeting. To manage your entire meeting cycle, there are a few crucial elements to include, so let's break it down:
1. A meeting agenda
Create agenda items backed up with the chief officers' insights to review the company's past performance and discuss solutions to the proposed challenges. Make sure to share your agenda in advance so the board members can prepare for the meeting.
✖️ Use the meeting timer on adam.ai's to set a specific time for each specific agenda item for a timely meeting.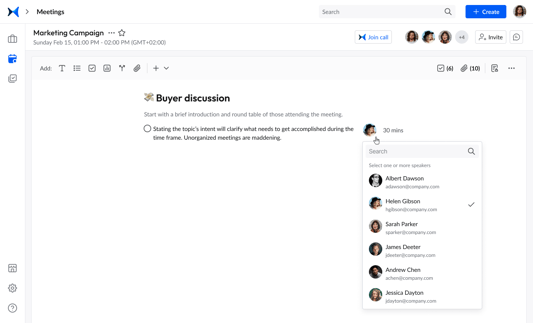 Screenshot from adam.ai: Adding speakers and setting timer
2. Sharing files and reports
The chief officers should take turns to revealing their statistical reports and KPIs to give the board a clear insight into the company's performance.
✖️Upload your documents in the files tile directly from your computer or by integrating with other file-sharing tools like Dropbox or Google Drive.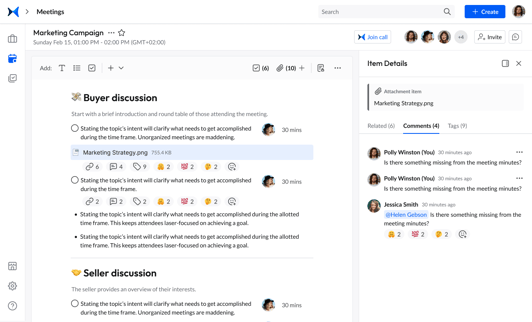 Screenshot from adam.ai: Managing your attachments
3. Assigning specific roles to members
Each person should know their meeting roles before the meeting. It allows people to prepare for their presentations and what's expected of them in the meeting.
A board meeting is filled with authoritative figures in an organization, but they still have to take turns to speak in a meeting. This is why it's only natural to assign a minute taker, note taker, meeting coordinator, and meeting facilitator to run the meeting.
➕Choose meeting roles for each attendee when creating the meeting and inviting members to your meetplace on adam.ai.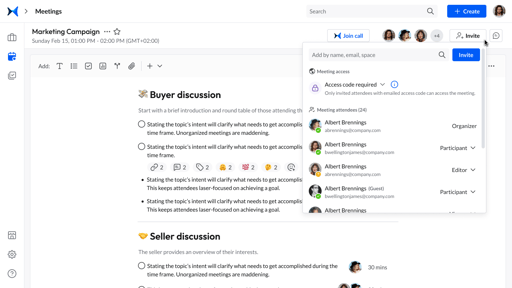 Screenshot from adam.ai: Attendees different roles inside the meeting room
It's best to assign only one person to take notes during a meeting to avoid overlapping. The meeting coordinator can assign an attendee to take important notes in the notes tiles right under the agenda tile, keeping all the information needed in one place.

Screenshot from adam.ai: Managing notes
4. Taking votes and making decisions
Members in a board meeting usually vote on major matters before making a decision. Keeping track of voting results is important for future reference when past meeting minutes are reviewed to see how each member voted.
After the agenda items have been discussed thoroughly and backed up with data gathered by the chief officers, a decision must be made.
➕The meeting coordinator can add decisions during the meeting and have them put to a vote. You can create a title for each decision, assign a department to each decision, and manage the voting status as agreed or disagreed to finally implement the decision.
After all members have voted, the votes are automatically tallied as with or against the proposed decision. You can then choose to end the voting on this item or re-open it on a disagreed decision.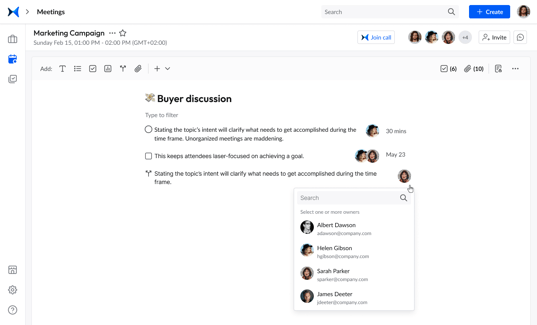 Screenshot from adam.ai: Managing decisions
5. Creating action items
After making decisions, the end of the meeting should be dedicated to creating action items that each chief officer will communicate to their departments.
This way the board meeting would achieve its purpose of not only deciding on company-scale strategies but also specifying the way by which teams work toward these strategies.
➕Create actions in the action tile, set it to private or public, assign members to each action, choose the level of severity, and set a deadline for the action items.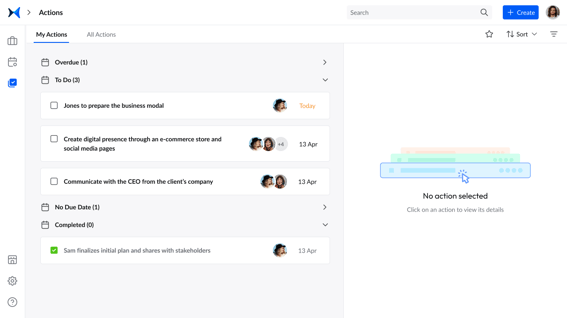 Screenshot from adam.ai: Managing action items
6. Taking meeting minutes
Recording meeting minutes is essential in a board meeting. The minute taker must take notes of everything discussed in the meeting in case the members want to review what happened in the next meeting or at any time in the future.
➕ Generate meeting minutes automatically after the meeting with all the decisions, votes, notes, risks, meeting agenda items, action items, and attendees' and absentees' names to keep track of your board meetings.
Keeping all the above elements in mind is how you can manage your entire board meeting cycle before, after, and during the meeting to help your organization run business, close projects, and achieve goals through effective meetings.
The bottom line
A board meeting is the highest level of meetings in any organization. It's how main strategies and planning on a major scale take place to be communicated with all teams across the company.
By now, you have all the information you need about board meetings from the people included to how to run them efficiently.
For optimum results, we recommend using an all-in-one meeting management platform to facilitate the process of running this major meeting in the best way possible.
adam.ai is the ONLY all-in-one meeting management software to organize the entire lifecycle of remote, hybrid, and physical meetings (before, during, and after). Here are a few other reasons to choose adam.ai: