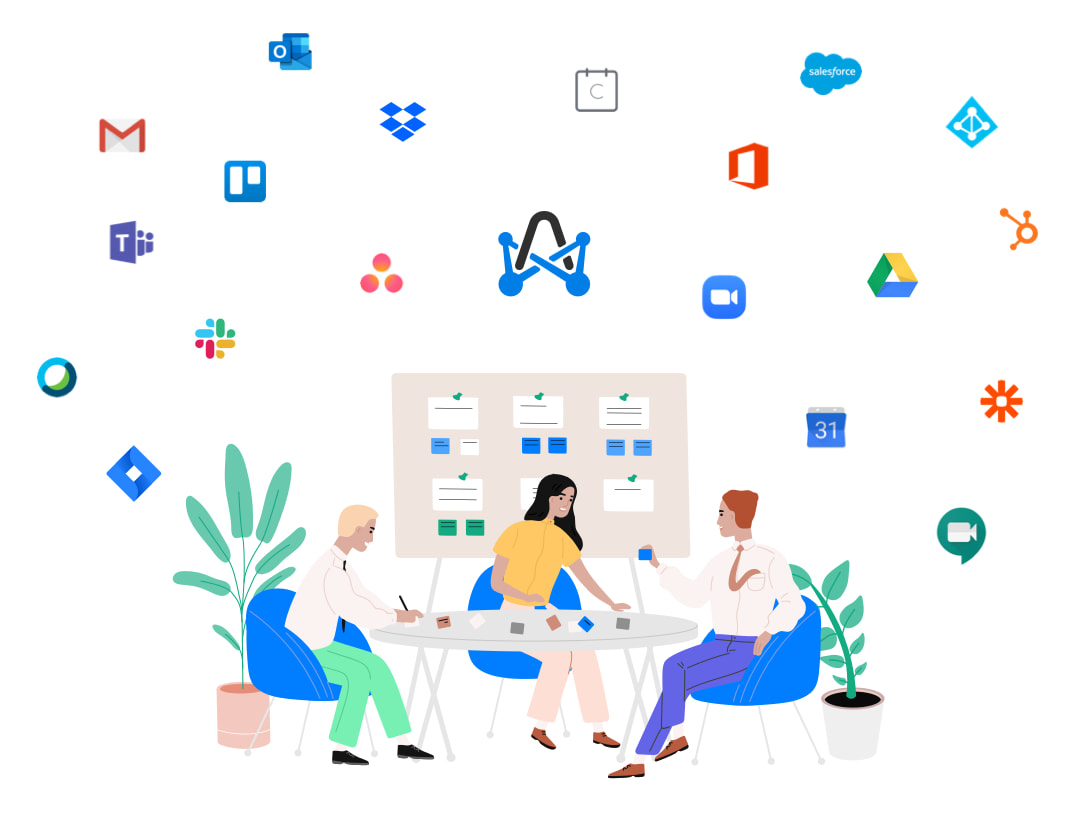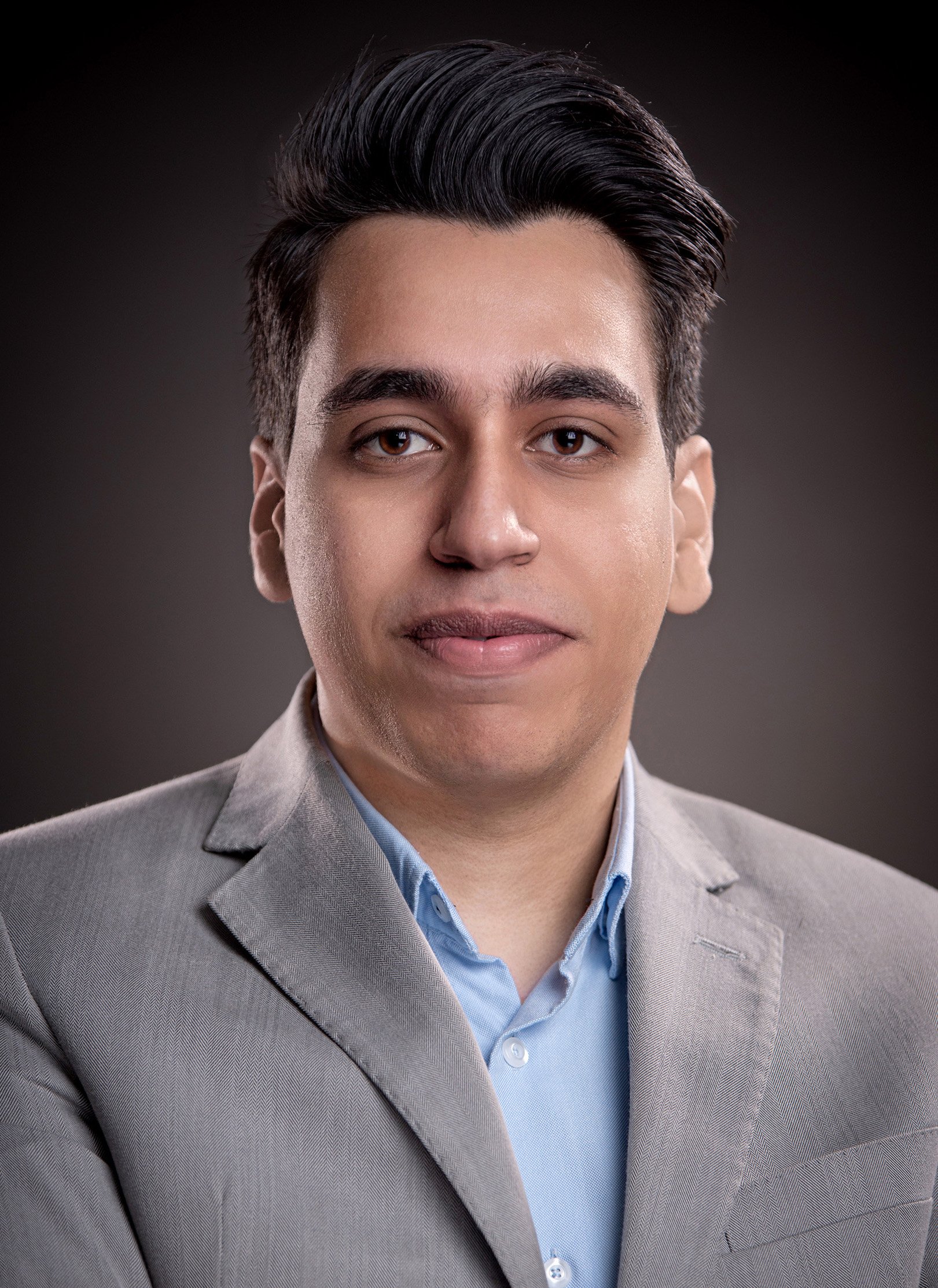 With the current rise in demand for digital solutions, one would think that the increase in these digital platforms enables a faster more efficient workflow. However, the surplus of these platforms has actually created its own form of chaos that has led to slower outputs. People are stuck jumping from one platform to the other in order to make ends meet; and the number of platforms will only increase. That is why adam.ai understands the importance of unification and aims to provide all of its users with a one-stop-shop experience for all of your meeting needs.
You can now enjoy the organized culture set for your every meeting. By having all of your platforms readily available you can rest assured that each meeting is more efficient. Whether you need your schedules synchronized or your documents more accessible, adam.ai have got you covered:
Integrations that complete your meetings workflows
adam.ai integrates with your favorite workflow, so that you don't feel an alien here.
Scheduling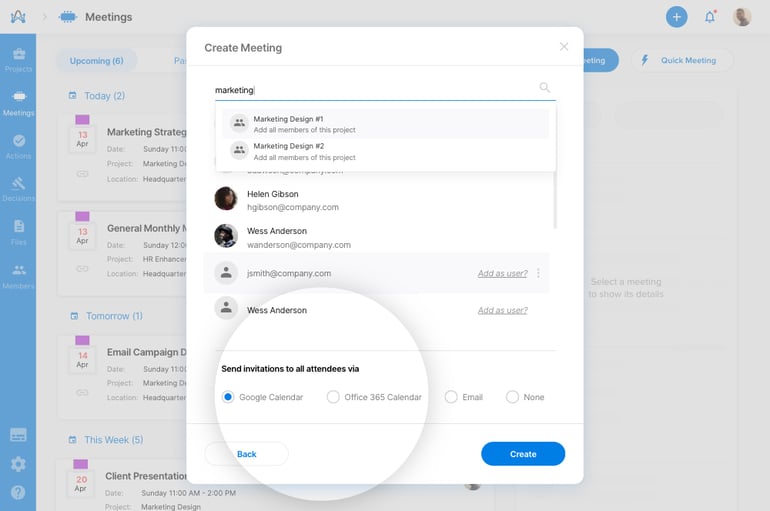 adam.ai understands that current work demands are hectic and hard to keep up with. That is why we believe that scheduling is a great and impactful way to keep track of all of your past and upcoming meetings. By allowing you to synchronize your scheduling platforms, you will no longer need to check different silos to remain updated. The platforms that you can integrate include Google Calendar, Calendly, Office 365, and Microsoft Exchange.
With this integration, you can check your existing schedule or even schedule upcoming meetings through adam.ai. You can also benefit from a two-way synchronization in order for you to be able to access and alter your calendar through each platform. Once you have successfully integrated your scheduling platforms adam.ai also sends you reminders on upcoming scheduled appointments (as well as insights and tasks that are needed).
Video Conferencing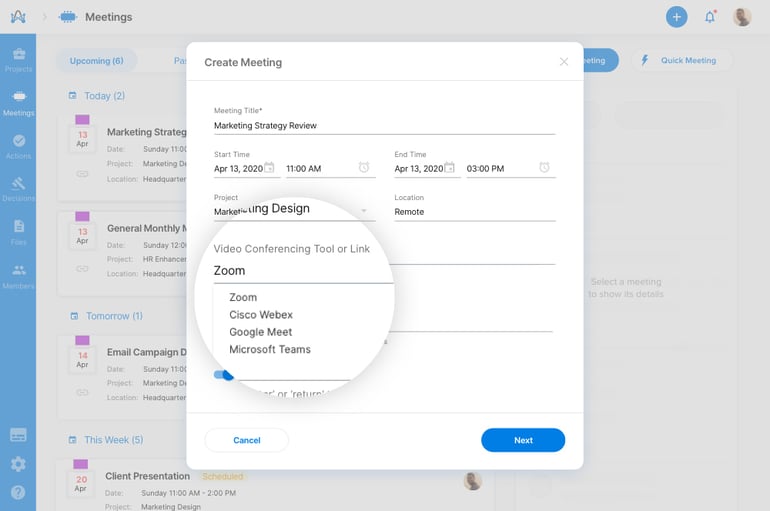 Today, meeting participants using Zoom rose from 10 million to 300 million daily Zoom meeting participants. While Microsoft Teams participants rose from 560 million to 2.7 billion users per day. Whether you like to use Zoom, Google meet, Microsoft Teams, or Cisco Webex for your next online meeting, adam.ai is here to make sure that you can pick and choose these platforms to your liking.
Depending on the clients you talk to, you can quickly select the video conferencing tool when scheduling a meeting that best suits your needs. As soon as you schedule your meeting adam.ai will send an invitation with the video conferencing link to your invitees to ensure that all meeting members are all redirected to the same platform. You can also instantly join an upcoming or running meeting through the dedicated meeting dashboard as well as through the meeting room.
Collaboration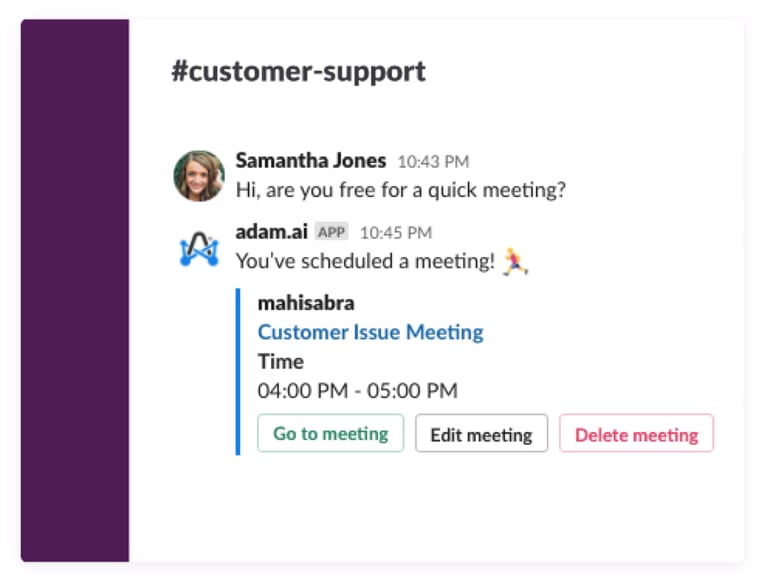 Imagine you are communicating with your teammates through Slack or Microsoft Teams. You then have an issue that needs to be discussed quickly through a video call. You can now access and use adam.ai's meeting tools through Microsoft Teams and Slack. You and your teammates have the option to join a call, schedule a quick meeting, or upload important documents through this two-way integration. By selecting certain actions, you will be able to benefit from shortcuts, which improve your workflow. These meeting management tools include scheduling a meeting, look through previous meetings and projects, as well as upload documents such as meeting minutes. Whether you are an avid user of Microsoft Teams, Slack or Outlook, adam.ai aims to diminish your meeting needs.
Project Management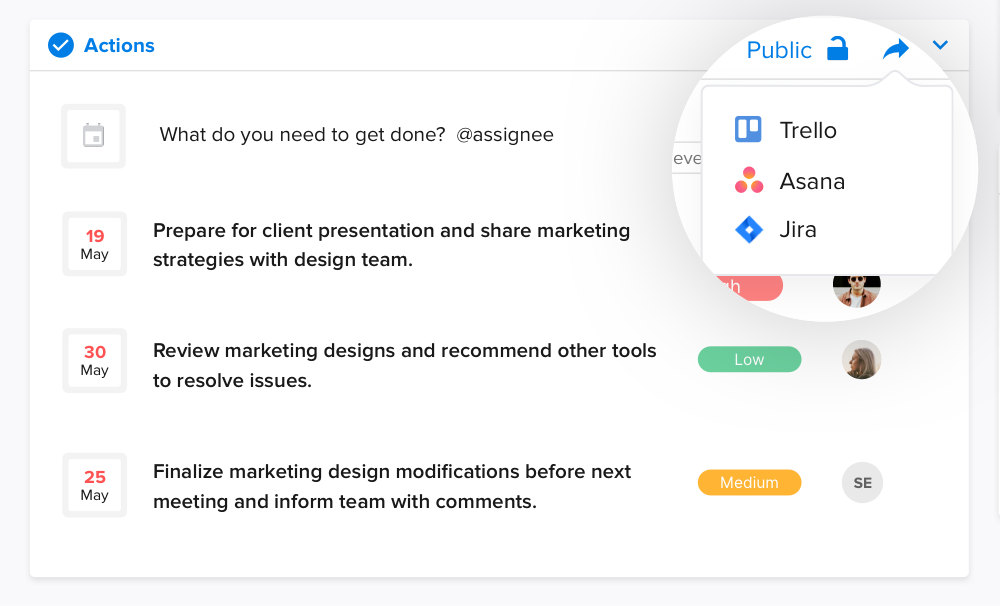 Checking your assigned actions is now made easier with adam.ai. Whether your projects are stowed in Trello, Asana, or Jira Software, you can simply integrate these platforms directly with adam.ai and access all of them at once if need be. By doing so you can synchronize and assign actions with this platform with any of your meetings and projects. Benefit from a two-way integration for Trello, Asana, and Jira Software.
CRM
No longer will you need to type up contact information for your meetings, by integrating platforms such as HubSpot, Salesforce, and more, you can now schedule meetings with any of your desired contacts. This will help synchronize your contacts onto adam.ai and enjoy having all of your CRM readily available. You can also check your previous and upcoming meetings with your CRM contact details on HubSpot and Salesforce where you'll be able to view all meeting details, attendees, and duration. adam.ai also makes sure to save any of your new contacts to help you connect with people faster.
File Sharing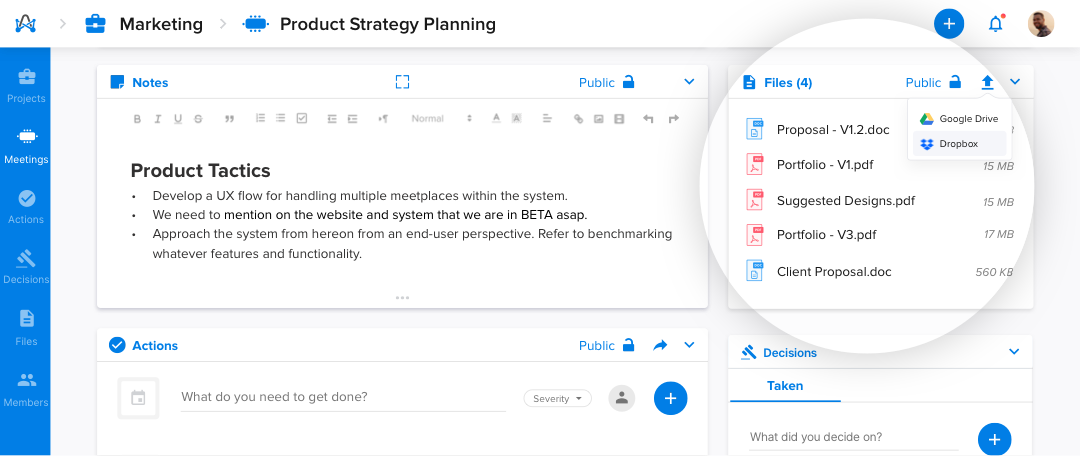 To make your workflow run more smoothly; specifically before, during, or after your meetings, adam.ai provides you with an option to integrate your favorite file-sharing platforms. Whether you would like to check your previous meeting minutes before you enter a meeting or upload an important PowerPoint presentation for your meeting, adam.ai has you covered. You can access, share, and upload your files (and that of others) through Google Drive, Dropbox, or any other desired platform. You also have the option to choose whether to make your files public or private to other meeting members through the meeting room public and private mode.
Automation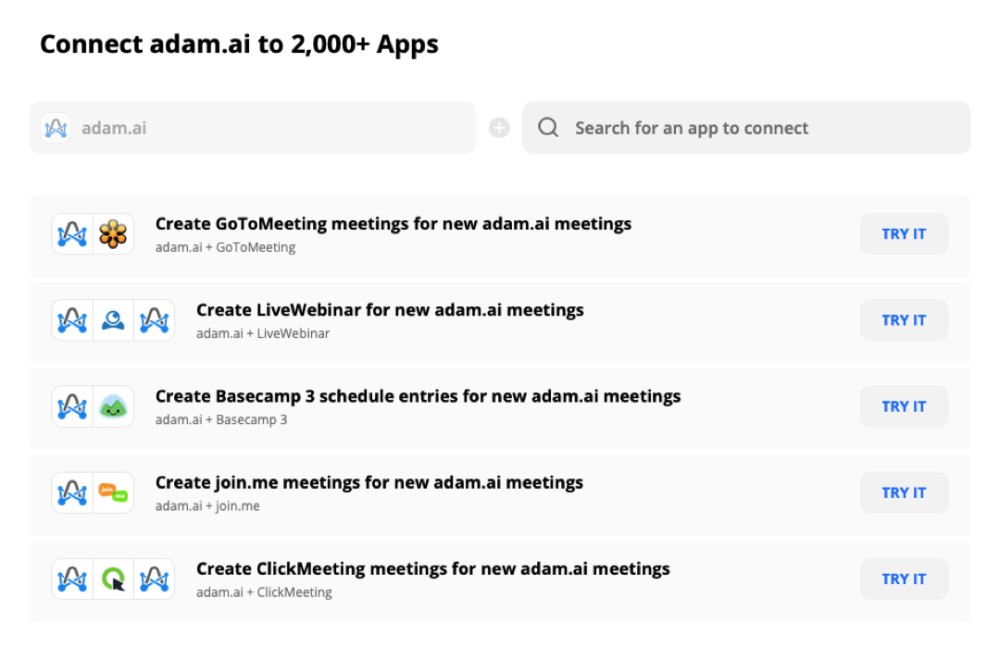 adam.ai also enables you to integrate with any integration platform such as Zapier. With this integration, you can access even more platforms to help you with every meeting. You also have the option to connect adam.ai with more than 2,000 platforms through Zapier integration. Your workflow can now become easier with this one-stop-shop option.
adam.ai merges your workflow solutions to best support your meeting management needs. By integrating all of your desired work platforms, you can enjoy using major platforms like Zoom, Microsoft Teams, Google Calendar, Slack, and more under one digital roof. No longer will you need to waste time on figuring out how to decipher these scattered silos. We are always expanding our integrations list to enrich your overall meeting experience, let us know what your preferred platforms are! Check adam.ai's integrations to learn more about how you can benefit from your meetings integrations.