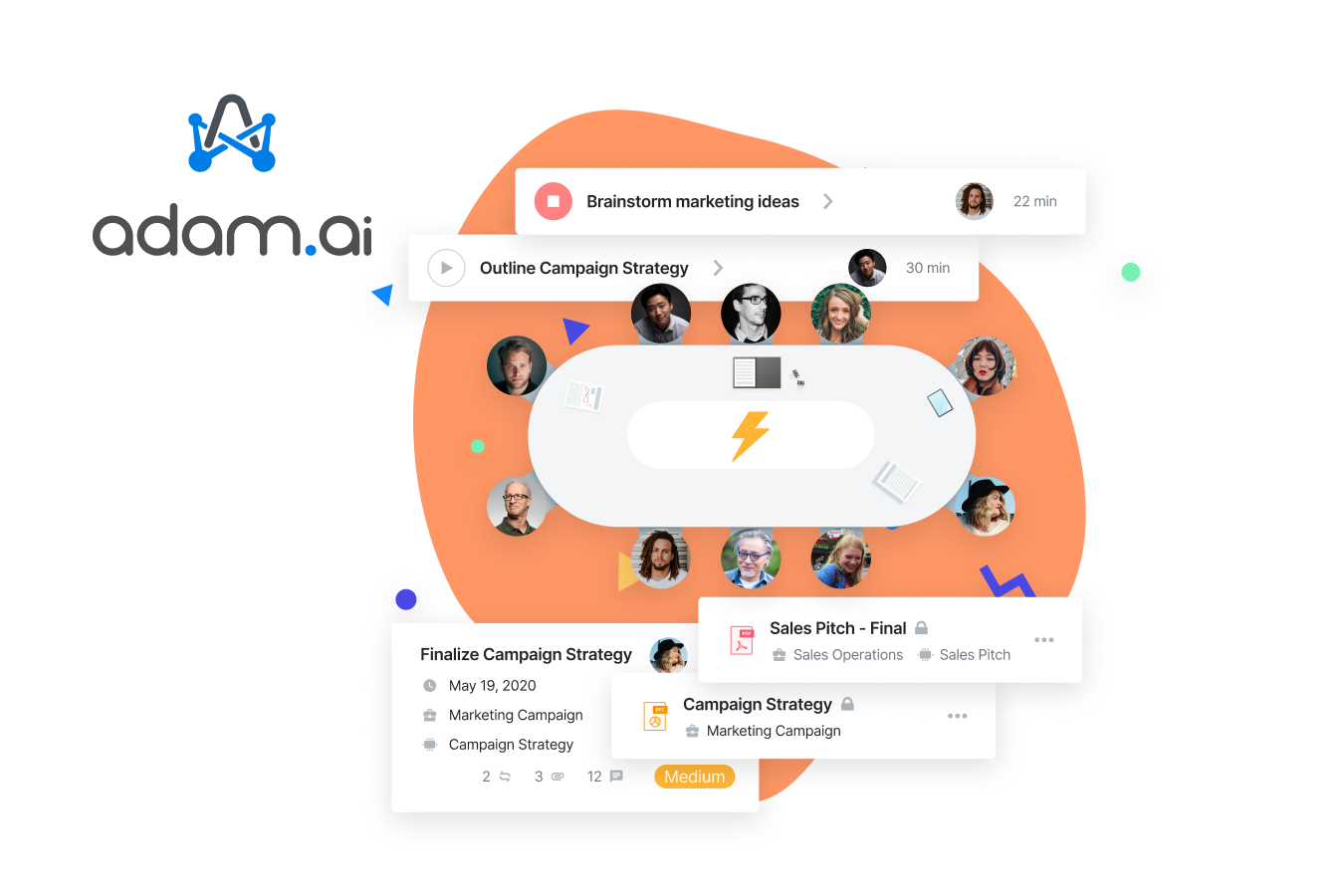 Either held once a year or more frequently, a board of directors meeting is known to be the most decisive event among all meetings of an organization.
It is through this board meeting that key stakeholders come into agreement and directors collaborate on the organization's goals and strategies.
This is why you are here: you want to get the most of your board members time, you want to keep everyone focused, and you want to arrive at the right decisions. In a nutshell, you want to know how to run a board meeting.
How to run a board meeting as president?
The president of the board meeting is referred to as the "board chair" and is considered more as a facilitator than an executive.
"Be the guide on the side," says Stanislav Shekshnia in his HBR article on how to be a good board chair.
The responsibilities of the president in a board of directors meeting are huge and the role is sensitive.
They are encouraged to take care of certain actions during the meeting and to avoid others.
The role of an effective board chair
Drag out the board's valuable input on strategic issues and risks.

Align between the organization and all directors to solve any issues and mitigate any risks.

Guide board members through the meeting process.

Keep the board well briefed and informed about issues and progress.

Be unprejudiced on issues.

Facilitate discussion among board members, making sure that each board member has an opportunity to speak and express themselves.

Give enough time for opposing sides to present their arguments and invite other members to take part and actively participate.

Smartly avoid giving too much time to a few directors on the expense of others.

Mentor and support fellow directors.

Take accountability for the overall performance of the board.

Ensure board meetings are efficient as well as democratic and orderly.
Actions to avoid on chairing a board meeting
Chairing a board meeting is different from being a CEO or an executive director of an organization. An effective board chair facilitates a board meeting and does not run the whole organization.

Effective board chairs do not try to solve problems themselves or give their own ideas to the board. Rather, they organize discussions, focus on performance, and encourage valuable, constructive participation from all members.

To run an effective board meeting means that the board chair should be open to and accept uncomfortable discussions. So, instead of "covering" for the CEO, one of the executive directors, or some critical board members, an effective chair respects all members' right to be heard.
How to attend a board meeting as member?
Some board members are well experienced at board meetings and are familiar with how to talk and participate in one.
Other board members members are inexperienced at contributing effectively to a board meeting; it might even be the first board meeting to ever attend.
How to deal with that?
A good idea here is to conduct an orientation for board members and discuss how board meetings are run productively and effectively, with an overview about the responsibilities of board members.
Role of board members in an effective board meeting
Identify the challenges they need to discuss and the comments they want to make, instead of depending on discussions initiated by other members.

Review any materials before the meeting, and prepare for the meeting to be able to actively participate in the board meeting.

Submit the topics they wish to discuss to the chair in advance. The board chair then decides if a topic is discussed at the meeting or in any other way.

Only share important observations, comments, or questions that would add value or make a point.

A board member should not interfere with operations management, even if he/she is a CEO of their own company.
Yet, no matter how effective its chair and members are, the absence of an agenda means definitive failure and waste of time of this board meeting.
Board meeting agenda
The agenda sets clear expectations for the board about the topics to be discussed and the decisions to be made.
The ideal board meeting agenda is one that uses agenda items to highlight critical topics for an organization and manage potential risks.
Board meeting agenda items
A classic board agenda follows the below structure in a way or another:
Calling meeting to order

Taking attendance and mentioning the quorum

Approving the agenda as is or making changes to it upon any requests

Approving previous meeting's minutes, if it hadn't been approved already

Presenting and recording reports from directors and committees

Discussing old and new business business

Making announcements or other comments

Adjourning or closing the meeting by the chairperson
➕ Bonus. Use this editable board meeting agenda template on your next board meeting and keep everything on track.
It is editable.
It is inclusive..
It is free...
How to run a board meeting through its agenda?
The agenda helps the board run an effective board meeting greatly, if prepared well and followed correctly.
It's not a very good idea to duplicate the same board agenda from a meeting to the next; rather, develop a new agenda with specific topics, issues, and risks to this exact board meeting.
At the beginning of the meeting, a smart chairperson allocates some time to recap what this meeting is about, what the board needs to focus on, and what input is needed. As humans, we tend to be distracted and to wander off; some members might be working remotely and are not aware of certain pre-meeting activities. A smart, quick recap gets all board members engaged and focused.
During the board meeting, the board chair should be very attentive to time usage. In order to put an end to sidetrack discussions, the agenda should set a time frame for each item. As a facilitator, the board chair keeps track of the time each item consumes and tries to keep the discussion constructive and on schedule.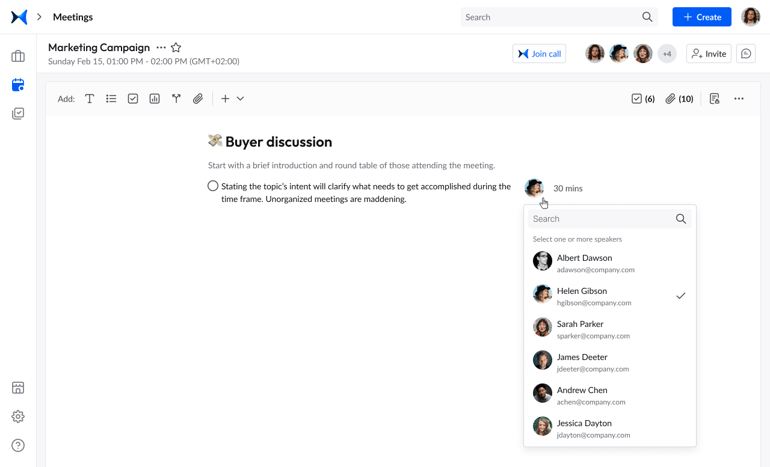 Screenshot from adam.ai: Agenda items with speakers and timer
Board meeting minutes
Meeting minutes are the formal documentation of the meeting, recording of the board's productive decisions and discussions, and future reference for board members or any other entity.
The value of the board meeting minutes is that they capture the follow-up tasks, action items, and to do's of a productive board meeting. They also summarize what the members have discussed and act as an agreement on what the board agreed to accomplish before the next meeting.
➕ We created this editable board meeting minutes template Word file for you, so that you nail your next meeting minutes like a pro!
It is editable.
It is inclusive..
It is free...
Board members have the right to see the minutes before being approved, comment on them, accept them as is, or reject and make amendments.
However, as you can see in the template, the board chair and the secretary are the ones who make the final approvals sign the minutes off before they are distributed.
Again, this is all organized and automated through a meeting minutes app, which is usually part of a bigger meeting management software. Members are able to download meeting minutes draft, comment on them, send their amendments, and sign off with their previously uploaded electronic signature.
💡 Do it like a pro. Don't just send out meeting minutes and sit still! Assign tasks, add deadlines, and follow up on them.
14-day pro. No credit card. No hidden fees.
Board meeting roles and responsibilities
How to run a board meeting without people?
Not possible of course.
A board meeting consists of members of different positions and responsibilities, who are, together, supposed to run an effective board of directors meeting.
Board chair role and responsibilities
The chairperson has to be aware of how to run a board meeting and the role they play in it.
As discussed above, the board chair acts as a facilitator who leads, governs, and sets the tone of the meeting.
They maintain focus on what's best for the organization. An effective board chair is one who directs the board, influences its priorities, and actively engages all members.
Executive directors role and responsibilities
An executive director is one who works at the organization holding the board meeting and likely knows the most about the organization's mission and programs.
During the meeting, the role of the executive directors is to act in the best interests of the organization, listen attentively to criticism and feedback, and make their best to elevate the organization's performance.
Harvard Business Review elaborates more on the president and the board of directors roles and responsibilities.
Non-executive directors role and responsibilities
On the other hand, a non-executive director does not work at the organization holding the board meeting and is not part of the executive management team. In other words, he/she is someone who's independent from the day-to-day running of the organization.
Yet, executive directors have major legal duties and potential liabilities just as the executive directors.
The role of the non-executive directors is to bring scope to the board, offer a broad perspective of business issues, function as the eyes and ears of the business, and bring objective criticism to the organization.
Board members role and responsibilities
Members of a board meeting are the one who fulfill the mission and vision of an organization, merging their skills together and dedicating their time and effort to the board.
In a board meeting, each individual member brings his/her strengths, talents, and abilities to the event, creating a synergy of contributions.
The responsibilities of board members include:
Selecting executive directors from among a pool of candidates.

Working collaboratively with the selected executive director to carry out organizational plans.

Reviewing the performance of executive directors annually.

Serving on a committee that prepares an annual performance review and presenting it to the board.

Determining and monitoring the organization's products, services, and programs

Monitoring and managing financial resources and fiscal expenditures.
This is among other responsibilities detailed in the HBR resource mentioned above.
Corporate secretary role and responsibilities
A corporate secretary plans and prepares for the meeting. The board meeting secretary responsibilities include the following:
Scheduling the board meeting at a time that accommodates the directors, taking into consideration the schedules and obligations of the board members.

Communicating with the board chair, CEO, accounting and legal departments, and others to set a comprehensive meeting agenda that extends for a full year and complies with state, federal, listing, and other requirements, as well as the company's articles of incorporation and bylaws.

Distributing materials on board members prior to the meeting.

Documenting the meeting and taking down minutes of the board meeting with great accountability and disclosure.
The Society of Corporate Secretaries and Governance Professionals details the duties and responsibilities of a corporate secretary in this 8-page pdf.
To be continued...