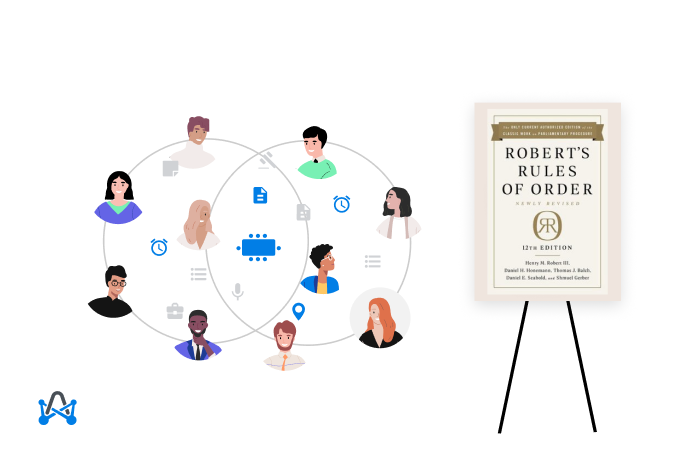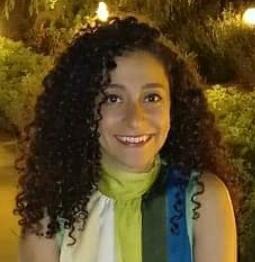 Holding successful meetings that drive businesses requires considerable effort and involves several arrangements. Being knowledgeable about your organization and deciding what you want to say in the meeting aren't enough to hold effective meetings.
From settling on the meeting place and attendees to preparing meeting agendas, you'll want to search for all the help you can get, and we believe that's why you're searching the Internet about Robert's Rules of Order. You might be wondering how meetings in a complicated setting go and how decisions are taken.
In this article, we'll get to know about the history of Robert's Rules of Orders, using them in modern business meetings, and writing an agenda based on Robert's Rules of Orders.
As you read on, you'll notice how you need to process and organize a lot of information in meetings, and meeting management platforms are second to none to help you with that. In this article, you'll also get to explore how meeting management software can help you execute excellent agendas, discover why agendas are important, reduce time by making use of meeting agenda templates, and be on top of things.
Before getting into "Robert's Rules of Orders," you must be familiar with two terms:
1. Parliament procedure
It is the means by which organizations make decisions. It is a set of rules for conduct at meetings that allows everyone to be heard and to make decisions without confusion.
The rules are set to mainly achieve the following: (1) keeping good manners when conducting the meetings, (2) finding out the will of the majority, (3) preserving the rights of the minority, and (4) facilitating the orderly transaction of the business.
2

. Parliament's authority
This is the name given to any book that includes the rules on conducting business (parliamentary procedure) in organizations. It is the manual of parliamentary procedure. A group/organization generally creates its own rules and then adopts such a book to include meeting procedures not covered in its rules. Organizations choose books that fit their needs.
What are Robert's Rules of Order?
Robert's Rules of Order, often referred to as Robert's Rules, are a set of rules for conducting orderly meetings, which aim at accomplishing goals fairly. It is a manual of parliamentary procedure, or in other words, it is a parliament authority.
U.S. Army officer Henry Martyn Robert is the author of the manual, which was first published in 1876 as an adaptation of the rules and practices of the United States Congress to the needs of non-legislative societies.
Robert's Rules is recognized as "the most widely used reference for meeting procedure and business rules in the English-speaking world." A diverse range of organizations adopt Robert's Rules as their parliamentary authority.
Robert published four editions of the manual before his death in 1923, the last being the thoroughly revised and expanded Fourth Edition published as Robert's Rules of Order Revised in May 1915.
Launched at the National Association of Parliamentarians (NAP) Virtual Training Conference in August 2020, the 12th edition of Robert's Rules of Order Newly Revised (RONR) is the current edition.
Robert's Rules of Order for modern business meetings
When Major Henry M. Robert first published his manual in 1876 on parliamentary procedure, it was intended to "assist an assembly to accomplish in the best possible manner the work for which it was designed." The manual is an adaptation of the rules and practices of the United States Congress to fit the needs of non-legislative societies.
However, today, many settings can use Robert's Rules of Order. The aim of the rules is to organize the process of making decisions. Here is a simple overview of how Robert's Rules of Order can apply to modern business meetings, especially board meetings.
(A) What are the common elements of a meeting in Robert's Rules?
In Robert's Rules of Order, all meetings have the following in common:
A quorum must be present. (A quorum is the minimum number of members who must be present to conduct business. This is decided according to each organization; several guidelines exist to help determine the appropriate formula for their quorum).

Someone should be responsible for conducting the meeting (the meeting facilitator/owner).




Someone should be responsible for taking the meeting minutes.

Specific rules guide how business should be conducted. The rules include who can attend, who can participate in the discussion, and who is allowed to vote.

Sending out meeting invitations beforehand: all members should be notified of the meeting's date and time and purpose.
(B) What are the conducting principles in Robert's Rules?
PTA (the oldest and largest child advocacy association in America) summarized the conducting principles based on Robert's Rules in the following excellent points:
All members have equal rights, privileges, and obligations

No person can speak until recognized by the meeting facilitator/owner

Personal remarks during the debate are out of order

Only one question at a time may be considered, and only one person may have the floor at any o

ne time

Members have a right to know what the immediately pending question is and to have it restated

before a vote is taken

Full and free discussion of every main motion is a basic right

A quorum must be present for business to be conducted

Silence gives consent: those who do not vote allow the decision to be made by those who do

vote

The meeting facilitator/owner should always remain impartial



(c) What is the meeting facilitator/owner responsible for in Robert's Rules?
Keep Order. To keep order in a meeting, the president should be extremely familiar with the corporate's regulations and the organization's selected parliamentary authority in particular.
Be Unbiased and Fair. The meeting facilitator/owner must be aware that it's their duty to represent all the members, not only certain members and not only those with whom they agree. They should not take sides. They also need to make sure that all the facts, negatives, and positives are exposed in the discussion, so the meeting attendees can make informed decisions.
Protect the Rights of All the Members. The rights of the members are protected through abiding by the organization's laws/rules. The meeting facilitator/owner upholds the rules of the organization and enforces them by informing the members when such rules are ignored or disobeyed.
The facilitator has the right to rule out any proposals that don't conform to the laws and other governing documents of the organization and proposals that violate local, state, or national government. The facilitator should also explain the proper procedure that helps the members accomplish their goals.
(D) What are the general rules of debate in Robert's Rules?
Based on Robert's Rules, the general rules of a debate are as follows:
No member may speak until the meeting facilitator allows

Discussions should be relevant to the item in the debate

No member can discuss a recommendation twice; they can do so only after everyone wishing to share their thoughts had the opportunity to speak once

Organizations should agree on a certain amount of time that each meeting attendee can have to discuss a certain proposal

Cross-debates are not allowed. All remarks must be addressed to the meeting facilitator

No one is allowed to make personal remarks or question the motives of other people

When possible, the facilitator should alternate between those speaking in support and

those speaking in opposition to a certain recommendation/proposal

Debate rules can be changed by a 2/3 vote or general consent without objection




The above are general rules/guidelines from Robert's Rules of Order. There are many other specifics mentioned in the guide. Organizations can adopt rules that fit their businesses.
Robert's Rules of Order Table of Content
Here is the book's table of content of the book so you can get an idea about how detailed the rules are.
Part I.- Rules of Order.

Art. I.- How Business is Conducted in Deliberative Assemblies.

1. Introduction of Business




2. What Precedes Debate




3. Obtaining the Floor




4. Motions and Resolutions




5. Seconding Motions




6. Stating the Question




7. Debate




8. Secondary Motions




9. Putting the Question and Announcing the Vote




10. Proper Motions to Use to Accomplish Certain Objects

Art. II.- General Classification of Motions.

11. Main or Principal Motions

12. Subsidiary Motions

13. Incidental Motions

14. Privileged Motions

15. Some Main and Unclassified Motions

Art. III.- Privileged Motions.

16. Fix the Time to which the Assembly shall Adjourn




17. Adjourn




18. Take a Recess




19. Questions of Privilege




20. General and Special Orders and a Call for the Orders of the Day

Art. IV.- Incidental Motions.

21. Questions of Order and Appeal




22. Suspension of the Rules




23. Objection to the Consideration of a Question




24. Division of a Question, and Consideration by Paragraph or Seriatim




25. Division of the Assembly, and Motions relating to Methods of Voting, or to Closing or Reopening the Polls




26. Motions relating to Methods of Making, or to Closing or to Reopening Nominations




27. Requests growing out of Business Pending or that has just been pending, as, a Parliamentary Inquiry, a Request for Information, for Leave to Withdraw a Motion to Read Papers, to be Excused from a Duty, or for any other Privilege

Art. V.- Subsidiary Motions.

28. Lay on the Table




29. The Previous Question




30. Limit or Extend Limits of Debate




31. Postpone Definitely, or to a Certain Time




32. Commit or Refer, or Recommit




33. Amend




34. Postpone Indefinitely

Art. XII.- Organization and Meetings.

69. An Occasional or Mass Meeting




(a) Organization




(b) Adoption of Resolutions




(c) Committee to draft Resolutions




(d) Semi-Permanent Mass Meeting




70. A Permanent Society.




(a) First Meeting




(b) Second Meeting




(c) Regular Meeting




71. Meeting of a Convention.




(a) An Organized Convention




(b) A Convention not yet Organized

Art. VI.- Some Main and Unclassified Motions.

35. Take from the Table




36. Reconsider




37. Rescind




38. Renewal of a Motion




39. Ratify




40. Dilatory, Absurd, or Frivolous Motions




41. Call of the House

Art. VII.- Debate.

42. Debate




43. Decorum in Debate




44. Closing and Preventing Debate




45. Principles of Debate and Undebatable Motions

Art. VIII.- Vote.

46. Voting




47. Votes that are Null and Void even if Unanimous




48. Motions requiring more than a Majority Vote

Art. IX.- Committees and Boards.

49. Committees Classified




50. Boards of Managers, etc., and Executive Committees




51. Ex-Officio Members of Boards and Committees




52. Committees, Special and Standing




53. Reception of Reports




54. Adoption or Acceptance of Reports




55. Committee of the Whole




56. As if in Committee of the Whole




57. Informal Consideration

Art. X.- The Officers and the Minutes.

58. Chairman or President




59. Secretary or Clerk




60. The Minutes




61. Executive Secretary




62. Treasurer

Art. XI.- Miscellaneous.

63. Session




64. Quorum




65. Order of Business




66. Nominations and Elections




67. Constitutions, By-laws, Rules of Order, and Standing Rules




68. Amendments of Constitutions, By-laws, and Rules of Order

Part II.- Organization, Meetings, and Legal Rights of Assemblies.

Art. XIII.- Legal Rights of Assemblies and Trial of Their Members.

72. Right of an Assembly to Punish its Members




73. Right of an Assembly to Eject any one from its Place of Meeting




74. Rights of Ecclesiastical Tribunals




75. Trial of Members of Societies
📍Note: The book uses specific terminology. If you decided to read it, the following section has the definitions of repeated terms you'll come across in the book.
What are the most common terminologies in Robert's Rules of Order?
As mentioned before, the book uses specific terminology. The St. Lucie County's website offers a comprehensive source of the used terms and their definitions.
We've chosen some of the most common terminologies linked to Robert's Rules of Order to add to this article:
Call to order: The opening action of a presiding officer or chair that officially starts a meeting.
Quorum: The minimum number of voting members who must be present at a meeting of a
deliberative board/committee/assembly for business to be legally transacted.
Order of business: An established sequence in which certain types or classes of business are
to be brought up or permitted to be introduced at sessions of a given board/committee/assembly.
Motion: A formal proposal for action made to a deliberative board/committee/assembly; a
question. Motions need to be seconded, so it can be discussed.
Second: A verbal, sometimes written, indication made by any member of a board/committee/assembly that he agrees that a motion made should come before the meeting (not that he necessarily favors the motion).
Floor: The exclusive right to speak in a meeting.
Obtain the floor: Secure recognition in order to speak or to make a motion.
What to include in a meeting agenda based on Robert's Rules of Order?
According to Robert's Rule, all meetings should follow a strict agenda that adds structure to the meeting. The agenda should be prepared before the meeting and should be followed from top to bottom. Each point should be addressed and discussed before moving on to the next.
In this section, we'll discuss each item in an agenda based on Robert's Rules of Order. You'll also find pro tips on how an all-in-one meeting management software, like adam.ai, can help execute the agenda in less time and how you can automate the process for an agile performance.
An agenda that follows the "Robert's Rule of Orders" manual will be as follows:
1. Call to order
The call to order is an announcement that the meeting is about to begin. In Robert's Rules of Order, the aim of choosing fixed phrases like "the meeting will come to order" is to make the job easier for the meeting chair. So, instead of spending time before each meeting to come up with a good phrase to open it, they just know what to say.
The chair can use statements like "Good (Afternoon/Evening)! It's (state the time) and I'd like to call the (name of the meeting) to order."
2. Roll call
At this point, the chair can ask the note taker (secretary) to take a roll call. A roll call is to note who is in attendance and who isn't. This is important to identify a quorum.
According to RONR, a quorum is "the minimum number of members of an assembly or society that must be present at any of its meetings to make the proceedings of that meeting valid." This means that without the presence of a quorum any votes taken are null. As mentioned before, each organization can decide its quorum.
If a quorum is not present, the attendees can vote to end the meeting, take a break to wait for certain attendees to arrive, or decide on another time for the meeting to take place.
3. Reading and approval of minutes of the last meeting
As per RONR, the minutes of the previous meeting should be read and approved. It's best if those meeting minutes/notes are sent to the attendees beforehand to review them.
The aim here is that everyone approves of the original minutes or suggests corrections or updates. If there are no updates, or once the minutes are amended, the meeting facilitator announces that all attendees approve the meeting minutes in their corrected version.
At this point, the chair can move on to the next item.

💡Pro Tip: Discover how you can use adam.ai to approve and amend meeting minutes in such an agile manner that will reduce time and hassle. Check out this article in our help center; you'll find detailed steps with screenshots.
Moreover, using adam.ai, you can link relevant meetings to the current meeting and easily access the minutes and notes of any previous meetings.
4. Officers' reports
This agenda item is about officers or leadership members (senior members) sharing relevant reports such as the treasurer's report or the executive director's report.
The meeting facilitator will invite each member to speak, one at a time. Members will share their assigned tasks and action items from the last meeting and any outstanding tasks. Then, they state their recommendations.
If the officers raise any proposals, debates and votes can happen at this point.
💡Pro Tip. In adam.ai, before the meeting, you can prepare and upload all the files that you may need such as previous meeting minutes, presentations, or important reports. This will help save the meeting time by previously sharing files with attendees that include what will be discussed.
You can also upload files during the meeting.
Upload files directly from your computer, or by connecting to other file-sharing tools such as Dropbox or Google Drive (check out our integrations).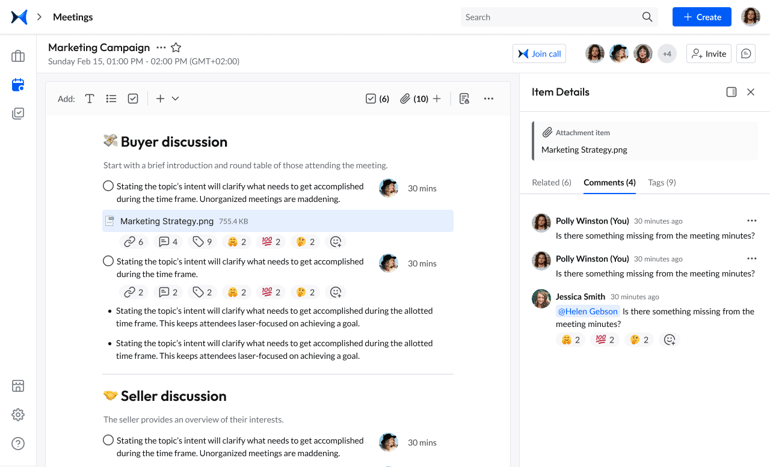 Screenshot from adam.ai: Attachments
5. Committee's reports
A committee is a group of people (in rare cases, one person) appointed or elected by the organization to consider, investigate, or act regarding certain matters or subjects, or do all the previously mentioned actions. According to RONR, committees may be divided into two distinct classes:
(1) boards of managers or directors, boards of trustees, executive committees, etc.
(2) ordinary committees, special or standing, and a committee of the whole and its substitutes.
The committees present the reports with updates and recommendations just like senior leaders. The difference is that the committees include more than one person, and therefore, their recommendations don't need to be seconded. They can be directly added to the order of business to be either debated or voted on.
6. Unfinished business and general orders
This includes the following:
(1) the pending business that wasn't finished at the previous meeting closure,
(2) the general orders that were on the calendar for the previous meeting and weren't finished,
(3) matters postponed to this meeting to be discussed.
7. New business
This is where recommendations are added, debated, and voted on. It is worth noting that most of the rules mentioned in Robert's Rules of Order are applied in this part because the manual organizes how debates and proposals are handled.
This part of the agenda includes what progress has happened since the last meeting and new items as projects evolve.
💡Pro Tip: Meetings are where most of our decisions are made, so you need to find fail-proof solutions to tackle every decision. Explore how adam.ai can help you manage votes and decisions in a seamless process.
Moreover, decisions often result in assigning tasks and creating action items. adam.ai has got this part covered as well; you can end up the meeting with clear and concise action items for attendees. And rest assured that everything is documented in the automatically generated meeting minutes.
8. Announcements
In this step, as you get closer to ending the meeting, attendees can share any updates or announcements that will impact business and attendees should be made aware of.
9. Adjournment
Once the business is finished and there's no further business to come before the board, the meeting facilitator can announce that the meeting is adjourned.
In this step, you should wrap up the meeting and ask if there are any further questions or comments.
You can also plan the time, date, and meeting location for the next regular meeting (while a quorum is present).

Declutter the Meeting Mess
High-level meetings shouldn't be the reason businesses fail. A meeting management platform will help you run productive meetings that drive success.
Run an unlimited number of meetings on adam.ai during your 14-day free trial. No credit card is needed, and all features are unlocked.
To sum up, in this article, we have tackled the history of "Robert's Rules of Orders," how to use them in modern business meetings, and how you can write an agenda based on "Robert's Rules of Orders." We have also touched down on the terminologies used in the book.
Most importantly, we have covered how meeting management software, like adam.ai, can help you manage meetings in an efficient and agile manner and keep you on top of things.