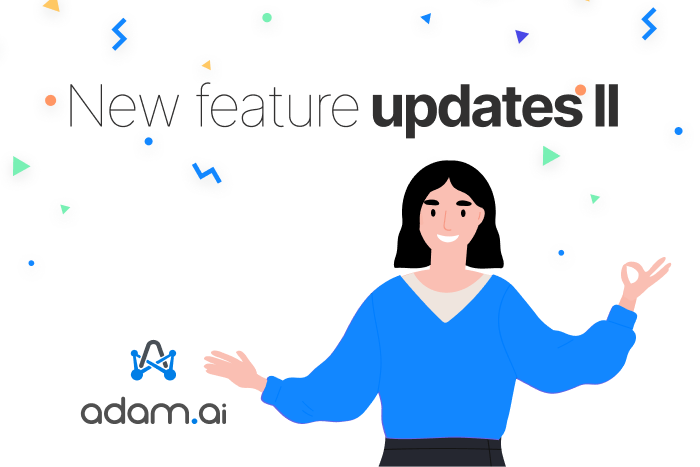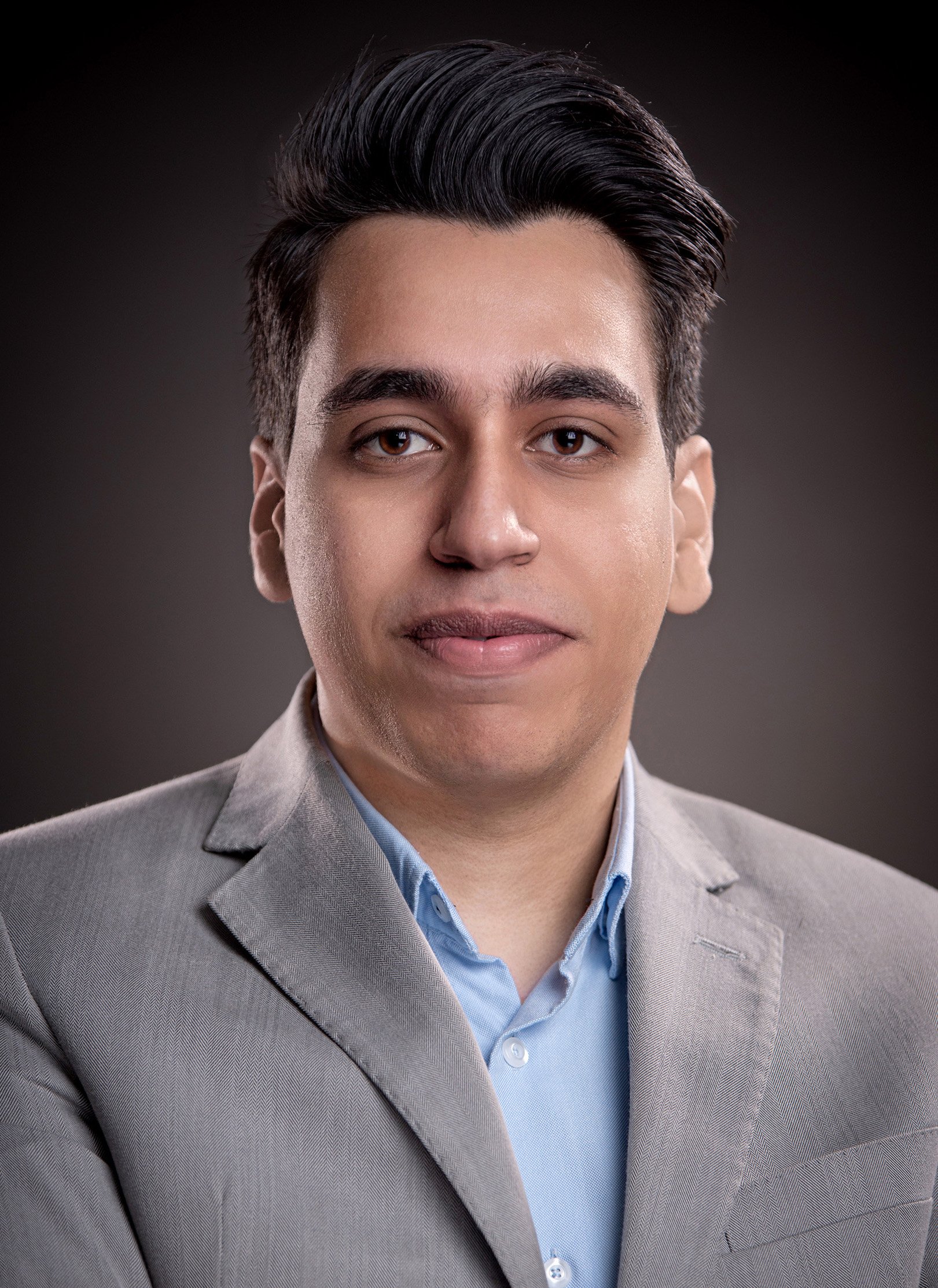 Here comes our feature update for July, after June's feature update published previously, with some core additions and UX enhancements that will make your life easier, managing online meetings on adam.ai, the all-in-one meeting management software.
1. Embedding Zoom into adam.ai's Meeting Room
No more tabs or links to join a Zoom meeting from your adam.ai meeting room, because Zoom is now embedded into your meeting room directly on adam.ai.
Meeting attendees can easily join Zoom meetings without ever having to leave their all-in-one meeting hub, adam.ai.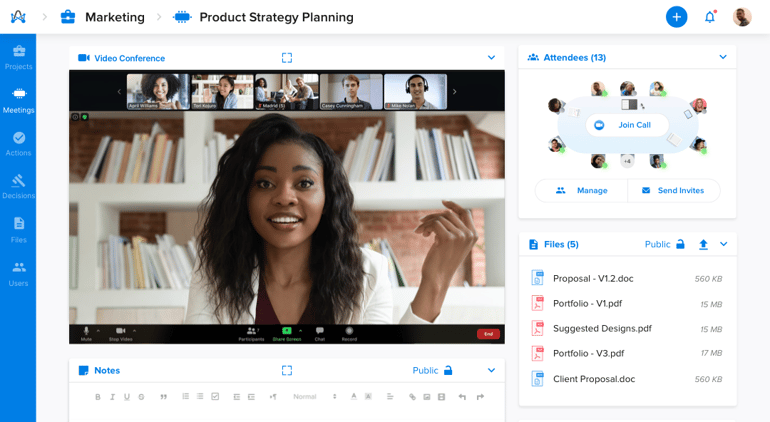 How to join a Zoom meeting directly from adam.ai meeting room?
Here's a step-by-step guide to join a Zoom video conference directly from your adam.ai meeting room.
Joining a video conference hosted on Zoom through a tile embedded into your meeting room lessens time, saves effort, and decreases friction.
That's why we are excited that our meeting management platform embeds video conference hosted by a third-party provider into the software meetplace — a true all-in-one online meeting experience.
The value behind this major feature update is the all-inclusive experience adam.ai users get, managing the entire meeting experience from one place — audio, video, and content.
Combining such two powerful platforms, Zoom and adam.ai, encourages attendees to capture meeting content (meeting agenda, meeting minutes, creating projects, and assigning actions) while attending the video conference all at the same time and same place.
2. Multiple Action Statuses
A created/assigned action does not necessarily mean that it is active. Thus, we introduce these multiple action statuses: Not Started, In Progress, Pending, and In Review.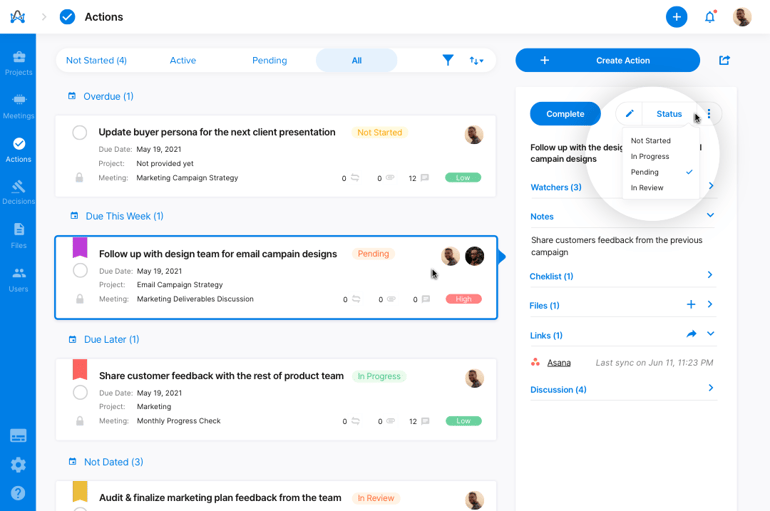 Makes sense, doesn't it? A member has the flexibility to choose when to change action from inactive to active, and a manager has the right to know and keep track of what's happening.
3. System Activity Log
The account owner and the admins now have access to view the activity log or audit trail for whatever is happening on the meetplace account.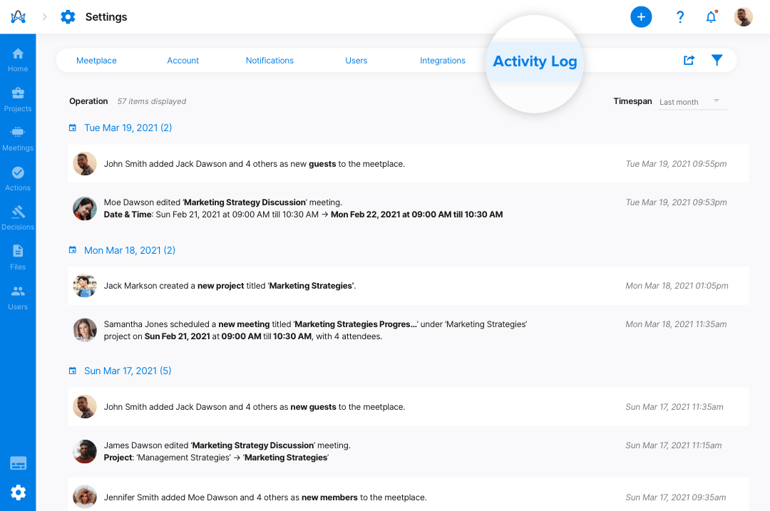 In addition, they can filter activities by type, users, or dates and keep track of each and every activity on their meetplace.
Define Meetplace. It's just our way to say "homepage"!
This feature update gives account owners and admins the bird's-eye view they need to keep track of actions and follow up with members on their meetplace.
4. Organized Project Dashboard
Based on true users' need and feedback, we have added two more tiles to the project dashboard: Actions and Decisions. Users now have a clear and organized timeline for their created projects, with all actions and decisions associated to this particular project.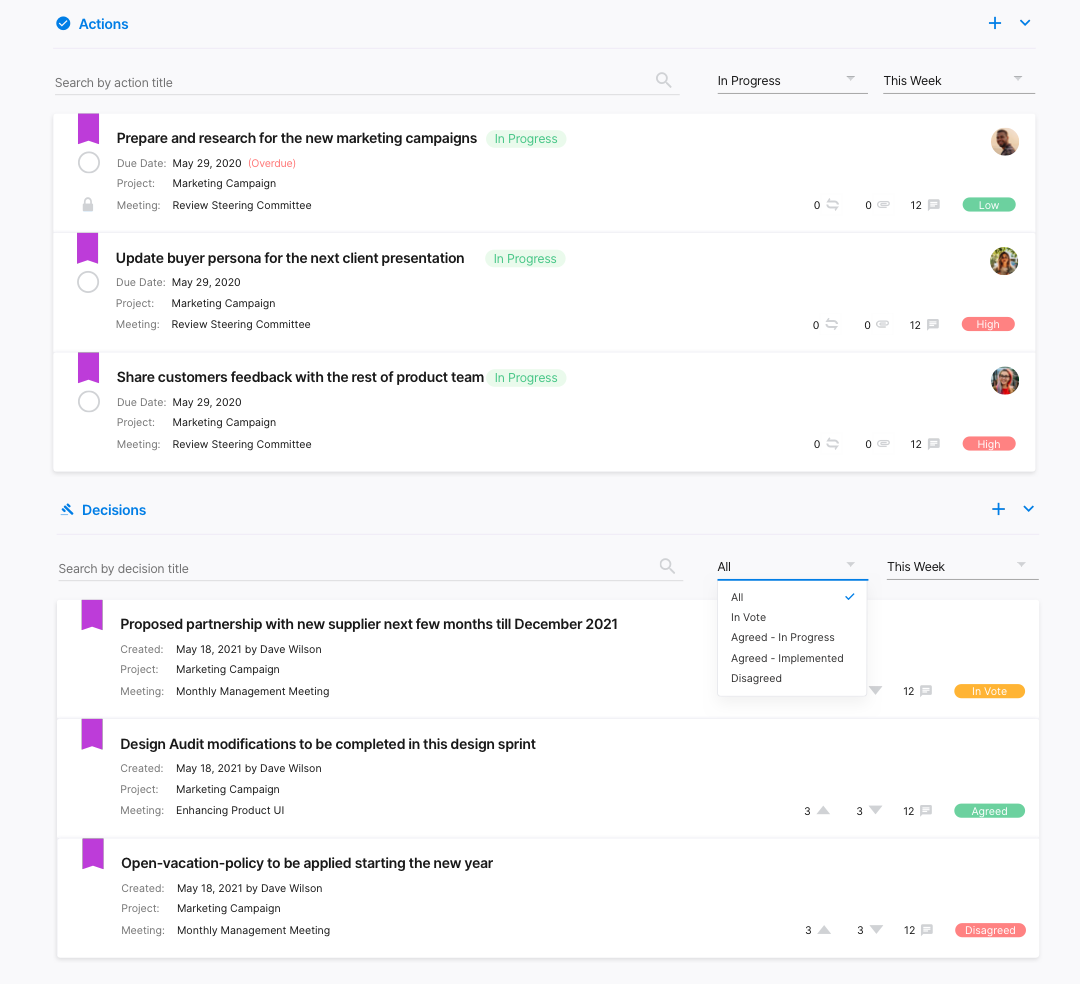 Hence, a user can view actions created and decisions taken linked to projects in an organized, clear way.
5. Bonus UX Enhancements
Great platforms are deemed so because of their user-experience design — the easier it is, the better the platform does. That is why we are keen on enhancing adam.ai UX design to the max, taking into consideration UX best practices, usage, and feedback.
This feature update introduces three UX enhancements of remarkable importance to the users.

5.1. Finish-Meeting Button
We have added a "Finish Meeting" button on your meetplace, so that you can easily finish meetings right from the homepage.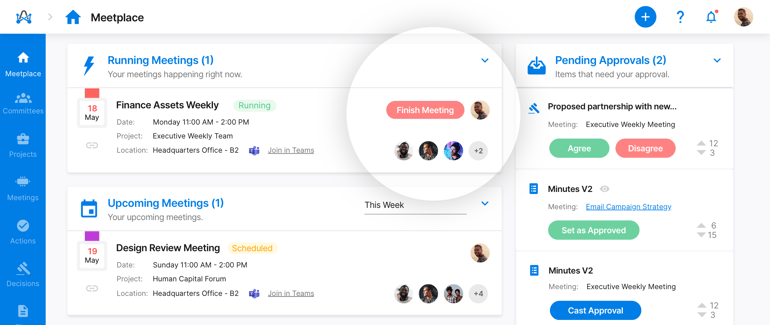 5.2. Decisions Quick-View
Moreover, decision details have become directly accessible from your meeting room, where you can quick-view comments and votes on decisions related to this particular meeting without having to leave the meeting room page.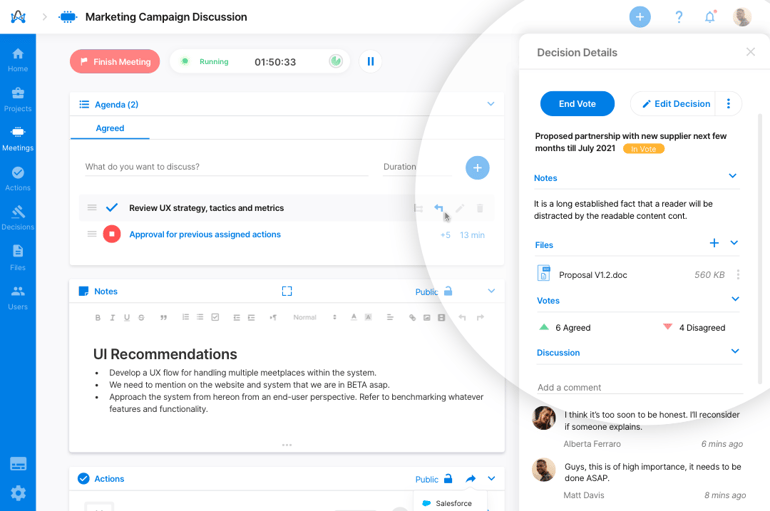 5.3. Action-Status Chart
And last but not least, action status is reflected on the insights chart on your meetplace homepage, where you can directly jump to action items under certain status and attend to.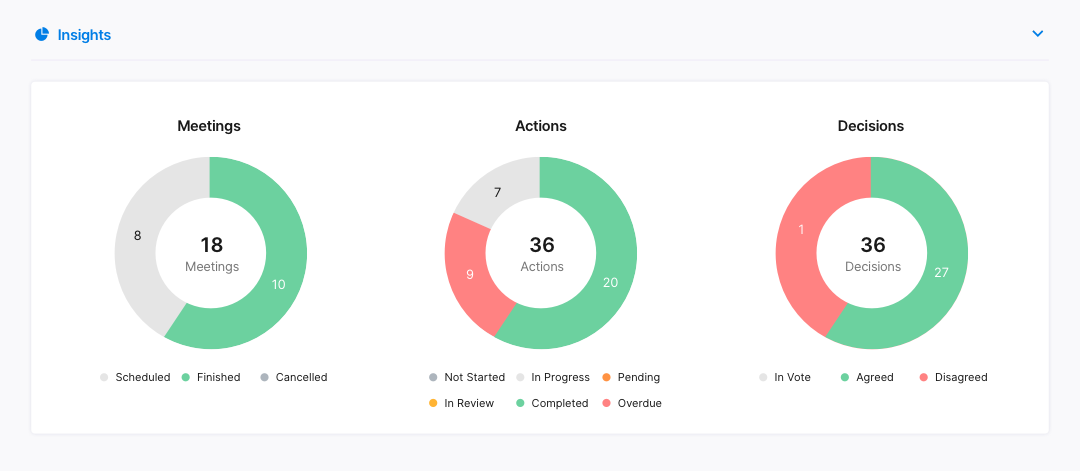 Due Thanks
Thanks are due to adam.ai's team of dedicated developers and creators, who spare no efforts to keep the platform up to its users' confidence and expectations.
All updates are backed up by your feedback; do not hesitate to send us some.
Stay tuned...