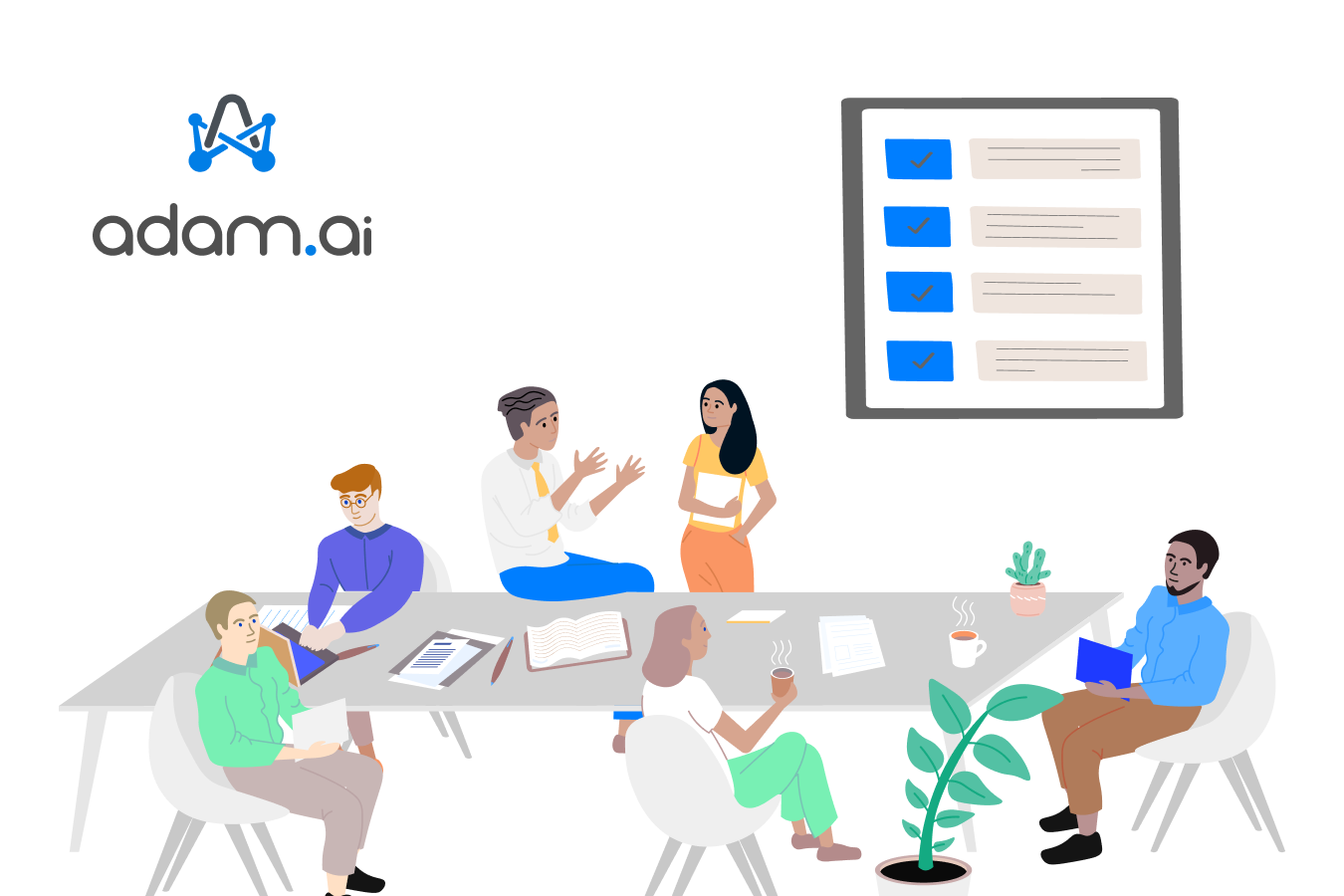 Businesses of all natures and teams of all sizes seek to adopt a meeting management software into their workflow, whether they depend on online meetings solely or a mix of hybrid and physical meetings as well.
Powerful teams and their managers are well aware that meeting management tools reduce costs, save preparation time, and improve productivity.
Not to mention that using a software for meetings makes it super easy to capture and retrieve meeting content and intelligence.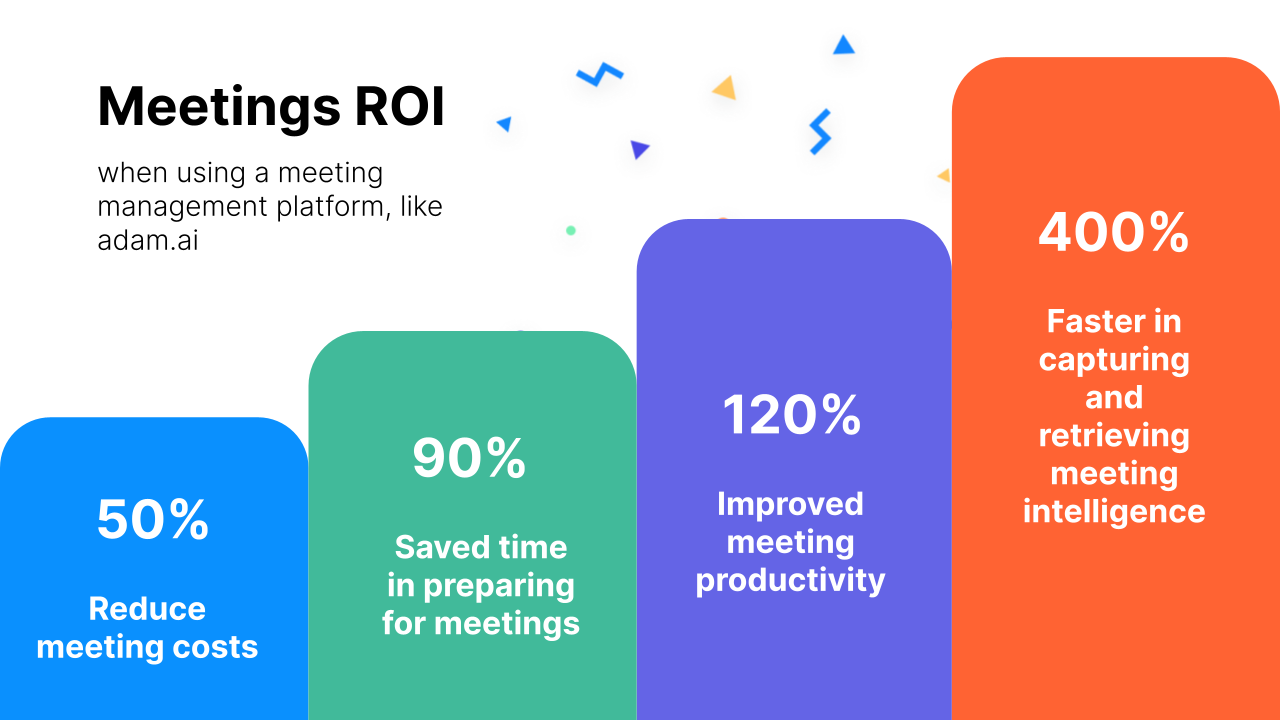 Well, let's dive deeper.
What is a meeting management software?
It is a cloud-based software that's meant to manage the whole lifecycle of a meeting, whether online, hybrid, or physical.
Meeting management includes booking, planning for, and running a meeting with the goal to capture the meeting content and get actionable results out of it.
To the contrary of what the majority believes, meetings are much more than gathering around a table and talking; meetings are meant to be productive.
Speaking about productivity, stats says that almost 5% of working hours are lost to unproductive meetings, that's a lot of hours, and money.
This is where a meeting management software proves beneficial!
What are the benefits of using a meeting management software?
Powerful teams resort to meeting management apps to:
Automate meeting activities

Document meetings and link relevant ones to each other

Share ideas and suggestions and take actions accordingly

Generate, share, and approve meeting minutes easily and automatically

Integrate with other tools for collaboration and management

Share files and links and save them for future reference

Create projects based on meeting decisions

Assign actions to meeting attendees (or outside guests) and follow up on them

Look at organized dashboards and meaningful insights about pending and completed meetings, projects, actions, etc.
So, basically, teams and managers prefer to use a meeting management tool to capture and archive meeting content for productive outcomes and future reference.
How to use a meeting management software?
Well, let me rephrase it.
How to make the most out of the meeting management app you chose and use?
First off, we need to agree that an effective meeting starts before it even does.
!!!!
I. Before the meeting
Pre-meeting preparation is the basis for every successful, productive meeting, and adopting an intelligent meeting management solution helps teams do it better.
Schedule the meeting
Depending on your team's needs, you usually schedule a single or a recurring meeting and send invites.
Most meeting management tools integrate with the apps you already use and are familiar with, whether scheduling or video conferencing apps.
These integrations make scheduling a meeting as easy as booking a standard Outlook calendar appointment.
Features differ among the various meeting management software available. Some provide you with usability features and extra details when scheduling your meeting: connect meeting to a certain project, add an agenda, and so on.
Create an agenda
Through your management tool, create an agenda with the main topics you need to cover in the coming meeting.
💡 Tip. Estimate how much time does each topic need and set a timer; meetings tend to drift off by nature!

Screenshot from adam.ai: Set a timer for agenda items
Assign tasks
Yes, a smart manager is one who assigns and sends pre-meeting tasks, so that attendees show up prepared.
It's the coordinator's fault if the attendees are lost and uncertain of the meeting purpose and their role in it.
Using a meeting tool, the coordinator creates tasks, or actions, assigns them to members, tags them for filtration and access later on, and follows up on them — all without having to leave the tab.
Share the agenda
It's the host's responsibility to engage every participant in the meeting and make sure they come with a clear idea about what will be covered during the meeting.
That's why you better make sure that the meeting management software you're using allows you to share the agenda prior to the meeting with the attendees, receive suggestions, and make changes accordingly.
Track invitation responses
It is crucial to know how attendees responded to your meeting invitation, so that you can take the right action.
Some participants can be replaced if they "declined" and others are irreplaceable, like decision makers and influential attendees, where you might have to reschedule if they are "tentative" or else.
Choose a meeting management app that syncs responses from popular calendars, Google or Office 365, and displays response status automatically next to each attendee name, i.e., Accepted, Tentative, Declined, No response, or Proposes new time.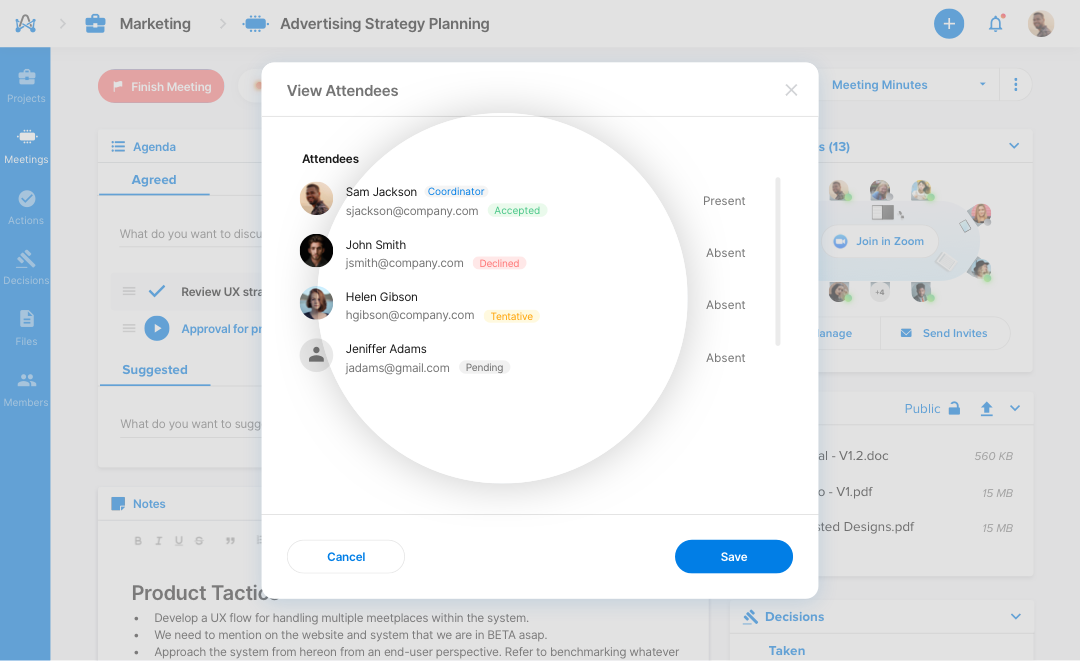 Screenshot from adam.ai: Invitation response sync
II. During the meeting
The significance of a meeting management software during the meeting is that it automates most of the tasks and assists the hosts to run a more effective and productive meeting.
Take attendance
A meeting management tool automatically takes attendance of who's present and who's absent at the beginning of the meeting.
Attendance is then reflected in the automatically generated meeting minutes afterwards; it has to be documented who was there and who wasn't when these decisions were discussed and made.
Discuss agenda topics
Normally, a meeting host jots down the agenda items in a Word file and shares it via email.
This procedure kills the interactive experience and usually the agenda is forgotten when the actual meeting starts.
Using a meeting management solution, on the other hand, helps attendees to be focused, makes room for collaboration, and keeps the meeting on track.
Remember when we set a timer earlier for each agenda topic? It's time now to see it in action.
Members are aware of the duration for each topic, the next item coming up, and what is already covered.
Furthermore, a smart meeting solution allows members to write their suggestions in a shared discussion area, and then turn these notes into actions with a click of a button.
Share files
No meeting goes on without sharing files and documents!
Normally, teams share files through chatting, file sharing, or collaboration apps, which means they have to switch screens multiple times.
Not only that, these shared files are often lost and nobody remembers which is what or when.
The greatness of an intelligent meeting management is in the documentation system; meeting content is saved and archived for future reference.
Collect meeting notes
Generally, meeting attendees take notes by themselves, each on his own style. They might use a word file, a note-taking tool, or even a pen and paper.
Sadly, those individual notes would be difficult to collect and make sense out of.
A meeting solution helps by:
assigning a note taker, with the option to switch the note taker role to another attendee,

and turning meeting notes into actions or decisions.
Make informed decisions
Decisions come from the conversations and discussions that take place during the meeting; decisions move progress and businesses forward.
Meeting management software use features and tools to help meeting professionals make informed decisions: voting on suggestions, smart highlights, turning discussion points into actionable items, and others.
Assign tasks
What comes after making a decision?
Yes, assigning tasks to the responsible members.
Traditionally, a manager or a team leader would send an email with the task or create a task on the collaboration app they're using.
Again, this means switching apps, multiple logins, and wasted time and effort.
An all-in-one meeting management software includes an "actions" page, where tasks/actions are created, deadlined, assigned, and even delegated to a colleague, all from one place.
Tasks and actions can also be connected to a certain project, tagged, filtered, linked to an outside collaboration app, and commented on — how comprehensive is that!
III. After the meeting
How do you deem a meeting effective or useless?
A meeting is deemed effective by the results and outcomes achieved afterwards, based on the decisions made during the meeting.
How do meeting management tools automate the post-meeting tasks?
Take meeting minutes
Meeting minutes are extremely important, specially for more formal meetings, like board meeting minutes; it's the approved documentation of everything happened during the meeting.
Then, how could something that critical be taken or noted manually?
Your meeting management software should be able to automatically generate detailed meeting minutes based on the meeting's events, attendance, decisions, votes, actions, and else.
Afterwards, the automatically generated meeting minutes could be shared among members and downloaded, even before being approved by the meeting coordinator, so that members can preview, suggest edits, approve, or disapprove.
Once approved, meeting minutes are made public and are ready for distribution.
Meeting minutes approval and versioning should be both easy and accurate, which is only doable through adopting a software for meetings at your workplace.
Follow up on actions
After the meeting, a manager or team leader can easily follow up on their team's progress through the very same tool.
What's great here about choosing an all-in-one meeting management platform is that it spares managers the hassle of switching to a task-tracking system.
As for users, they can stay on top of their responsibilities by tracking, viewing, and delegating actions, all from the same place, which leaves no space for mistakes.
In addition, since actions are grouped under and linked to their meetings, it is easy for everyone to find supporting information and any other content needed to finish the action.
Accountability is key here for both, the action creator and the assignee.
How to choose a meeting management app?
There are various meeting management apps in the market, competing among each other for the benefit of the user.
Meeting professionals and powerful teams from different industries around the world are adopting a cloud-based meeting management software into their workplace, today more than ever.
This is due to the global shift in work models, remotely and hybrid, and the need to collaborate with individuals or teams from other parts of the world.
Since corporate, board, or staff meetings have their own nature, requirements, and needs, you should try different information meeting management programs first before taking the purchase decision.
Even if you did make one, be open to try other ones lest you be missing awesome features you didn't know they existed.
Anyways, assess meeting management programs based on the features most important to the nature and needs of your meetings.
Productivity Land here lists the top 9 meeting management software for 2021, reviewing each software's top features and pricing plans; you should check them out.
Likewise, G2, the peer-to-peer review site that aggregates user reviews for business software, ranks some of the best meeting management software based on user satisfaction, popularity, or G2 score.
📢 Do you know that adam.ai ranked a Leader by G2 this summer among meeting management software?
What is an all-in-one meeting management software?
A software that introduces itself as an inclusive platform is one that works on and continuously updates its services to provide the user with all features he/she needs, so that the user doesn't have to switch screens among so many tabs to get the job done.
Using a true all-in-one software for meetings enables you to convert your meeting content into valuable knowledge assets with the platform's comprehensive features and capture and retrieve information with ease.
Pricing plans for cloud-based meeting management software
Prices differ among the different software in the market; yet, most platforms offer a variety of pricing plans that fit all types of businesses and all sizes of teams.
Free meeting management software
SaaS meeting platforms make sure to provide interested users with a free plan that includes basic features for a limited number of users.
Meeting management apps for free are great for small teams with basic needs or for those who want to try the service first for some time before making a purchase.
This G2 list compares the top free meeting management software with their features and limitations.
Paid meeting management software
Teams looking to capture and manage the full meeting cycle and enjoy unlimited features and integrations, in addition to support, prefer to upgrade to a paid plan, commonly known as the pro plan.
The pro plan best fits large teams who seek to make the most out of their online, hybrid, or physical meetings.
For example, adam.ai's pro plan supports up to 100 users, with live chat support and branding customizations, for $4.99/user/month.
14-day pro. No credit card. No hidden fees.
Enterprise meeting management software
Organizations with advanced meeting needs go for a bigger plan, commonly referred to as the enterprise plan.
The enterprise plan is favored by corporate managers and organization leaders because of the advanced features it supports, like the CRM integrations, guest access, advanced customization, and custom integrations.
To sum up, most cloud-based meeting management software provide powerful features and would be a useful addition to any team or corporate of any size.
Yet, a smart leader would choose carefully among the different options, based on the features and the experience the app provides, alongside the team's needs and expectations.