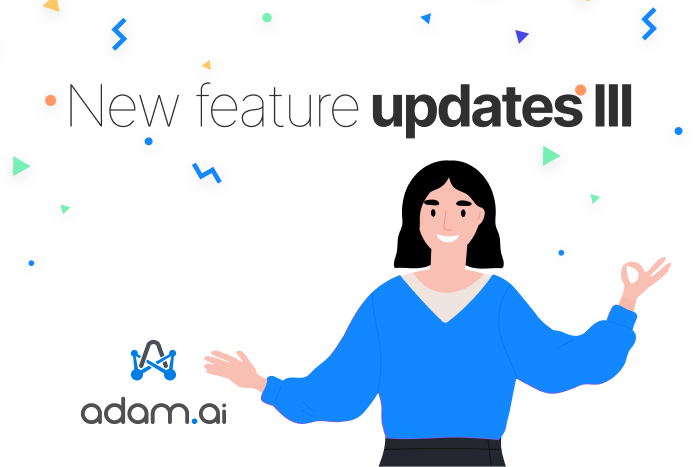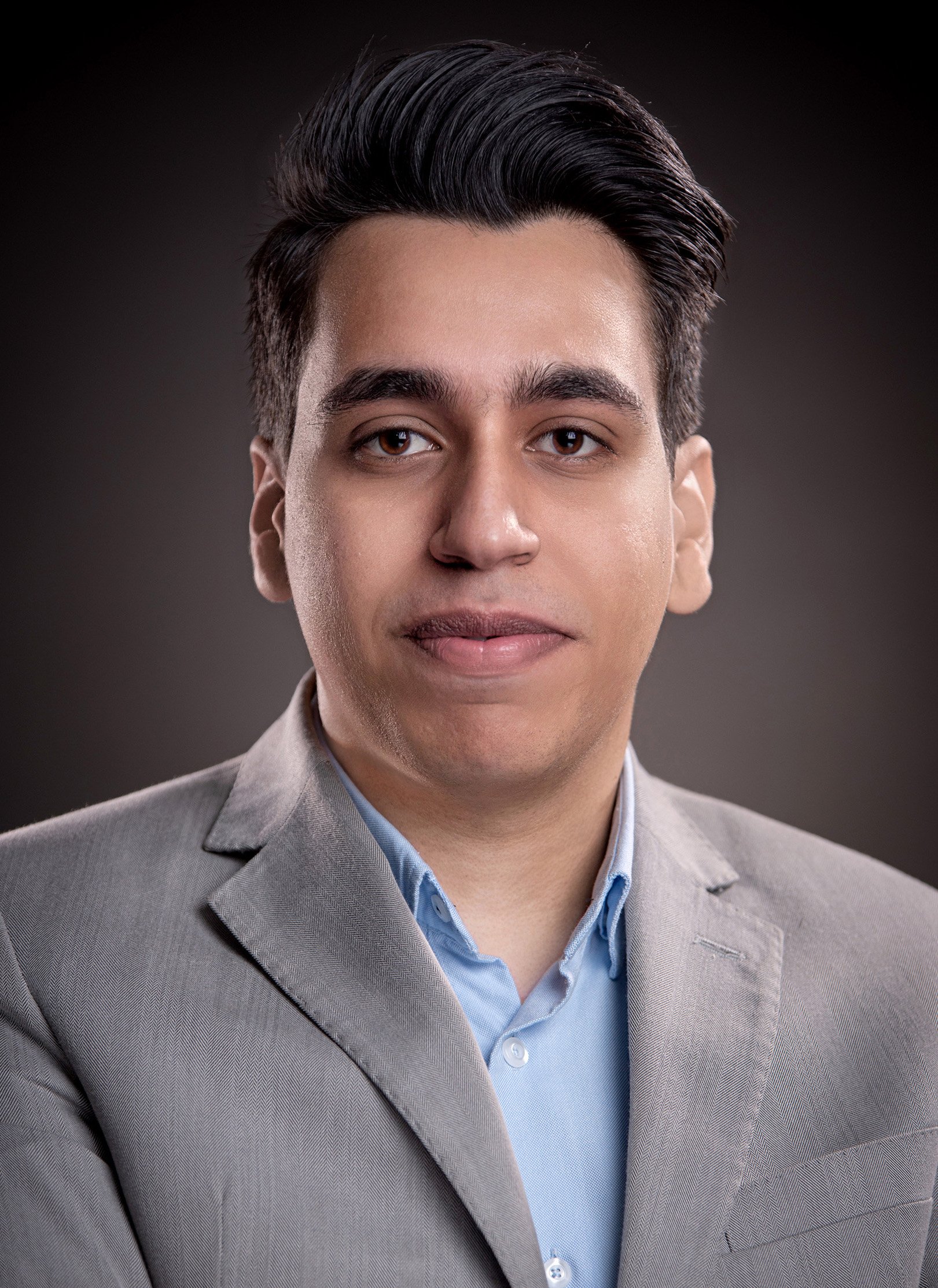 Here comes our product feature release for October, with some major updates and critical enhancements that have been made based on your requests and constant feedback.
➕ Read about adam.ai's June feature update
➕ Read about adam.ai's July feature update
1. Media tile
adam.ai's meeting room has many tiles to contain and manage all meeting content.
For a more comprehensive usage, we changed the "Audio" tile into "Media" tile, a more generalized space where users can add any meeting-related files: audio files, video files, audio recording of a meeting, or video recording of a meeting.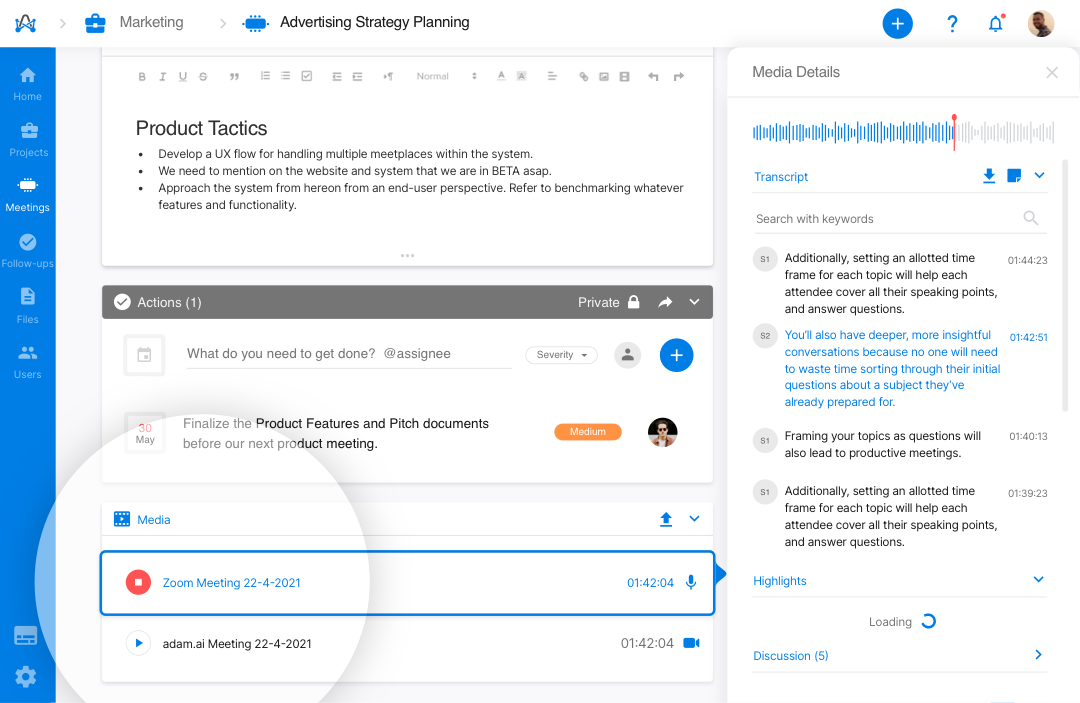 Screenshot from adam.ai: Media tile for video and audio files
In addition, there's a quick view button for every media file, where users can view and edit any item related to this media file: tags, transcription and smart highlights (for enterprise accounts), discussion and comments, and voting.
In the "Media" tile, you'll find the meeting's recording right after you click "Finish Meeting" or "Stop Recording" saved for you to download, share, or delete.
2. Risks and issues
Two new content items have been added to the meetplace: the "Risks" and the "Issues" tiles.
While on a meeting, the coordinator or the facilitator(s) may need to mitigate a certain "Risk" so that the team can take notice of, discuss, and decide its severity (based on the risk's impact and probability).
Moreover, you can tag a risk for ease of access and filtration later, add mitigation to reduce the potential of this risk happening again, assign watchers for observation or follow-up purposes, drop files, and add comments.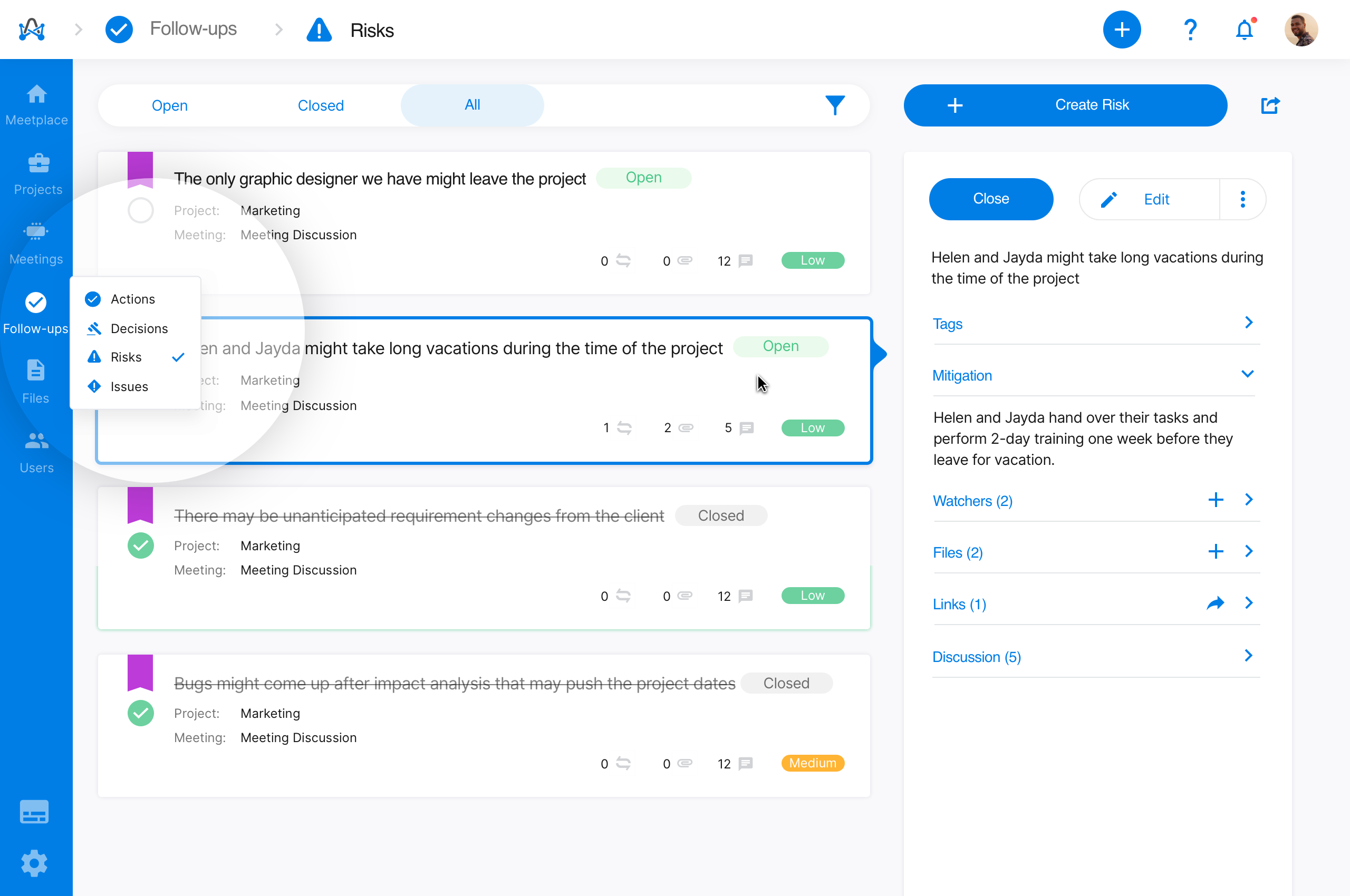 Screenshot from adam.ai: Risks and mitigation
You might also need to resolve an "Issue" on the meeting, setting its severity as low, medium, or high.
The same goes here; you can tag an issue for ease of access and filtration later, add resolution, assign watchers for observation or follow-up purposes, drop files, and add comments.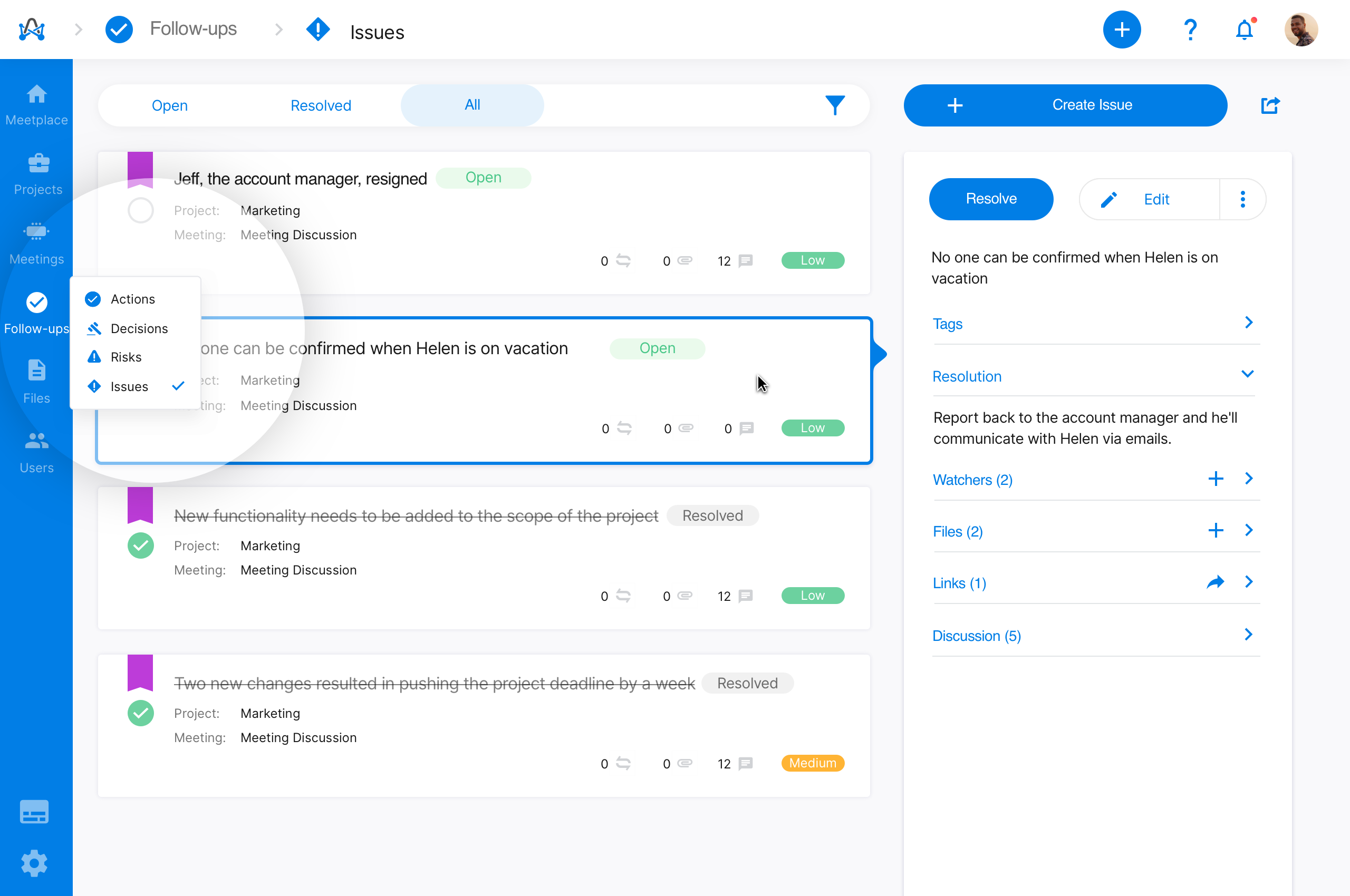 Screenshot from adam.ai: Issues and resolution
Risks and issues discussed in the meeting are automatically reflected in the generated meeting minutes afterwards.
✔️ Do it like a pro. Risks and issues are way more than some info in the meeting; they are there so that you, as a team leader or project manager, can follow up on them and change their status to closed and resolved.
3. Follow-ups page
Instead of having separate pages for "Actions," "Decisions," "Risks," and "Issues," which are considered follow-up content of a meeting, we now have one umbrella page for follow ups — makes perfect sense, doesn't it?
The "Follow-ups" page includes dedicated sub-pages for actions, decisions, risks, and issues, which helps leaders view, edit, and follow up on actionable items in a seamless and simple way.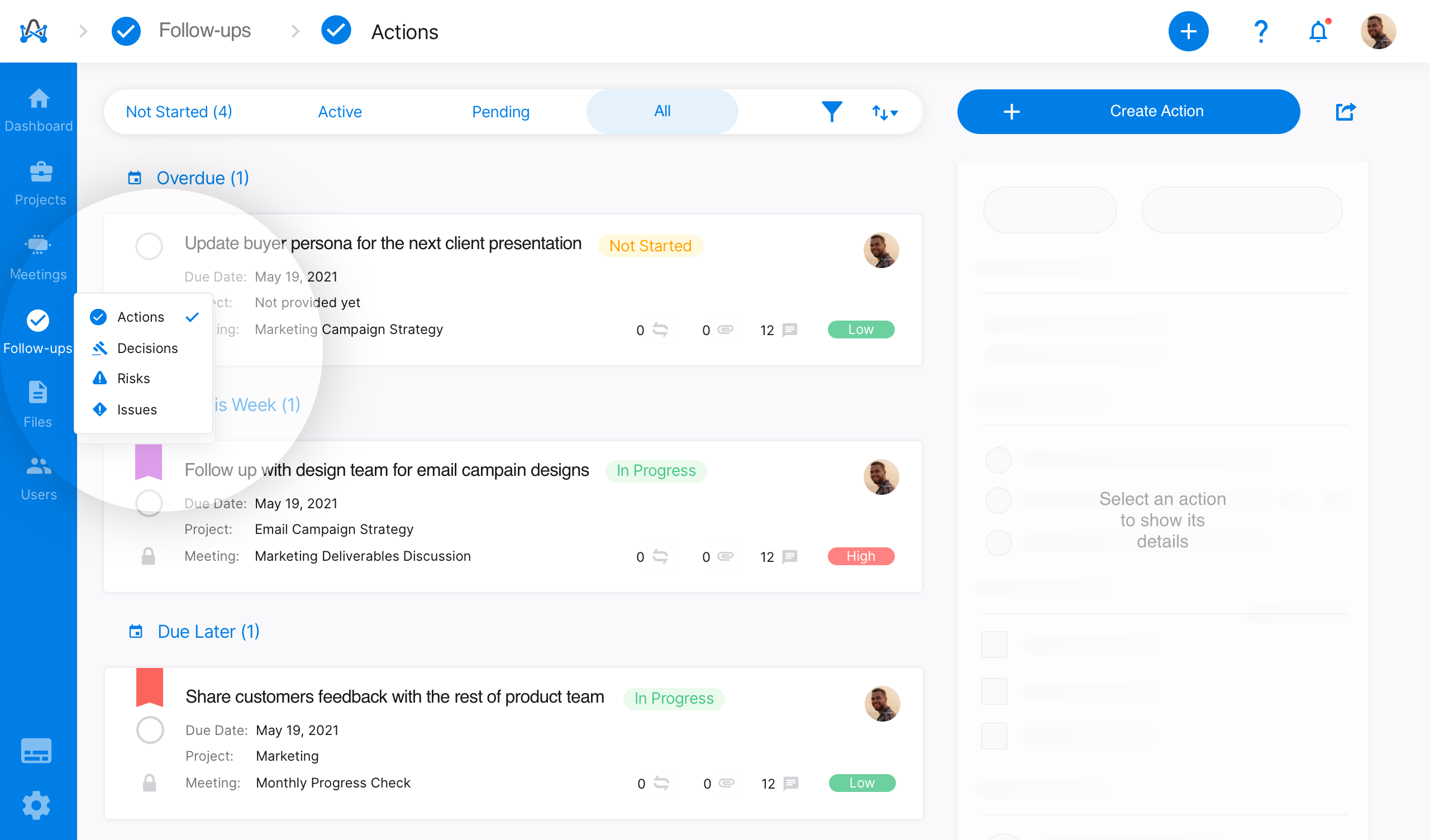 Screenshot from adam.ai: "Follow-ups" page
Moreover, you can "Create Risk" directly for a "Project," setting its severity and status, and the same goes for issues.
This is reflected on the projects dashboard, meetplace, and timeline, with statistics and insights on open/closed risks and open/resolved issues and a dedicated container for "Follow-ups."
4. General enhancements
We have made some minor changes that have a major impact on users accessibility, flexibility, and seamless experience, all what we care about the most.
4.1. Video conferencing Link detector
One more great enhancement is this: when you receive an invitation for a meeting created from someone's calendar, adam.ai instantly detects the video conferencing tool chosen by the meeting creator and displays it in the meeting details.
4.2. Zoom embedding
We have previously introduced this great feature where Zoom was embedded into adam.ai meeting room; meeting attendees can easily join Zoom meetings without ever having to leave their all-in-one meeting hub, adam.ai.
Improving on this feature and eliminating the friction for users who choose Zoom as their video conferencing tool, now meeting coordinators have three options to choose from:
Join Zoom meeting from an embedded tile on adam.ai.

Join meeting from Zoom client.

Copy Zoom link.

Screenshot from adam.ai: Joining Zoom meeting
This gives much flexibility to users who would like to join a call through adam.ai.
Due Thanks
Thanks are due to adam.ai's team of dedicated developers and creators, who spare no efforts to keep the platform up to its users' confidence and expectations.
All updates are backed up by your feedback; do not hesitate to send us some.

Stay tuned for more...