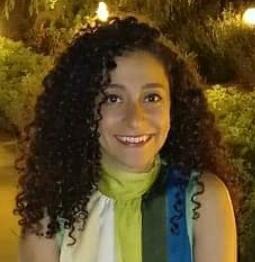 "But today's gap represents a failure of planning sometime in the past."
Andrew S. Grove
Planning drives business growth. When you set the right objectives for the right requirements, you have a direction, and you'll eventually succeed. Do you set your objectives in a right way? Do you measure progress towards your goals efficiently?
In this article, we'll touch on one of the unparalleled goal-setting methodologies, OKRs.
This article will cover the definition of OKRs, who first came up with the concept, how to write good OKRs that help your business grow, and OKRs examples. You'll also explore how an all-in-one meeting management software, like adam.ai, can help you come up with outstanding OKRs.
What do OKRs mean?
OKRs are the first letters in the following three words: "Objectives and Key Results." OKR is a method that can be used by anyone to set goals and track progress.
"Objectives" is another word for goals; "Key Results" is how you track the progress of the goals you've chosen; they describe the smaller steps that should be taken to reach a goal.
So, OKR is a framework that combines both setting goals and tracking progress. It is specifically called a goal-setting methodology.
Who invented OKR?
It all started with Peter Drucker, who had introduced the concept of Management by Objectives (MBOs) in the 1950s. In his book, "The Practice of Management," he highlighted the idea that the best work happens when focusing on results.
Ever since, people started to measure success differently; they focused on value rather than backgrounds, degrees, or titles.
Thirty years later, Andrew S. Grove, former chairman and CEO of Intel, published his book "High Output Management." Drucker who first coined the phrase "Management by Objectives" provided the basis for Grove's theory.
Grove asserted that execution is as important as setting goals. He always tied objectives to key results. In his book, he said: "A successful MBO system needs only to answer two questions: (1) Where do I want to go? (The answer provides the objective.) 2. How will I pace myself to see if I am getting there? (The answer gives us milestones, or key results.)"
Later, Doerr, one of Grove's seminar students, came up with the term "OKRs" and used Groove's theories to transform the way companies, like Google, operated. Eventually, he wrote his book "Measure What Matters".
What is an objective in OKR?
Imagine you've been saving for a trip. This summer, you want to go somewhere exciting. What's the first thing you do? You choose a destination. An objective is the destination you selected.
When writing an objective, you need to be as clear as possible and use nontechnical terms, so everyone can easily understand it. You also shouldn't include metrics.
What are key results in OKR?
Key results (KRs) make unique OKRs. They're the "how."
When you set an objective, you need to measure your progress towards it. And for that to happen, you need to have measurable milestones that contain metrics with start and target values.
You need to have at least three key results, for every objective, but no more than five.
If you look at OKR vs smart goals, you'll find they share a lot. Just like SMART goals, OKRs should be measurable, achievable, and time-bound.
OKRs examples
Before getting into detail about how to write good OKRs, let's first take a look on how companies write their OKRs. This will help you understand the OKR format.
What Matters website offers an incredibly useful list of the OKRs of different companies.
We selected a few here.
1. SOURCE: ATLASSIAN OKR TRAINING
Objective: Increase space tourism.
Key Result 1: Increase subscription cohort for Mars travelers | 30% increase in revenue from travelers who subscribe to annual space flights.
Key Result 2: Best first flight experience in the market | Improve first flight NPS from 15 to 25 to encourage second and third flights.
Key Result 3: Improve landing experience | Decrease detractor comments for landing experience by 50% with launch of 2.0 landing gear, which will make experience faster and less turbulent.


2. SOURCE: MINNESOTA DEPARTMENT OF EMPLOYMENT AND ECONOMIC DEVELOPMENT (DEED)
Objective: Reduce the disparities faced by populations with barriers to employment.
Key Result 1: Increase the average starting wage for people of color who DEED helps place in jobs by $2/hour.
Key Result 2: Create a unique "Equity goal" for every single program across DEED, focused on reducing disparities based on either 1) race, 2) ability level, or 3) geography.

3. SOURCE: BEAM DENTAL
Objective: Scale services to improve margins.
Key Result 1: Delight our broker partners with our product and service.
Key Result 2: Increase efficiency of new broker acquisition.
Key Result 3: Launch a new dental benefits product.
How to write good OKRs
The statements of good OKRs can seem overwhelming! It's because they reflect growth. It can be anything from introducing original creations, being recognized as an industry leader, to having an edge that makes you stand out in the market. So, don't hesitate to make your goals a stretch, but realistic.
Good OKRs represent a guide for relevant people in the organization. They help everyone involved in the work to focus on the right goal in the right timeframe. In other words, they are clear statements of an organization's most important, high-level objectives at a certain quarter. They usually describe an organization's highest priorities for the next 30-90 days.
To write your OKRs, you need to identify your objective (goal).
1. How to write good objectives in OKR
As mentioned previously, the objective is the "what" and key results are the "how." To write overarching objectives, you need to start with the "why." Why does your organization exist?
Revisit your company's mission statement
Your objectives should match the overall company goals, so they can be meaningful. Otherwise, they won't be effective. So, focusing on your company's mission will allow you to figure out the role your or your team plays within the company.
What makes OKR an empowering goal-setting methodology is how it can help you write inspiring and growth-promoting objectives. And the reason is the ability to track progress within this methodology.
Writing team-specific objectives
The second step is writing objectives that relate to your team. To do so, you need to prepare for a brainstorming session, where each one writes an objective or two, and then, you can discuss and vote on the most relevant ones.
In the brainstorming session, you and your team can redefine what success means to you and decide on the most important things that we need to get done. You can also reflect on what your team needs to change or start doing.
Writing goals to maintain and surpass your current state
When writing the team's objectives, it's best if you focus on two kinds of goals: goals that help sustain your current levels and goals that stretch beyond business as usual.
What makes OKR a successful goal-setting methodology is setting objectives that are inspiring and written in concise language and the ability to track progress. Use your objectives to describe real growth.
2. How to write the right

key results in OKR

Three things you need to focus on when determining a key result: being measurable, achievable, and time-bound.
Your key results are your milestones they work together, so you can achieve your objective. If you can achieve your goal without them or if they don't function as a set, then they defy their purpose.
Don't think about them as standalone metrics. They measure the progress you make over weeks until you reach your objective just like kilometer markers on a highway. So, when you reach your first marker, you know you're closer to your target.
To set the right key results, you'll need to be knowledgeable about your organization and use either your previous data or your competitors' data as a benchmark.
What is the difference between OKRs and KPIs?
When having conversations about other goal-setting methods, another acronym is usually mentioned, KPIs, which most organizations are familiar with.
KPIs stand for Key Performance Indicators. In the first instance, you may think that KPIs and OKRs are the same thing. However, they're different. Let's take a deeper look.
The key difference between the two is that the key results must be attached to objectives, while this is not necessarily the case for KPIs.
KPIs are metrics that aren't attached to a context. They tell you if what you're measuring is good or bad, but they don't dictate better ways to handle a situation.
On the other hand, key results are connected to actionable goals. They indicate whether you're progressing towards a specific goal. When you start with a goal, you know which direction you're following. OKRs help you lead.
However, it's best if you don't compare OKRs and KPIs in terms of pros and cons. Instead, use them together to complement each other.
For example, your company transitioned to working from home, and you've instructed your team that the core hours are from 10 am to 3 pm, where everyone should be available at such hours to ease communication between teams.
Measuring the commitment to such an instruction is a KPI. It's a metric necessary to maintain a successful work-from-home business model. It's not an improvement, it's business as usual.
So, how can KPIs and OKRs complement each other in this example? If you've found through this KPI that people are failing to adhere to such an instruction, you may change this KPI to OKR. In such a case, your objective will be to enhance communication between teams.
adam.ai for OKRs
Effective meetings are your factory for overarching objectives. All-in-one meeting management software, like adam.ai, is a second-to-none tool to run effective meetings that are fully connected to your business.
Check out how to use adam.ai to run game-changing meetings for OKR planning.
1. Create a project called OKR-setting meeting with a clear description. Under this project, you'll have the first meeting for OKR planning, which will include the CEO and senior executives, and meetings with different teams, in which the OKRs will be cascaded, discussed, and revised.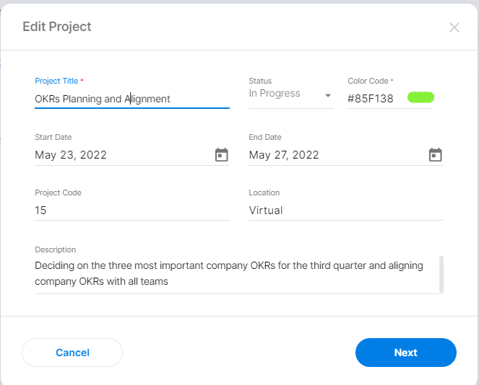 Screenshot from adam.ai: Creating a project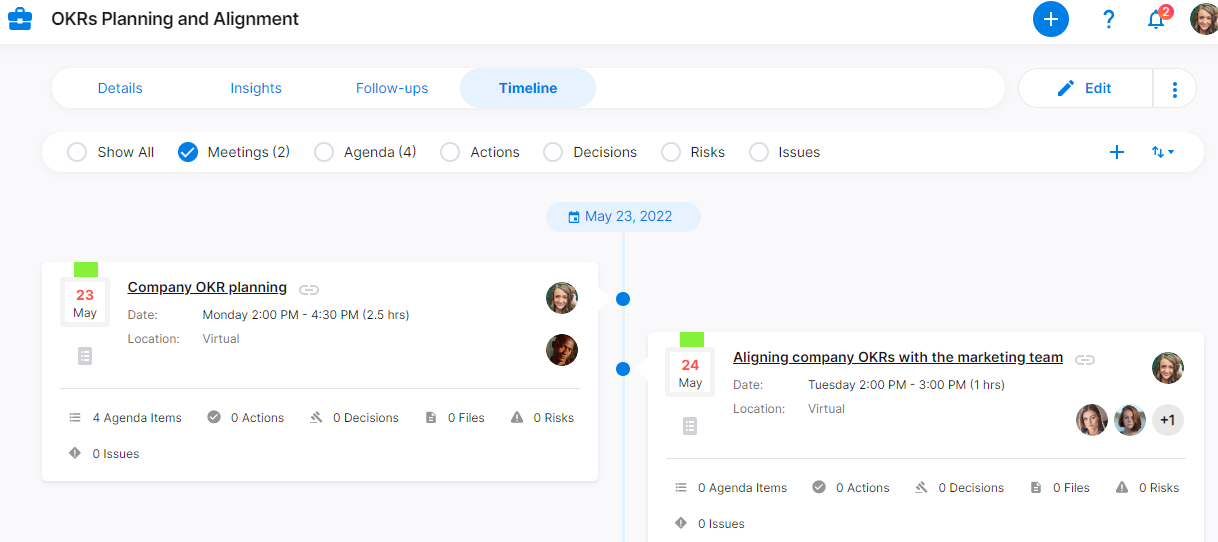 Screenshot from adam.ai: Project timeline
2. Before your meeting, ask all employees to write down what objective the company should focus on the next quarter. Have these objectives collected in a pdf and attach it to adam.ai's meetplace. You can also add a document that has the detailed company's mission to make sure that the objectives you'll choose for the next quarter align with the overall company goals.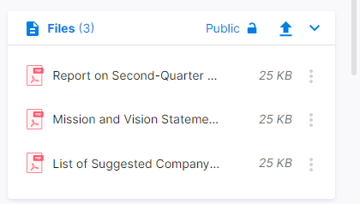 Screenshot from adam.ai: Uploading files
3. In the meeting, ask all senior executives to write an objective or two using the discussion tile. So, you can have documented discussions. Then, compare their objectives against the employees' and remove what's repeated and combine similar ones. Have a detailed discussion to narrow the objectives down to three to be achieved this quarter.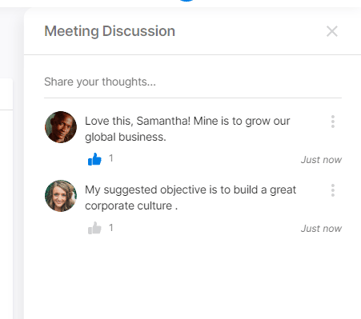 Screenshot from adam.ai: Meeting discussion
4. Use the voting feature to vote on the most relevant objectives, the clearest objective statements, and effective key results for each objective and their metrics.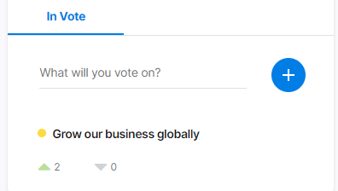 Screenshot from adam.ai: Voting tile
5. Use real-time note taking to document the highlights of the meeting and draft the OKRs.

Screenshot from adam.ai: Real-time note taking
6. Decide on the tasks, projects, and actions related to your OKR and assign them to the responsible people while you're in adam.ai's meetplace.

Screenshot from adam.ai: Assigning actions
7. Create a series of OKR check-in meetings with a weekly cadence to check progress across the company.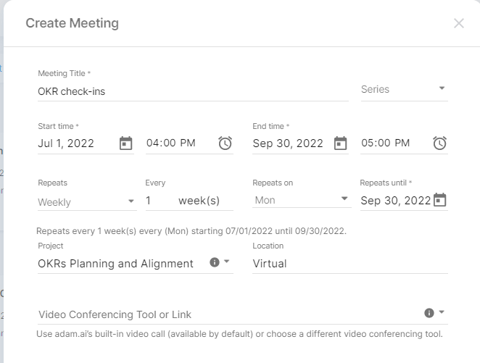 Screenshot from adam.ai: Creating meeting series
And while there may be multiple meeting management solutions available, here are a few reasons to consider adam.ai:
The bottom line
OKR, when applied correctly, is an incredible tool. A successful OKR is one that has an inspiring objective written in concise language, and a set of key results that represent milestones marking your progress towards your goal.
To write good OKRs for your next quarter, you need to hold a productive OKR planning meeting, where you can juggle easily between different kinds of info, discuss the objectives and key results, and vote on them.
An all-in-one meeting management software, like adam.ai, is a powerhouse when it comes to the previously mentioned needs. Make you use of your 14-day trial today (no credit card needed) with all the features unlocked to have the best experience. Just click the link below.