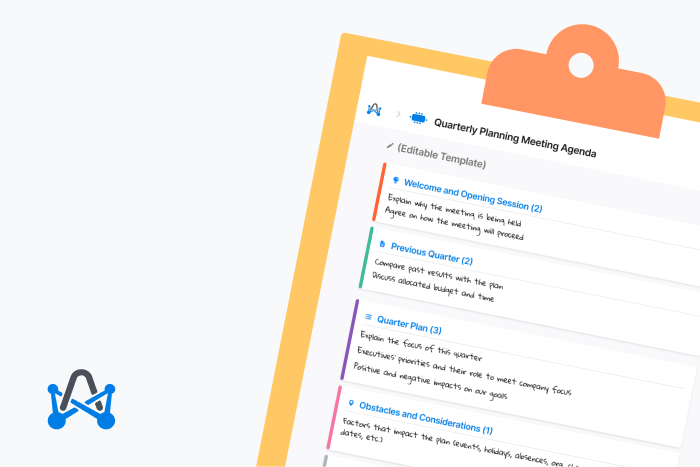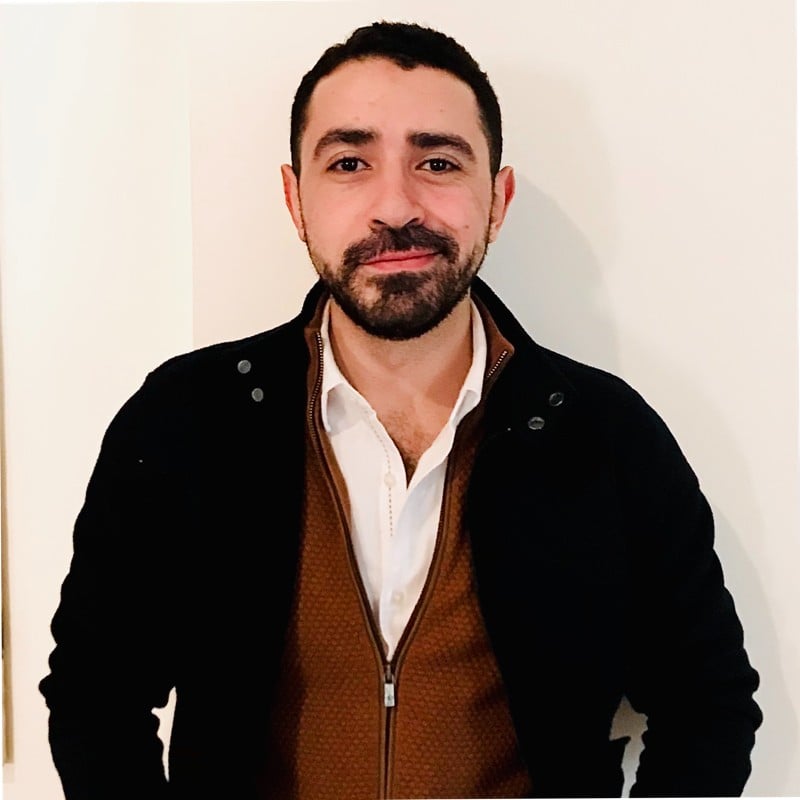 Four times a year, leaders and their teams move away from frequent meetings and leave behind the focus on routine operations to broaden their vision to the overall business strategy.
This is when a quarterly planning meeting is called for, where status updates are shared and strategic goals are planned for the whole quarter.
Due to its critical importance, a quarterly planning meeting agenda should be finalized and shared in advance, so that all attendees have enough time to prepare.
Only a professional quarterly planning meeting agenda template can help you put quarterly planning meeting time into use effectively for all those involved.
What is a quarterly planning meeting?
A quarterly planning meeting is held to plan a short-term strategy for the coming quarter, that's, for sure, an inseparable part of the long-term annual strategy.
During such quarterly meetings, leaders and top management review progress metrics and look into previous quarter's performance. Based on that, they decide what adjustments need to be done in order to reach the company's goals.
Afterwards, as always, heads and team leaders follow-up with task owners on decisions made and actions taken at the meeting.
Why hold a quarterly planning meeting?
Quarterly planning meetings help teams, and businesses in general, do the following:
Maintain steady success.

Remain agile when changes arise.

Detect problems early.

Stay focused on management priorities and plan.

Promote a culture of collaboration among team members and their leaders.
Quarterly planning meeting agenda template explained
The following breakdown of the quarterly planning meeting agenda template can sure guide you plan your agenda well.
Meeting details
This part of the template serves as a notification for meeting attendees when they receive the meeting agenda in advance. Mention the department(s) contributing to the planning meeting, date and time of the event, and location, whether online, physical, or hybrid.
Attendees
List the names of all attendees to the quarterly planning meeting so that everyone knows who will be there in advance.
Moreover, assign meeting facilitators to help you organize and run the meeting, because meetings are not a one-man-show thing.
Meeting objective
A quarterly planning meeting's objective is to review strategic goals and metrics of the previous quarter, as well as those of the whole year, and set ones for this quarter to follow and meet at the end of the quarter.
It also provides a milestone to measure the results of the past three months so that the team can go ahead and fulfill the whole annual plan.
Welcome and opening session
The quarterly planning meeting agenda template starts with welcoming attendees and opening the session.
Explain why this meeting is held and agree on how the meeting will proceed. It's always a good idea to ask meeting attendees about their expectations for the meeting and then announce yours (as meeting owner or coordinator).
This part of the agenda template sets the stage for the real work ahead.
Previous quarter
The quarterly planning meeting agenda starts with looking at the previous quarter's results and see how they meet or fall short on the set annual plan.
Such comparison reveals what is going well and what needs to be changed in the coming quarter.
Ask the team, what would you do to move the needle this quarter? Do we have a problem with the time or the budget allocated to the goals of the last quarter?
As for unfinished business from the last quarter, you have three options:
Carry them over to the next quarter.

Turn them into action items if they are small tasks that need just some extra time.

Reassign them to someone else.
Annual plan
Before actually starting quarter planning part, the agenda template suggests that you revisit the annual plan.
Do the results of the previous quarter tell you that you need to make minor/major adjustments to the plan? Or do you need to adjust the goals instead?
Reviewing the annual plan refreshes the memory about the overall vision and ensures that everyone is on the same page. It also opens a slot for concerns or confusions to be spoken up and cleared away.
Quarter plan
This section of the quarterly planning meeting agenda template takes most of the meeting's time.
This is when the leaders explain the focus and end-goals for this quarter and list all items and to do's that must get done this quarter. Then, attendees discuss their roles in executing those goals and align their priorities with the company focus.
Each individual's contribution is valuable to achieve the overall success of the company's goals; so make sure that roles and responsibilities are crystal clear.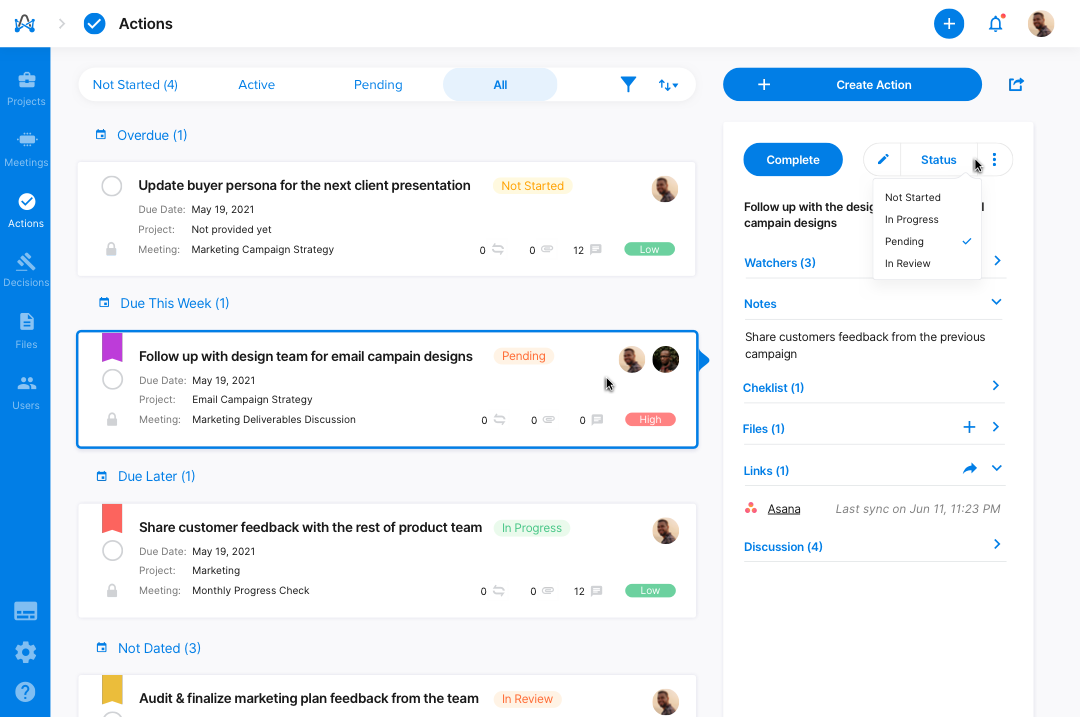 Screenshot from adam.ai: Assigning actions and following up on them
Discuss together and brainstorm what could have a direct impact on your goals, whether a negative or a positive impact. Discuss risks and issues that could threaten goals' delivery and identify the root causes for them. Then propose mitigations and possible solutions to those risks and issues by defining actions steps in advance.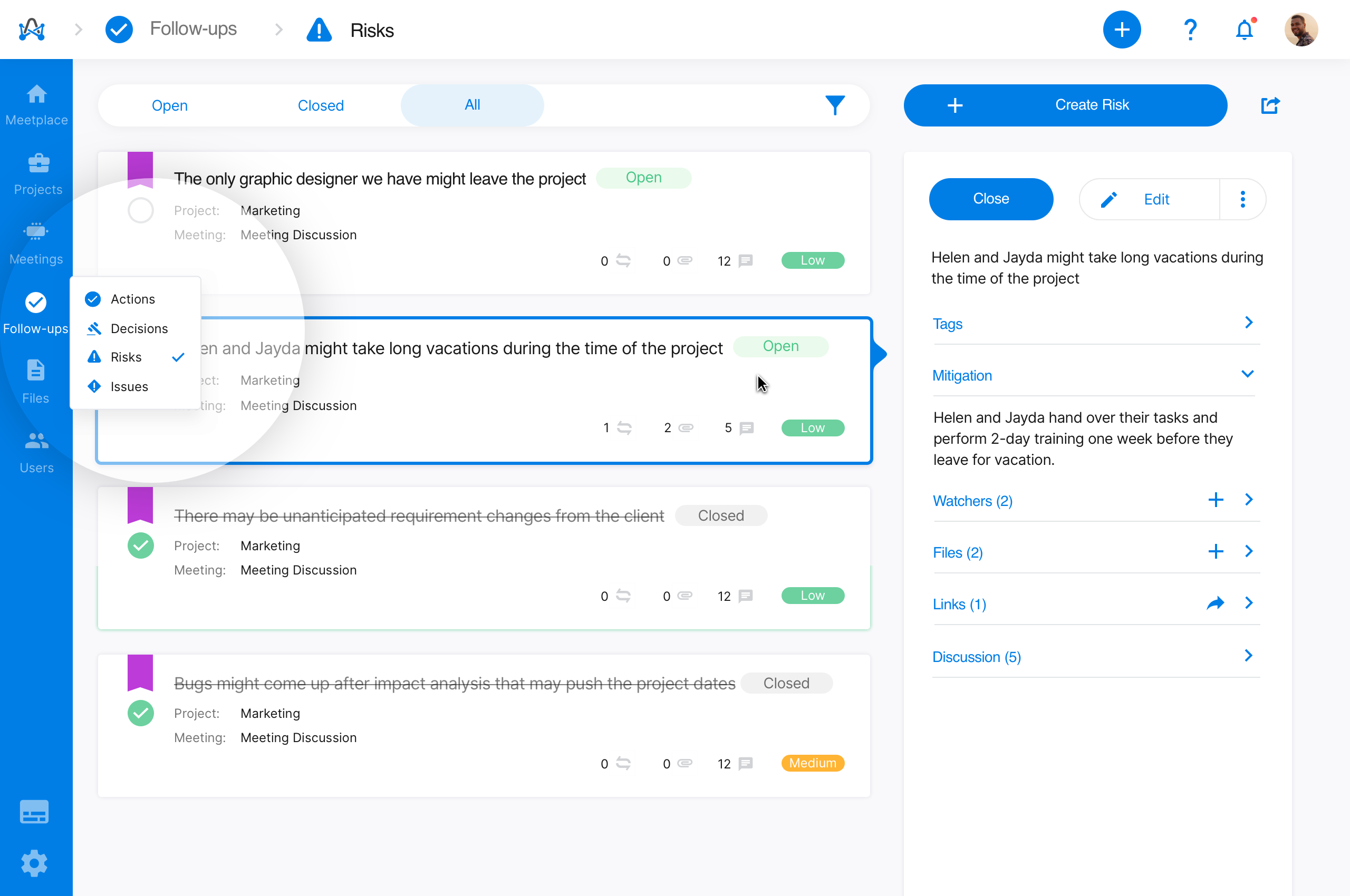 Screenshot from adam.ai: Risks and issues creation and following-ups
Obstacles and considerations
Celebratory or marketing events, official holidays, absences and long vacations, organizational changes, or any other external factors happening throughout the quarter might act as obstacles to achieving the desired goals by the end of the quarter.
However, a smart leader takes all of these factors into consideration in the planning process and sets realistic, achievable goals that take into account external factors and emergencies.
Next steps
Towards the end of the meeting, everyone needs to be conquer on the next steps to be taken in terms of accountability, KPIs, deadlines, etc.
The meeting coordinator assigns projects and roles and makes sure that everyone in the room is taking ownership for their items or tasks.
Note if you, or any of the executives, need to communicate any messages to the organization based on any decisions made in the meeting.
Wrap up
A successful quarterly planning meeting is one where everyone leaves the room with a clear picture of what will come next. That's why the agenda template ends with the "Wrap Up" item to remind you to summarize the decisions made during the meeting and who's committed to what.
Meeting assessment
At the very end, take a minute to get everyone's feedback about the meeting. Were their expectations met or not? What was one thing they liked? What did they hate? Is there any ideas to run more efficient and productive meetings in the future?
People like to be heard, and taking the time to share opinions about the meeting itself shows how a true leader you are.
➕ Extra bonus. Try sending out a thank you email after the meeting is finished; it has a positive effect on attendees and enhances meeting productivity.
By now, you've realized why meeting agendas are important; check out this video to find out how to create one on adam.ai:
Quarterly planning meeting best practices
Start by outlining the end goals and management focus for the upcoming quarter.
Openly discuss obstacles that challenge progress and financial goals.
Clarify executives roles in contributing to the overall success of the organization to achieve the desired results.
Ask executives to to align their priorities for the upcoming quarter with the overall company focus.
At the end of the quarterly planning meeting, summarize all decisions made, assign responsibilities, and agree on the next steps to be taken outside of this meeting.
Afterwards, share meeting content and outcomes with the rest of the company, or at least those who need to be aware of the big picture of the company's goals. If you are using a meeting minutes software, which is usually a part of a bigger meeting management software, you can share minutes of the meeting, which are automatically generated when the meeting ends, via email, Slack, or else.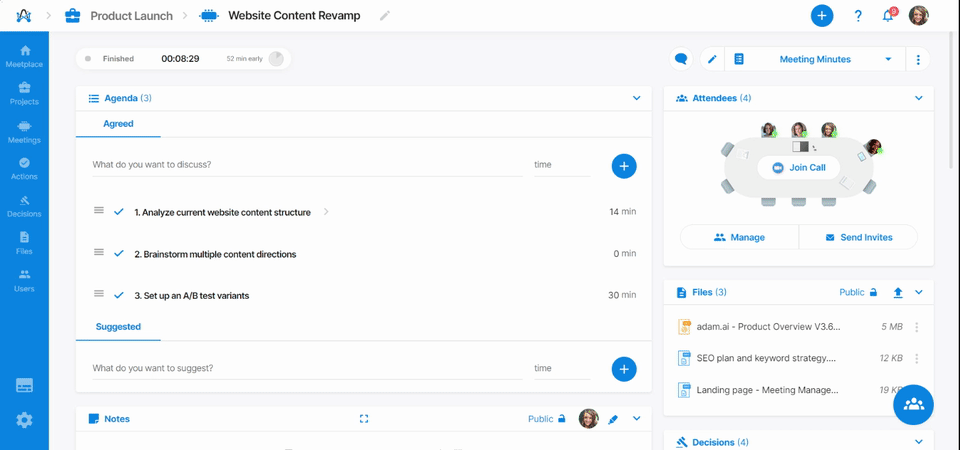 Generating meeting minutes automatically and sharing via various means on adam.ai
14-day pro. No credit card. No hidden fees.
Quarterly planning meeting agenda template
This agenda template is inclusive, so feel free to customize it depending on the size and complexity of your company.
It is editable.
It is inclusive..
It is free...
More meeting agenda templates
This agenda is one of many more free agenda templates, created with every team's needs in mind. Feel free to download the ones that you use the most, customize them to fit your team, and make the most out of every meeting.
To sum up, the main reasons to call for and hold a quarterly planning meeting is to reflect on the past quarter's results and decide on what will be done in the next one. This ensures that all employees, executives, and stakeholders share the same vision for the company's future.
A professionally designed quarterly planning meeting agenda template helps you structure the meeting around a set of recurring topics based on each quarter's priorities, save everyone's precious time, and follow a consistent structure for all your quarterly meetings.
This is why organizations and teams of all sizes resort to a meeting agenda software, which is usually part of an all-in-one meeting management software, to facilitate the whole process and automate many parts of it.