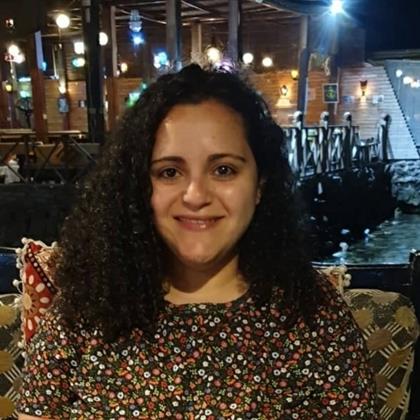 You may have heard of minutes of the meeting or meeting notes but can't seem to understand the meaning of taking meeting minutes or why do it in the first place.
In any meeting, there are discussions and decisions flying left and right and it's normal for people to take notes in a meeting.
For this reason, a meeting organizer may assign a person to be the minute taker in a meeting to record all the important topics and decisions for future reference.
Let's take a look at the definition of meeting minutes, the purpose behind keeping them, how to take them as a pro, and the ultimate tools you need to optimize the process.
Jump ahead to any section:
What are minutes in a meeting?
Why should you record meeting minutes?
What are the three types of meeting minutes?
How do I write meeting minutes?
Do's and don'ts of meeting minutes
Meeting minutes templates examples
Why you need a meeting management platform
What are minutes in a meeting?
Meeting minutes, otherwise called minutes of meeting, is a post-meeting report including the discussions and outcomes that occurred in a meeting.
This written report can be reviewed by people who couldn't attend the meeting and it also serves as a record for future reference.
Meeting minutes can include all the decisions and action items mentioned in the meeting so that all attendees are aware of them and follow up on their assignments in the next meeting.
There are a few reasons why taking meeting minutes are important, so let's find out the purpose of keeping a record of minutes in a meeting.
Why should you record meeting minutes?
A meeting minutes report is an official document for managers and employees to review what happened in previous meetings.
People need to review the planning procedures of certain projects to remind themselves of where they were and where they're going. With several projects and clients, it would be impossible to track progress without taking meeting minutes.
This official record also serves as evidence for decisions, actions, assignments, and deadlines, in case of any discrepancy that may arise in the future.
Meeting minutes can be used to protect businesses against legal liability by proving their ethical standards and practices as recorded in previous meetings. If any party wishes to question these standards, the meeting minutes records are written proof of how the organization is run.
There are different ways of recording minutes of the meeting to fit specific purposes; let's find out about the main types of meeting minutes.
What are the three types of meeting minutes?
When recording meeting minutes, you must keep in mind the purpose behind recording them. Are you taking them for a board meeting or a team's sprint planning meeting?
Each type of meeting meetings has a certain use; here are the three standard types:
1. Action minutes
As the name suggests, action minutes are taken to record decisions and action items mentioned in the meeting. This type of meeting minutes is brief and doesn't include the detailed discussions that occurred during a meeting.
This style is popular because the minute taker can usually take part in the meeting and write a brief list of outcomes in the meeting without too much detail, which could make it hard to navigate the minutes report.
The action minutes report is written in the form of a numbered or bulleted list and is only reviewed by the people in the meeting. Its writing style is straightforward, simple, and usually common in board meetings.
2. Discussion minutes
This type of meeting minutes includes a bit more detail about the discussion that lead to the decisions and actions taken in a meeting.
The minute taker in this style is usually someone who doesn't have to be involved in the meeting because they have to take special care when writing the details of the discussion. They also need to be unbiased when taking notes and avoid writing their personal take on the matter.
Writing discussion minutes is recommended in team meetings, and it would include paragraphs of the conversation with the topics arranged in the order they've been discussed.
3. Verbatim minutes
This is the most detailed and lengthiest form of meeting minutes, where the meeting discussion is recorded word for word. It will include the whole conversation and the decisions and actions taken in a meeting.
This type of meeting minutes is extremely impractical for many organizations because it's difficult to find the outcomes or any specific discussion that led to any decisions in the meeting.
Meetings that require this type of record are usually court hearings or other governmental proceedings, where each person's response is crucial as opposed to just recording the outcomes of a meeting.
We've outlined the what and the why, so let's take a look at how to write meeting minutes like a pro.
How do I write meeting minutes?
With the aforementioned types, there are a few steps to keep in mind to write relevant meeting minutes effectively. Preparation is key to ensuring your meeting minutes are taken as accurately as possible so that each team member can benefit from these records.
Here's what you need to do to write meeting minutes:
1. Plan the meeting structure in advance
The first step is to lay the groundwork for the meeting structure by organizing topics in order of discussion during the meeting. The meeting's objectives are usually found in the meeting agenda, which should be sent to all attendees before the meeting.
The meeting agenda should include specific points that should be timed for maximum efficiency during the meeting.
Assign more time for items that need to be discussed in detail and take extra care of recording important points when taking meeting minutes. There should be extra time at the end of the meeting to discuss action items to record the outcomes in minutes of the meeting.
Use an all-in-one meeting management platform like

adam.ai

to manage the entire meeting cycle to help organizations run business, close projects, and achieve goals through effective meetings.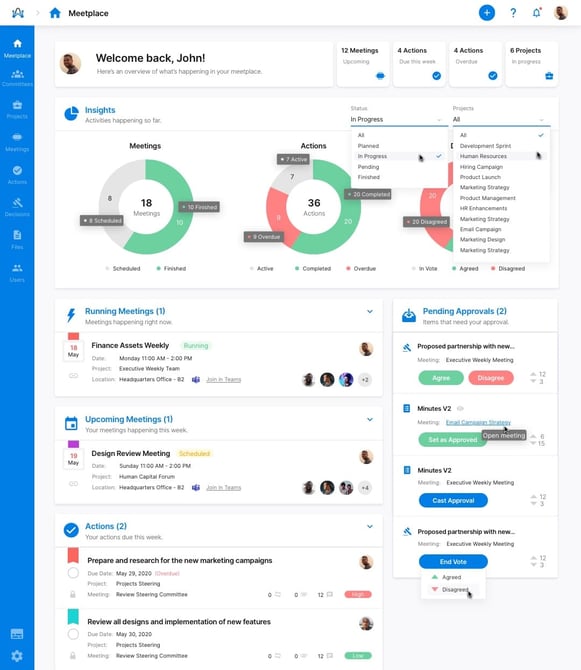 14-day pro. No credit card. No hidden fees.


2. Take attendance and assign roles to each member
The minute taker should take attendance to record which team members couldn't make it to the meeting. The meeting's host can assign a minute taker to one of the team members at the beginning of the meeting so that they can pay special attention to taking important notes.
The meeting minutes will be passed on to absentees so that they fully understand what they missed in the meeting and learn about their upcoming assignments and action items, if any.
It's also crucial that each person understand their role in the meeting to ensure they have to attend this meeting. Oftentimes, people will be invited to unnecessary meetings and will end up losing precious time.
This is why each member should know what's expected of them during the meeting to prepare themselves beforehand and contribute to the conversation.
3. Record minutes during the discussion
The best way to keep track of minutes of the meeting is to write them during the discussion. When you take meeting minutes in real-time, it's more likely to record them accurately than if you wait after the meeting.
While it's tough to focus on the discussion while writing down minutes, it's the ultimate method of providing a legitimate representation of the meeting as each agenda item is being discussed. This way, the absentees can obtain relevant data from the meeting minutes in an organized manner.
4. Recall previous meeting minutes
It's normal to refer to the minutes of a previous meeting to track progress. You can recall action items and decisions taken in the last meeting to check off assignments or make alterations in some decisions if necessary.
Changes like deadlines, action items, and completed tasks can be applied to the meeting minutes report during the meeting. Adding these points from previous meetings provides context to the present meeting for everyone to follow the progress in a given project.
5. Write down the meeting's outcomes
With each agenda item, make sure to write down decisions, action items, and how each member voted on certain items.
For instance, if a fist to five strategy is implemented in the meeting, make sure to record how much each member is for or against the motion presented. If the majority agreed on the topic, it can be moved to a consensus vote to move the motion forward.
In case the team couldn't reach a decision, the meeting minutes must reflect people's opinions and mark where they left the discussion to pick it up in the next meeting.
Recording the outcomes is a crucial part of the meeting minutes form so make sure to write them as soon as they're mentioned to improve team accountability and follow-up.
Following these previous steps is key to writing effective meeting minutes, so now let's take a look at what to include and which mistakes to avoid.
Do's and don'ts when taking meeting minutes
There are a few essential items you should include in your meeting minutes to ensure the report serves its purpose:
1. Names and scheduling
The first thing you need to record is the names of the attendees and assign each person their roles like meeting organizer, coordinator, facilitator, or staff.
You should also record which members didn't attend and compare the list with the last meeting's minutes. The date, time, and place of the meeting should also be recorded before the meeting starts.
2. Meeting objective
The main purpose of the meeting must be included right after taking attendance and recording logistics. It should be written as a clear statement that's long enough to explain to absentees what the meeting was without being too lengthy or diving into too much detail.
3. Meeting agenda items
Recording agenda items is important to keep your minutes organized. It's a general structure for your meetings, and you can assign a time for each item to keep meetings in a timely manner.
Your meeting agenda should be sent to your team at least two days in advance to give them a chance to prepare by writing insights and reviewing the last meeting's minutes.
➕ Check out the meeting agenda templates on our blog that you can customize according to your team's need to optimize your meetings and facilitate the process of taking meeting minutes.
Here's how you can time your agenda items on adam.ai using the meeting timer: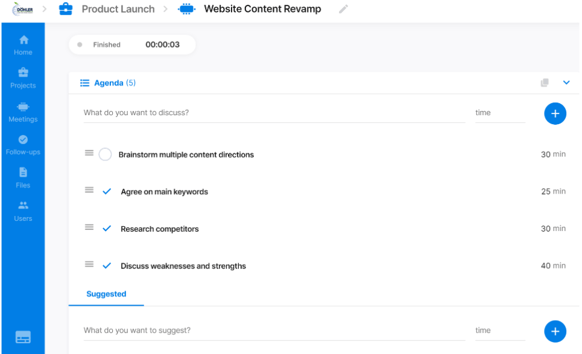 Screenshot from adam.ai: The meeting timer
4. Record action items and decisions
This is one of the main elements of taking meeting minutes because they represent the outcomes of any meeting. The minute taker should record the action items and assign them to the person responsible for completing each item.
This step is crucial because it not only holds each person accountable for their tasks but also informs the team of which person to contact in case of an issue.
Here's a snippet of the actions tiles on adam.ai, where you can record action items, assign people, date, and time to each action, manage watchers on these actions, add notes, edit actions, and mark them as complete once done, to name a few of the features available.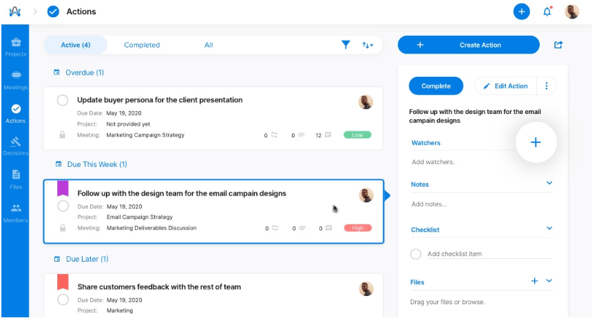 Screenshot from adam.ai: Managing action items
5. Essential files
Your meeting minutes should include any essential files used in the meeting. These could be KPI or OKR reports or other insights and updates.
You can upload documents from Google Drive or Dropbox in various formats on adam.ai in the files tile: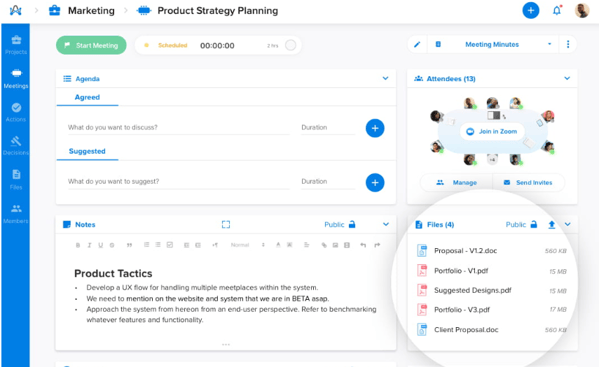 Screenshot from adam.ai: Managing your files
6. Write the next meeting's appointment
Finally, write the date, time, and place for the next meeting so that everyone knows when action items should be completed or when their next follow-up is on that particular topic.
This step is important for each team member's time management schedule so that they can prepare a priorities checklist to follow until the next meeting.
Now let's list some of the things you should avoid when taking meeting minutes:
1. Writing your opinion
Taking meeting minutes is about recording what's happening in the meeting not writing your opinion about the topics discussed. The minute taker should be unbiased and write the minutes of the meeting objectively without adding any personal comments or omitting ones they don't agree with.
2. Taking minutes after the meeting
Don't wait till after the meeting to write the minutes; it's best to write them during the meeting not try to recall them from memory to provide an accurate report.
3. Writing versus typing
Typing the meeting minutes is more efficient than writing them even if you prefer to take your notes by hand. You'll have your notes spell-checked with plenty of options like numbered or bulleted checklists, highlights, and different fonts to facilitate formatting meeting minutes.
4. Writing word for word
As previously mentioned, taking verbatim minutes is only necessary for certain official meetings or hearings, but it's impractical to write a transcript of every little detail mentioned in the meeting. Try to keep it brief by mentioning the main highlights, actions, and decisions taken in the meeting.
Having meeting agenda and meeting minutes Google Docs templates can make the process much easier. All you have to do is fill out the template and customize it according to your needs. Let's take a look at two essential meeting minutes template examples you can use right now:
Meeting minutes examples
A meeting minutes template can make your job much easier during the meeting. All you have to do is fill in the blanks under each heading.
We've formulated a couple of meeting minutes examples for formal and informal meetings, which you can customize according to your team's needs.
Board meeting minutes template (formal)
A board meeting minutes is formal documentation that records decisions made by board members in an organization. It's legally required to record these minutes, and having a template can make the minute taker's job much easier.
The board meeting minutes template usually includes a call to order, names of attendees and absentees, proceedings, other business elements (e.g., company announcements), meeting assessment, adjournment, attached documents or presentations, submission field, and approval field.
Click the image below to be redirected to a Google Docs template of the board meeting minutes.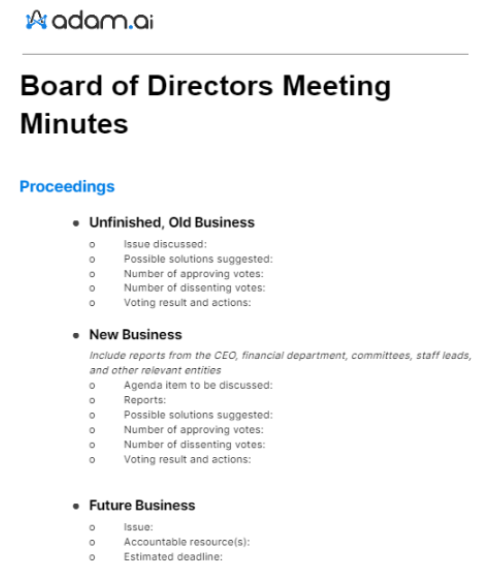 Alternatively, you can download the board meeting minutes template form in Word format.
It's also useful to have a simple meeting minutes template for other types of meetings that don't need approval by the board. So what do you think is included in an informal minutes template?
Simple meeting minutes template (informal)
A simple meeting minutes template doesn't include too many details like the formal minutes template. It's usually brief and captures the basic information in a meeting.
This type of minutes template can be used in any team meetings like weekly stand-ups, brainstorming sessions, one-on-one meetings, and sprint planning meetings.
Click on the image below to be redirected to the Google Docs template of the informal meeting minutes.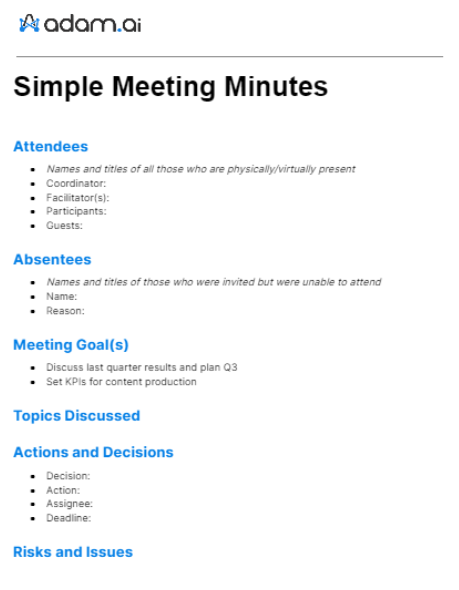 You can also fill out the following form to download the template as a Word document.
Taking meeting minutes can be a daunting task and even following the aforementioned tips and templates, you could end up missing important details in a meeting.
💡What if you can automatically generate meeting minutes with all agenda topics, action items, decisions, votes, notes, and risks with a click of a button?
You can only achieve that by using an all-in-one meeting management software that is a must-have for powerful teams of any size.
Why you need a meeting management platform
An all-in-one meeting management platform is crucial in optimizing your entire meeting cycle before, during, and after the meeting.
Before the meeting

Schedule the meeting, choose a video-conferencing tool, share the meeting agenda, and


send meeting invites.
During the meeting


Take attendance, collaborate on agenda topics, write notes, assign action items to attendees, discuss risks, upload and present files, sync with other project-management apps, take votes, and make decisions.

After the meeting

Generate meeting minutes automatically, share them with all attendees with a click of a button, follow up on actions and decisions, get insights of all your meetings, attend to unfinished business, and check your upcoming schedule.
✍️With adam.ai, you can not only generate meeting minutes automatically, but also schedule your meetings via Google Calendar, Office 365, or Calendly, have the meeting using one of your favorite tools like Zoom, Microsoft Teams, Google Meet, and Slack, set a time for each talking point in your meeting agenda, take private notes during the meeting, create action items at the end of the meeting, and integrate with project-management apps like Jira, Asana, and Trello, having all these features and more in one place.
The bottom line
Taking meeting minutes is essential to keep a record of everything discussed in a meeting like action items and decisions for future reference.
It's how each meeting is linked to the next for teams to know how they arrived at certain conclusions and decisions.
The task can be daunting for the minute taker, who has to pay extra attention to what's discussed and may not always be able to provide their insight or participate in a meeting.
We recommend using an all-in-one meeting management platform to manage your entire meeting cycle and help organizations run business efficiently.
And while there may be multiple meeting management solutions available, here are a few reasons to choose adam.ai: