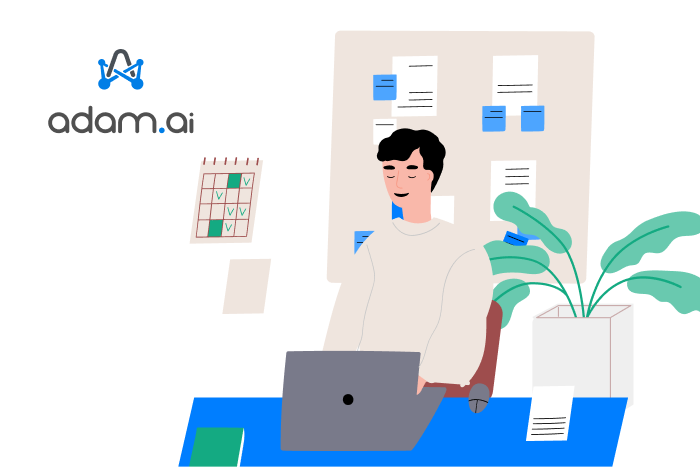 It is true that remote working has given us a lot of flexibility, but not to the extent that 65% of employees confess to doing other work during a virtual meeting and 43% to checking social media!
After thousands of online meetings, and a plenty of awkward moments, experts are recommending following proper virtual meeting etiquette for a good online meeting experience for everyone involved.
These virtual meeting best practices will help you present yourself in the best light possible during these endless meetings.
What are the types of virtual meetings?
In a nutshell, virtual meetings in this article are divided into two main types: the ones where all attendees are remotely present and those where some are physically present while others are joining online, commonly known as "hybrid meetings."
For both types, proper virtual meeting etiquette is the same, just adding some more tips for hybrid meetings.
As we believe in adam.ai, all operations and processes must be thought of as a before, during, and after timeline, so will be the case for virtual meetings best practices.
Virtual meeting etiquette: BEFORE a meeting
Back in the days, how did we go to a meeting?
We stopped what we were working on, took a note and a pen, grabbed a drink, passed by our friends' desks, and walked into the meeting room 5 or 10 minutes early.
Good virtual meeting etiquette should not be of much difference, in order for everyone to have an enjoyable online meeting experience.
1. Ask for an agenda
You are the one to be blamed if you show up to the meeting clueless!
If the meeting organizer did not send a meeting agenda, ask for one.
Ask also for any pre-reading or pre-work you can do to be ready; people will look up to you for this.
💡 A smart all-in-one meeting management software helps you greatly here.
Review the meeting agenda, as well as any other relevant documents, in advance. Then, write down any questions or concerns you want to discuss on the meeting.
Tip. Send one of these comprehensive, editable meeting agenda templates to the one responsible, and they will thank you later.
➕ Team meeting agenda template
➕ Board meeting agenda template
➕ Brainstorming meeting agenda template
➕ Sales team meeting agenda template
➕ Quarterly planning meeting agenda template
➕ First meeting with new team agenda template
2. Show up on time
If this is not a rule at your company, make sure it is in your life.
Being on time holds a greater value to others than you think, since it translates the message of respecting one another.
Many, like yourself, have been found waiting for other meeting members to join, which can oftentimes seem offensive of one's precious time.
Therefore, treat others as you would do yourself and respect their busy schedules.
Stop what you are doing, get ready 10-minutes ahead, and be prepared.
3. Be tech ready
"You're breaking up, Jane!"
"Oh my God, my battery is dying off. Where's the nearest plug please?"
Avoid such virtual meeting misshapes or situations by testing your setup in advance, so that you are following good online meeting etiquette:
Internet connection

Camera

Headphones

Charging for laptops or mobile devices
4. Turn "in-a-Meeting" mode on
Notify others in your space that you are about to join an online meeting, and specify the time period.
Leave a note on the door, shout it out, or talk your kids into the importance of "mommy needs to focus for the next 30 mins" thing.
You certainly do not want to star the next "2021's Most Embarrassing Zoom Moments," do you?
5. Dress up, not from the waist up
Dressing up for a virtual meeting is not to be taken lightly.
When you dress appropriately, depending on your role, position, or meeting nature, you make an impression on the people listening to you.
On the other hand, it puts you in a good, confident mood that will reflect on your voice, appearance, and presentation skills.
On top of that, dressing up properly will save you a lot of embarrassment if something went wrong or not as planned.
That was all for before an online meeting. Now, how to practice good virtual meeting etiquette during one?
Virtual meeting etiquette: DURING a meeting
Now, you are actually IN the meeting.
How should you behave in order to guarantee a smooth, non-embarrassing online meeting experience for you and for other attendees?
6. To mute or not to mute, that is the question
Mute by default on joining the meeting.
Then, if you have background noise or there are 5+ people in the meeting, stay on mute mode till you need to speak.
Otherwise, unmute yourself for a sense of sharing and breaking the silence with an "aha" here and a "ha ha" there.
7. Turn video on
It is frustrating enough that we rarely have face-to-face communications, share the laughs, or sit around the same table.
TURN VIDEO ON, PLEASE.
Video is a powerful way to stay connected as humans in the cold, virtual meetings of "no profile picture," "Adam," "Unknown User," or other impersonal screens.
At least say hello and then turn it off if you are facing bandwidth troubles.
Zoom, Google Meet, and other web conferencing tools offer a wide range of cool virtual backgrounds, in case you are not comfortable showing yours to everyone in the meeting.
8. Acknowledge everyone in the room
At the beginning of your meeting, make sure to present yourself to all of the meeting members if possible.
Taking the time to mingle with others will make you stand out in the meeting as a person who is approachable.
Doing so makes everyone more at ease with your presence and will make you more comfortable in discussing meeting matters in a more confident manner.
9. Do not interrupt
Even if you have an important point to mention, take the time to actively listen to those who are speaking and mention your remarks after they are done talking.
Avoid interrupting others, since it can be considered rude and may even lead to some unnecessary derailments.
The speaker can also lose their train of thought due to this.
On the digital front, even major video conferencing platforms like Zoom and adam.ai provide their users with a hand-raising feature that notifies others that you would like to speak without any interruptions.
14-day pro. No credit card. No hidden fees.
10. Respect others' cultures
Now more than ever, people from all corners of the world are connecting.
Therefore, one of the most important virtual meeting best practices is that you orient yourself on all the cultural etiquettes that can make you sensitive and empathetic to those around you.
It is important to understand who you are dealing with as not to be disrespectful or offend those in the meeting with you.
11. Side conversations belong to chat
As long as you are not making a comment that degrades your meetingmate or being disrespectful of the meeting host, chatting is always fun and welcomed.
Chatting actually prevents interruptions when someone wants to comment on the speaker.
Through chatting, you can send a note, phone number, link, or else.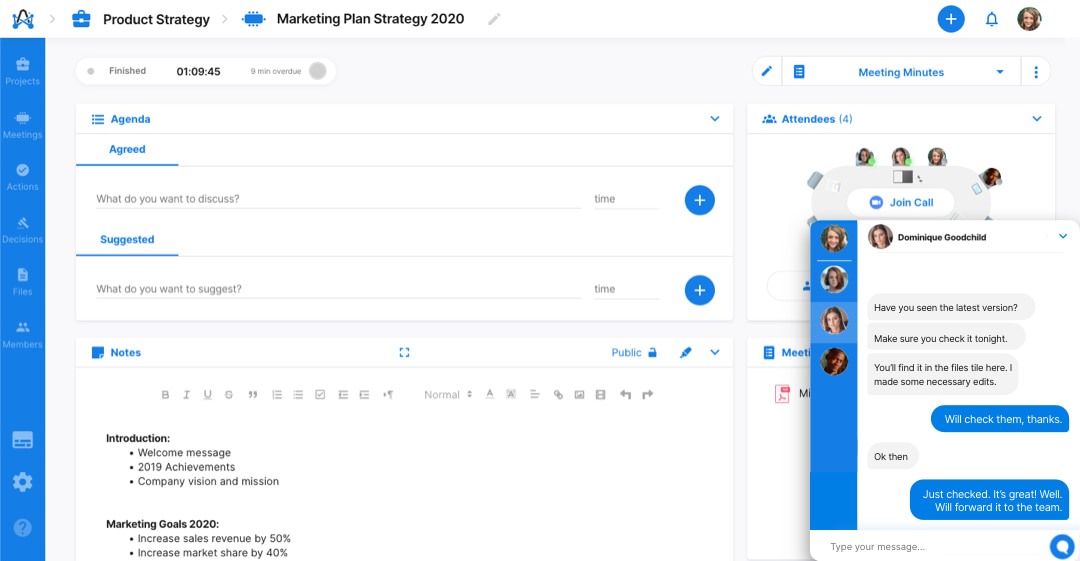 Screenshot from adam.ai: private chat inside the meeting room
Well, what happens after the meeting has finished?
Virtual meeting etiquette: AFTER a meeting
Yes, you heard it right: there are a couple of best practices after the online meeting has finished.
For an online meeting to be effective, everyone should have a clear objective of what they gained from the meeting and what to work on next.
12. Summarize the meeting
Turn into a blank page of your notebook, or go to your note-taking online tool, and write down a comprehensive summary of the meeting that has just ended.
What were the objectives?

What issues were discussed today?

What does each person need to do and what is the deadline?

What are the next steps that should be followed?
Summarizing a lengthy online meeting provides a sense of achievement within participants, establishes clear goals for everyone, and helps in case something overlaps another.
In case you are the meeting-minutes taker, here are the only two meeting minutes templates you'll need:
➕ Board meeting minutes template
➕ Informal meeting minutes template
13. Do your homework
See what is the task assigned to you during the meeting and start right away while it is still fresh in your memory, unless you have other priorities.
If you do, at least put your thoughts into actionable points and set a deadline for yourself earlier than the actual one, so that you have plenty of time to revise or attend to any emergencies.
What if some of the meeting attendees are physically present in a meeting room while others are joining remotely?
That would be a hybrid meeting.
Best practices for hybrid meeting etiquette
Be thoughtful enough to give those online attendees extra attention and special considerations, so that they do not feel left out or neglected.
14. Make yourself seen
Be sure that remote attendees in a hybrid meeting can see you well, either by turning your own camera on or adjusting your seating to face the telepresence video.
Do not forget to mute your microphone if you are using your camera to eliminate noise.
This way, remote employees feel included and get a good chance to simulate being together.
15. Be considerate
Give online attendees in a hybrid meeting the priority in speaking first, direct questions to those you haven't heard much from, and do not side chat when they cannot hear you.
After the meeting, stick around for a little bit, have a chat or catch up for a few minutes all together.
This way, remote employees feel inclusive in and loved by the team.
What about recurring meetings?
Best practices for recurring online meetings
Recurring meetings are just like any other online meetings; the only difference is that they take place periodically, either monthly, biweekly, weekly, or daily (aka, standups).
In a recurring online meeting that takes place over short periods of time, make sure that you are well prepared, attentive to the speakers, and ready to present your work when asked to.
No need for chit-chats, lengthy greetings, or acknowledgments — no time for that.
So, are there like virtual meeting apps that help people enjoy a seamless online meeting experience?
2022 leader virtual meeting apps
There are a variety of brilliant tools that help run effective online meetings, with virtual meeting etiquette in mind.
There are tools to set an agenda and others to schedule meetings and remind you ahead.
On top of the list of 2021 virtual meeting apps is adam.ai, that is because adam.ai is an all-in-one meeting platform that allows teams to:
Schedule a meeting and send invitations.

Set an agenda.

Create projects.

Assign actions to members and follow up on them.

Take notes and share suggestions.

Vote on suggestions without interruption.
Here are some more reasons why adam.ai is the correct meeting management solution for you: