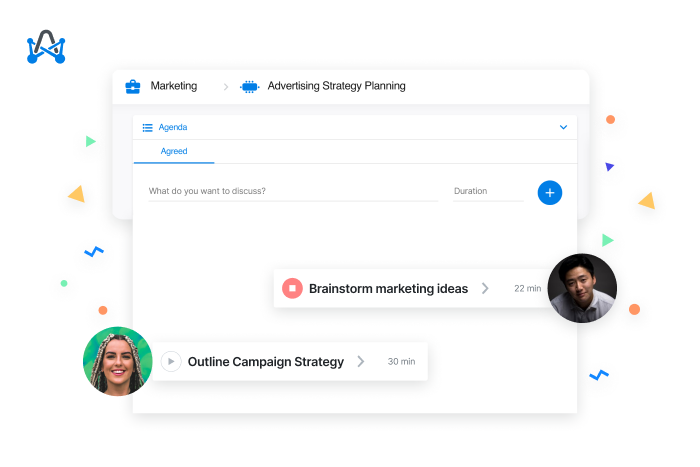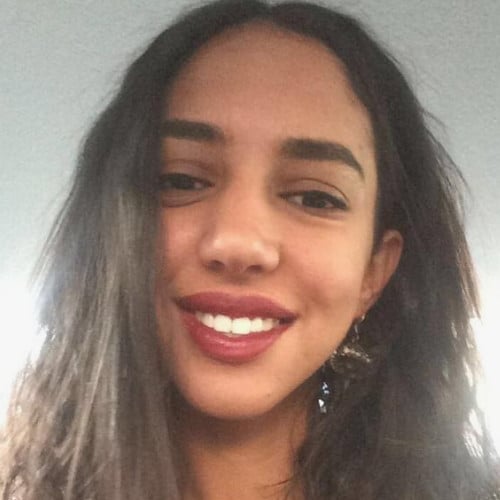 How many times have you attended a meeting that you knew was heading nowhere and was pointless to have?
Do you believe that meetings tend to go off-topic a lot? Having an agenda is the essence of staying organized no matter the occasion.
Especially during meetings, one should set an agenda that corresponds to one's objectives. Other than staying organized, agendas are a great way to contribute to effective meetings and yield efficient and effective results on teams and individuals.
That is why adam.ai believes in the importance of an agenda in a meeting, which can help you stay on track and automate every meeting.
With the agenda management tools at adam.ai, you will be able to set your meeting agenda before each meeting and share it with other meeting members.
Meeting members can also suggest their own topics of discussion to be covered during the meeting for a more collaborative approach.
The meeting coordinator can approve or disapprove these agenda suggestions and have the agenda be sent via email along with the meeting invitation.
It is best to share your meeting's agenda at least 48 hours in advance. Moreover, adam.ai has a meeting timer feature to help you focus on each agenda item within a certain timeframe. Read on to discover the importance of an agenda in a meeting and how it can benefit your team.
How meeting agendas can benefit your team
Your meetings will be more organized and less likely to go off-topic.

Sharing agenda items before the meeting allows others to prepare and ultimately participate more during the meeting.

Agendas can serve as a reminder during meeting discussions and help make sure that all topics are covered.
Setting clear goals for your meetings, in general, is a great way to manage one's progress. No longer will meetings veer into an ineffective zone since having an agenda keeps you aligned and on top of your responsibilities.
A good manager knows firsthand the importance of an agenda in a meeting because they cherish the value of saving time, which is exactly what meeting agendas do.
How to set and manage your meeting agenda
1. Think about the important topics that you need to discuss and then organize them point-by-point to create the meeting agenda. This assures that the meeting objectives are well-coordinated and clear to follow.
2. Set a timer on each agenda item in accordance with how long you think the discussion should take for each topic.
3. Send invites to attendees including the agenda in advance to allow the attendees to suggest their input on what needs to be discussed.
4. Prioritize, reorder the agenda items accordingly, and then add sub-agendas if needed.
5. Agenda quick view: this can be done from your meeting room; you can select any agenda item to quickly view your sub-agendas, discussions, and comments as well as attached agenda files.
6. During the meeting, you can mark the agenda items as complete whenever applicable.
7. Duplicate your meeting agenda: if you have an ongoing project, you can use the same agenda for every meeting.
Learning how to manage meeting agendas will make it easier for you to conduct team meetings. Make sure your team understands the importance of an agenda in a meeting to encourage them to review it before the meeting. This makes it easier for them to make meaningful contributions in any meeting.
💡 Pro Tip. Use a meeting agenda template and customize it according to your meeting objectives to save time and effort. Don't forget to send a thank you mail after the meeting is finished; it has a positive effect on attendees and enhances meeting productivity.
Editable meeting agenda templates
You can find free editable agenda templates on our blog, created with every team's needs in mind. Feel free to download the ones that you use the most, customize them to fit your team, and make the most out of every meeting.
Give adam.ai a try to enjoy all of the meeting management tools with just a few clicks.
And while there may be multiple meeting management solutions available, here are a few reasons to consider adam.ai:
The bottom line
By utilizing the agenda management tool, you will be able to stay on track of what needs to be discussed during your meetings without wandering off into unnecessary conversations.
Recognizing the importance of an agenda in a meeting will help you and other meeting members save valuable time during your workday. We recommend keeping the agenda template during meetings to ensure that you never miss any important topics that need to be discussed.