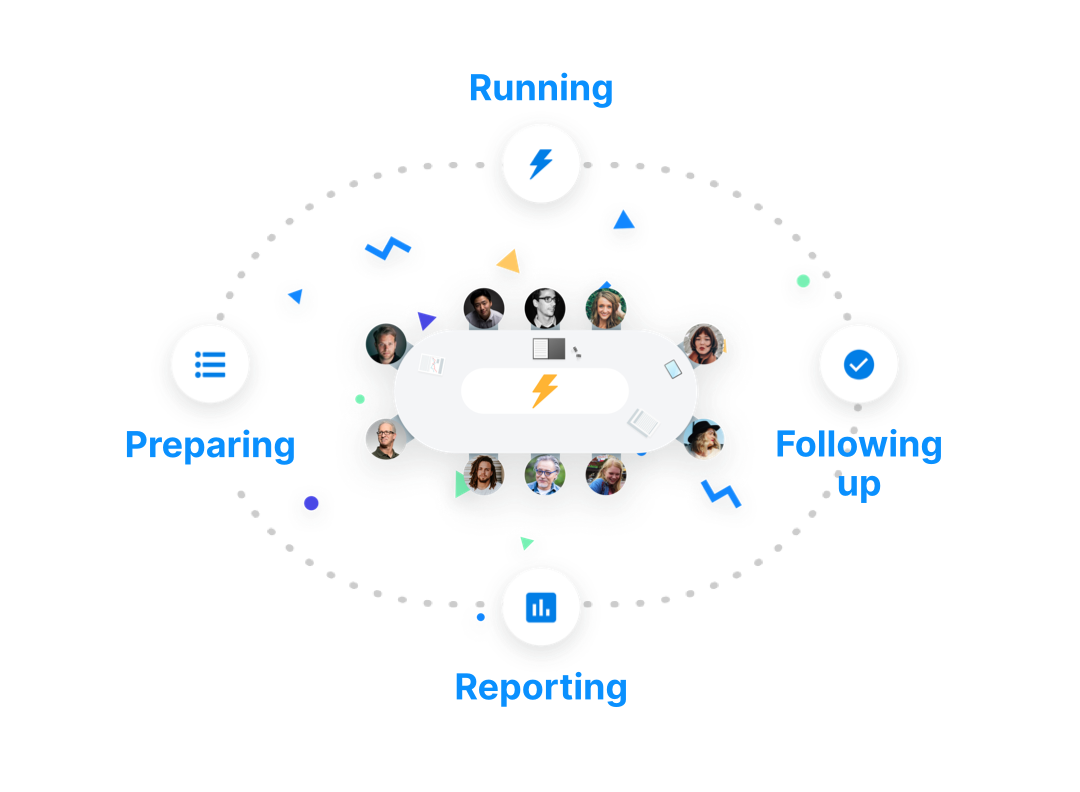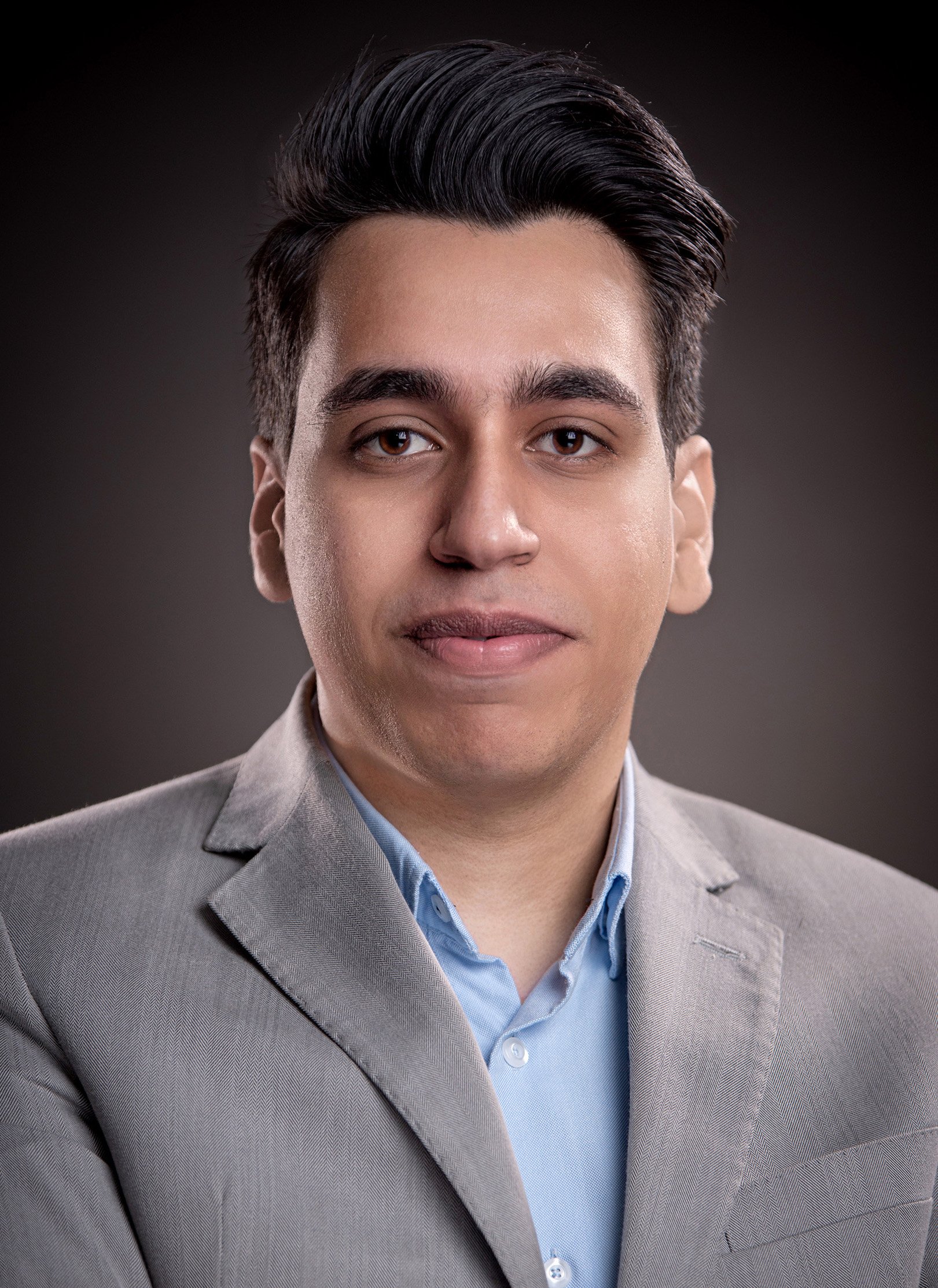 Effective meetings are the key pillars to a successful workplace. Managing these meetings, on the other hand, can be chaotic and an unnecessary waste of time. However, with today's rising focus on digital platforms, meeting solutions are leaning more towards online video-conferencing and scheduling services. That is why adam.ai prides itself on offering a dedicated meeting management solution that helps ensure the best outcomes for your meeting needs.
adam.ai recognizes your needs and proactively provides you with intelligent tools before, during, and after every meeting that are vital in boosting your workflow. Even if meeting members enter a meeting with the greatest of intentions; meetings may not always end up being productive. By utilizing each tool, users can become better prepared for their meetings.
Preparing the meeting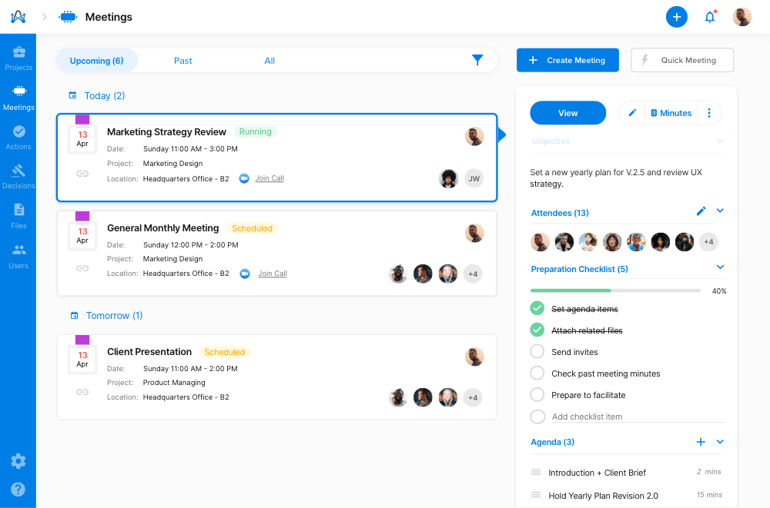 Before every meeting there are many steps to take to make sure that the meeting itself is a productive one. Many struggle with finding the time to go through the preparations necessary for such an outcome. However, it does not have to be so hectic or slow, adam.ai can save up to 90% of your time in meeting preparations. Right at the beginning of your meeting journey adam.ai will be there for you to make sure you are fully prepared and confident for your next meeting. Other than setting basic meeting management preferences such as date, time, attendees, and more; adam.ai provides you with several preparation options.
For instance, you can integrate your desired scheduling platforms like Office 365, Google Calendar, and Calendly directly onto your account. Two-way synchronization of your schedule will automatically be available once successfully integrated; to help you schedule and view any upcoming meetings. You can also integrate and select your desired video conferencing platforms such as Zoom, Microsoft Teams, Cisco Webex, and more. Finally, you can select your meeting attendees from your existing contact list that can be integrated from HubSpot, Salesforce, and more.
All meeting members also have the option to suggest the meeting's agenda as well as how long each agenda topic will last. Each meeting member can not only add their agenda and suggestions for topics but also attach related files. Agenda items will be shared on the meeting invitations in order to make sure that they are prepared for the upcoming meeting. You also have the option to look through previous meetings to see actions, meeting minutes, and decisions taken to fully brief yourself on the insights needed and expectations. adam.ai even provides a preparation checklist to ensure that nothing is missed.
Running the meeting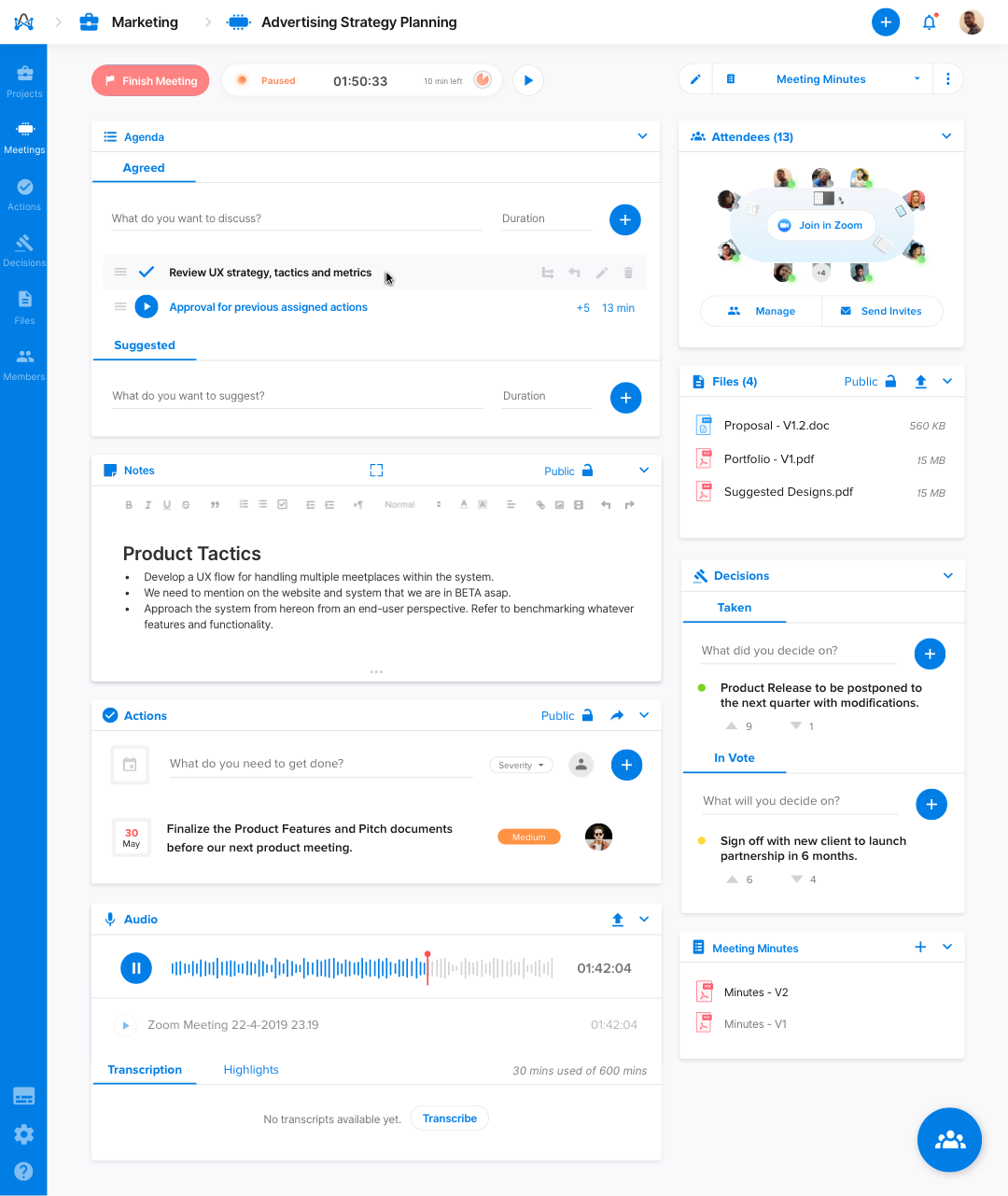 During your meetings adam.ai provides you with a virtual meeting room that enables you to view running meetings in real-time. You can jot down your meeting notes, vote on important decisions, and more. Having a virtual meeting room enables a better user experience that helps diminish the drawbacks set in virtual meetings. For instance, adam.ai allows you to take meeting attendance as well as assemble visual seating arrangements according to your meeting needs. You can even assign roles to each attendee; such as meeting coordinator or viewer.
According to the Harvard Business Review, 65% of meetings may lead to a waste of one's time. That is why adam.ai ensures that meeting members can view meeting agendas that are timed to make sure that the meeting stays on track. You can capture and share meeting highlights and relevant documents; however, it is best to do so before the meeting to save meeting time. Meeting coordinators can also publicly jot down meeting notes to ensure that all insights are available to everyone. Other attendees can take their own notes through the private notes section. adam.ai also has private chat, actions, and files sections.
All meetings should lead to an actionable output that helps drive the business forward. That is why adam.ai ensures that everyone knows their action items due before the meeting as well as lets you take, assign, and set action items during the meeting with a clear due date. After having discussed all the needed action items you can directly share them to other project management tools as Asana and Trello, adam.ai emphasizes utilizing the decision-making tool that allows you to vote. This should help highlight the preferences of each meeting member and speed up the decision making process.
You can also extract an audio recording of the meeting with specific video conferencing platforms. A transcription tool is also available to help with the meeting minutes, which can provide smart suggestions to encourage better productivity.
Following Up
adam.ai enables meeting members to view, edit, share, and download meeting minutes instantly. Reminders are sent to every meeting member to ensure that you are up-to-date with what is expected from them. With this tool, you can make sure to hold your team accountable for all deliverables mentioned during meetings. adam.ai also enables you to keep tabs on the performance of each meeting member to guarantee a fair workflow. At the end of each week, adam.ai sends you an overview email that includes a summary of all the past and upcoming meetings as well as the action items that are due sent directly in your inbox.
Reporting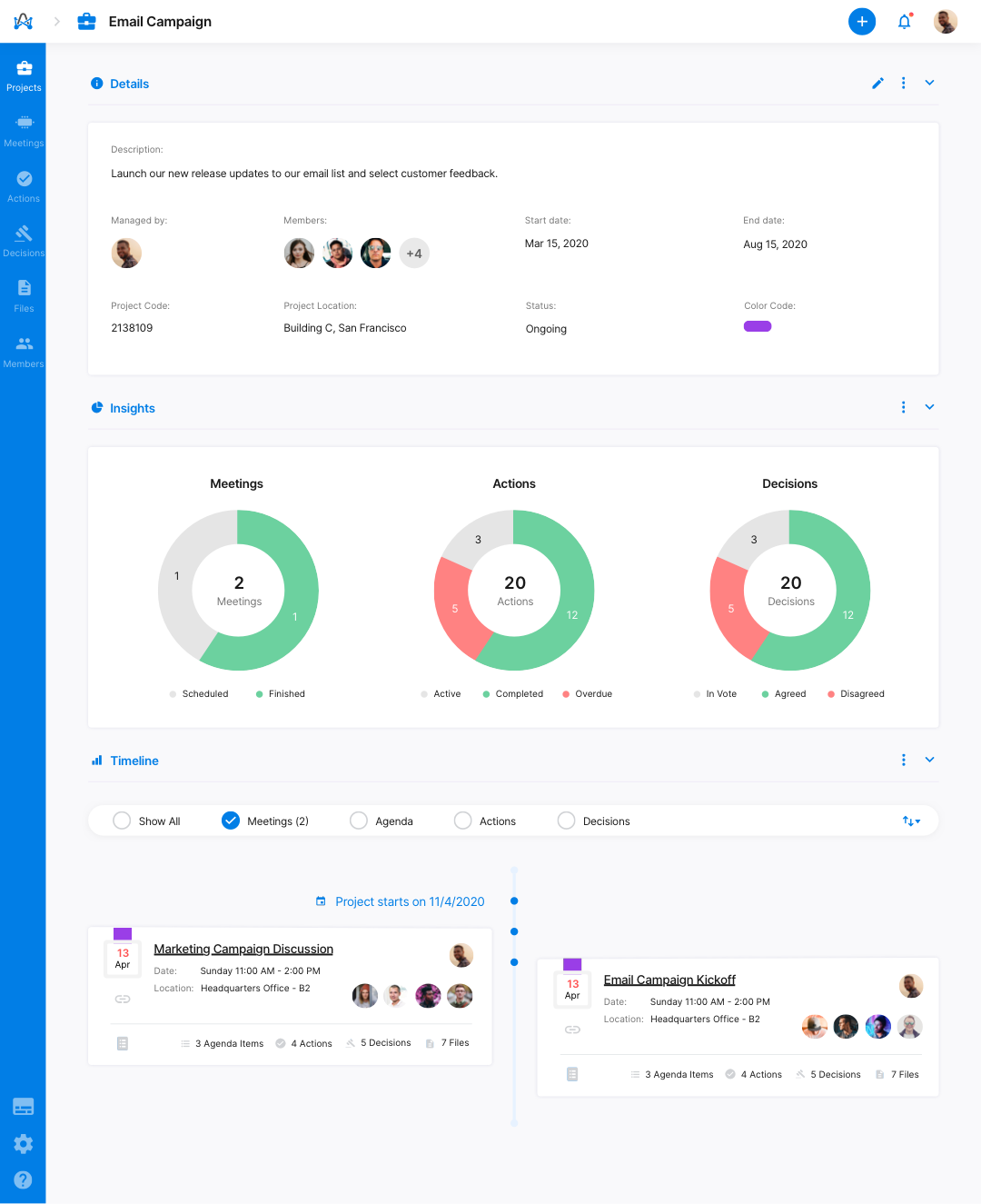 Meetings do not end when the video conference is over, there are several factors that need to be set into play in order to make sure that meetings are indeed effective. Having all of these insights readily available can also simplify your project handover process.
Team members can check the readily available dedicated and personalized dashboard that showcases a timeline that includes all previous, upcoming, and ongoing meetings. All of the insights pertaining to the meeting will be available within each project/meeting outlined in the dashboard, which can also be presented through a timeline structure. One can check meeting minutes, decisions taken, and more.
Rely on more successful and efficient tools that enhance your workflow with adam.ai. Meetings can now become a gateway to more productive outcomes that serve your valuable time. By benefiting from all of the tools that support your workflow before, during, and after a meeting you can rest assured your meetings are efficient. Give adam.ai a try or book a demo.